Guinness & Wasabi Mustard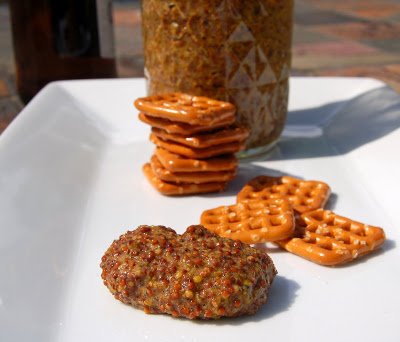 I came across an interesting Guinness Mustard on Saveur one day and thought to myself…why is it that I have never made my own mustard?

I decided then and there to order some mustard seeds from The Spice House, which happens to be my favorite online spice provider, and get right down to it!! The Spice House is where I get my very favorite ingredient the one that is in a number of things I put out that folks go crazy for…one day I may tell you my secret!!
I am NOT a fan of beer but my husband sure is, he and his buddies enjoy specialty beer, so, anytime I need one to cook with I have my choice of a variety.
I have always said I don't like the flavor of beer – any beer (except Lindemins Framboise and of course THAT beer is one of the most expensive out there lol) BUT what I do like is a kiss from my husband with a hint of beer on his lips and I do enjoy it in foods. Beer bread, for one thing, is a-maz-ing!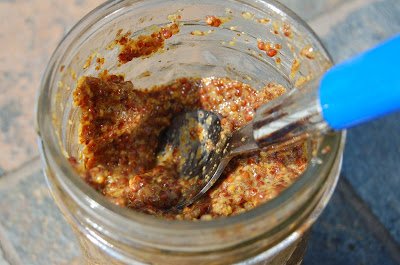 The flavor of the Guinness in this mustard is so rich, I can't help myself and often grab a handful of pretzels and dip away at this mustard. I have made this as is from Saveur as well as with the addition of Wasabi (I do enjoy heat!!) and like it both ways. My husband has a preference for the Wasabi version.
This was SO easy and it yielded tasty results, I can't believe I waited so long to make it!
Guinness Mustard
-adapted from Saveur
12-oz. bottle Guinness Extra Stout
1 1⁄2 cups brown mustard seeds
3/4 cup red wine vinegar
1 TBS kosher salt
1 tsp. freshly ground black pepper
1⁄4 tsp ground cinnamon
1⁄4 tsp ground cloves
1⁄4 tsp ground nutmeg
1⁄4 tsp ground allspice
Wasabi paste to taste
1 TBS sugar
Combine ingredients in a large nonreactive mixing bowl. Cover your bowl with plastic wrap and let sit at room temperature for 1–2 days so that the mustard seeds soften and the flavors meld. Stir your mixture around a few times a day.
Transfer the mixture to the bowl of a food processor and process AND PROCESS until the seeds are coarsely ground and the mixture thickens, about 3 minutes. Add in anywhere from 1/2 tsp of Wasabi to a couple tablespoonsful depending on your heat preference. Add in 1 TBS sugar after you process it and pulse a few times to incorporate it. Transfer to mason jars.
I left my mustard seeds whole as I enjoy the coarse texture, if you are looking for a smoother mustard you can use a mortar and pestle to break up some of the seeds or throw some seeds in your spice grinder or mill to change it up.
This can be refrigerated for up to 6 months. The flavor of the mustard will mellow a bit as the condiment ages. This makes a great gift
Enjoy!!