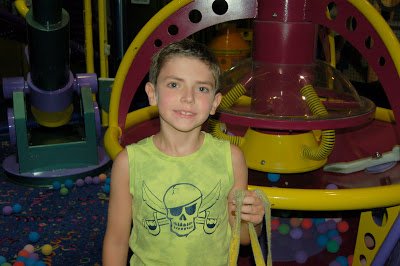 My son turned 9 recently. One minute he wasn't here and the next he is turning 9, just can't believe how time is buzzing on by. Connor is my oldest and he has captured my heart as far as I am concerned we are getting married some day!! lol
That boy has me hook line and sinker! I never knew that a person could experience such fierce love, joy , fear or pride until I became a mother.
He is a wonderful boy who loves math, hockey, his friends & cousins, he enjoys cooking with me (and his sister) and of course he just loves to play video games.
Oh, and did you know - per him...he is going to be a doctor when he grows up and cure Asthma! The kicker is he has decided to only charge one dollar per dose so everyone with Asthma can afford the cure! He recently even lined up a scientist he came across (at a party...he overheard the man talking) to help him in the laboratory! I really wonder how this will all turn out as my son has seriously been sticking to the doctor thing since he was 2.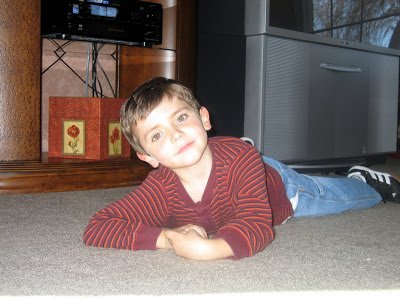 Connor, who is no stranger to hospitals, decided early on this was his calling.
I feel it was/is due to all the wonderful doctors and nurses that have always made/make his trips as good as they could be. Plus he just has such empathy for people...so I makes sense. We don't encourage him or try to talk him out of it...it just is.
For his 9th birthday all he wanted to do was to have a sleepover of a few boys and have the privilege of playing video games, specifically Halo...ALL NIGHT!
You know how it goes...all rules are out the window on your birthday!
My husband rearranged the family room so all couches pointed directly at the 2 yes 2 giant TVs in the room (he relocated one of our TVs for this purpose) He found a way to hook up 2 XBOX units so 4 kids could play on each TV and all be playing together as well.
If there is such a thing as boy bliss...this was it!
A few days before his birthday I attempted to make iced sugar cookies for an event. Having never done this before I consulted two lovely ladies who to me are sugar cookie goddesses. Jen from My Kitchen Addiction and Amanda from I am Baker.
Those pumpkin cookies turned out so well (and I totally forgot to take a picture) that I decided to surprise my son with some simple Halo cookies instead of a cake, seeing as how the boy has zero interest in cake. Cookies and brownies however he is all over!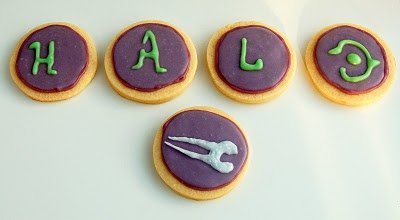 These were a huge hit with the boys and especially my son, his face when he saw them was so worth all the time invested in making these.
Gotta tell you, my husband who does not cook (but is an excellent shrimp peeler and griller extraordinaire) saw me flooding the pumpkin cookies I made for the event, sat down and wanted to try to do it as well. He actually liked doing it, and did the letters and light sword for the cookies. Considering that this was his first attempt we were amazed!
You see he can draw really well, so this intrigues the artist in him I think...anyway since then he has looked at some cookies we have seen in person and said "hmmm I could do that"!
I may have inadvertently just created a cookie monster. I know whatever we will try next will just keep getting better.
I must say though that making cookies like this is a labor of love between making the cookies, the icing, outlining them, flooding them, waiting for them to dry and a design! Wait till you see what the two ladies I mention above do! Unbelievable!
The above links will take you to the two recipes I used. One for the cookie (Jen) and one for the icing and the how to (Amanda).
I did not have vanilla bean paste so I substituted vanilla and the cookies were great!
Enjoy!
Colleen