Holiday Fun For The Kids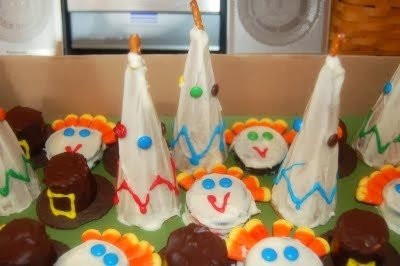 The kids and I had some fun making Thanksgiving treats for their cousins who are coming over for Thanksgiving dinner.  I'm not sure which the kids enjoyed most: making the Edible Teepees, Turkeys and Pilgrim Hats, enjoying their handiwork after they were finished or the eating. I think it was all three rolled into one with a dash of anticipation!
So take a peek at our village, lol!
Holiday Fun For The Kids
Inverted Ice cream cones covered in melted white chocolate decorated with icings and candy. Oreo's dipped in white chocolate with candy corn feathers and Pilgrim hats made from marshmallows dipped in chocolate places on Famous chocolate wafers, decorated w/ icing. Everyone is represented, the turkeys, the Native American Indians and the Pilgrims – all just waiting to be gobbled (pun intended) by the kids after the big feast!
I swear every holiday involves melted chocolate in some way, shape or form for all the kid treats.single holiday involved melted chocolate in dome form…am I right??
Have a Wonderful Thanksgiving!! I wish you all happy traveling, happy cooking & minimal kitchen disasters (which always make for a fun story)!


Colleen