Hot Jalapeno Popper Dip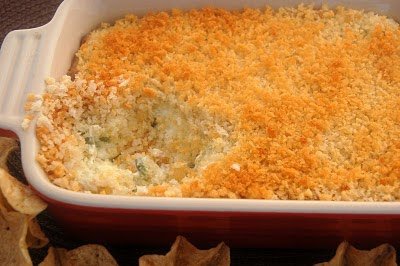 Today kicks off my "30 New Recipes in 40 Days Challenge"!
Here we go!
I don't know about you but I have my standard, go to, hot dips that I have been using for years. Many folks "expect" to see them at gatherings and I myself really enjoy them.
I for one LOVE dips…hot or cold…doesn't matter, I just love them. Maybe it's because they taste good, maybe it's because it's not just one food it's two… part dip and part the vehicle the dip is carried on or maybe it's just the "social" feeling that comes over you when at parties – maybe that is what dip enjoyment is really all about…the memories of all the past good times you have shared with family and friends and all the future good time just waiting to unfold – think about it…have you ever gone to a party, barbecue, demonstration get together or girls night in without a dip of some sort?? Yup… didn't think so!
Well, this one that I found over at Tasty Kitchen (my favorite recipe sharing site, run by Ree Drummond aka The Pioneer Woman) made by is so stinking good! It's funny, he has submitted a number of recipes however does not have a recipe site, he just like to cook for family gatherings and is actually into crafting and has an Etsy shop.
Back when I first met my husband, his hands down favorite food…the food he sought out many nights (and days for that matter) was poppers – I had never eaten one before I met him, not sure if I had ever even heard of them. My husband however only wants to partake of poppers that are stuffed with cream cheese – no other cheese would do it for him. Believe it or not so many places we ate at were selling the cheddar variety, he really had to hunt for the cream cheese kind.
When I saw this dip I KNEW he would be a happy, happy boy! So were all of our friends! THIS one my friends is a keeper!
Hot Jalapeno Popper Dip
-babskitchen via Tasty Kitchen
16 oz of softened cream cheese
1/2 cup sour cream
1/2 cup mayonnaise
4 oz can green chilies, drained
5 whole Jalapeno peppers, stemmed and seeded (leave a few seeds in if you want more heat)
1/2 cup grated Parmesan cheese
3/4 cup Panko (Japanese breadcrumbs – don't substitute for regular breadcrumbs)
Preheat oven to 400ºF.
Stir together cream cheese, sour cream, and mayo in a large bowl until smooth. Stir in green chiles and jalapenos.
Pour mixture into an oven-safe serving dish and sprinkle with Parmesan cheese and Panko crumbs. Bake, uncovered, for 15 minutes, then put under the broiler for 1 – 3 minutes to lightly brown the top.
Serve warm with tortilla chips, crackers or a crusty bread.
*Cut recipe in half for 6 or fewer people.
Tip: Serve in a shallow rectangular or oval dish – this allows the Panko to be spread out ensuring some in every bite!
Enjoy!!