Ice Cream Sandwich Cake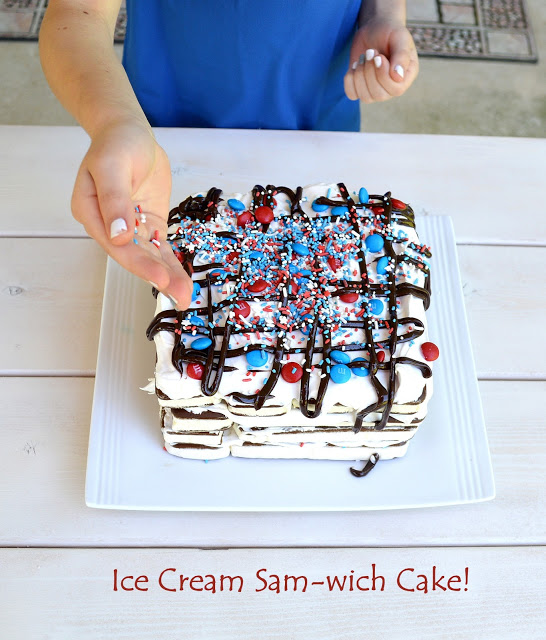 Hi, today my mom let me take over Souffle Bombay.  It's me Samantha, I am 8 years old and I have been cooking and helping my mom in the kitchen since I was 2 years old.  I love cooking with my mom and that is one of the things that makes her so special to me.
Here is an awesome and fun dessert for the 4th of July!  I made it for all of my friends for a Memorial Day party we went to.  Its pretty easy because its only 5 ingredients and it doesn't take long at all.  I had so much fun making it and tasting it.  Everyone came running when I screamed "dessert" and it was crazy because everyone just kept grabbing, after that I was shocked because there were only 5 pieces left and I was glad all of my friends liked it!  We split up the rest later and it was delicious and really yummy on a hot day!
Thank you for reading and have a fun 4th of July, from Samantha!
Ice Cream Sandwich Cake
22 ice cream sandwiches
Cool Whip
M&M's
Sprinkles
Hot fudge or thick chocolate sauce
Place 4 ice cream sandwiches next to each other sideways, then another next to it to make it a square, then ½ of another to finish it off.  Use a spatula and smear the Cool Whip over the ice cream sandwiches, then put some sprinkles on it and if you want to M&M's.  Do that 3 more times.  On the top you want to smear the Cool Whip, sprinkle the sprinkles and M&M's and put the chocolate on plaidly (she wrote plaid-ly lol) and let it drip down the sides.  Put it in your freezer.  If you are taking it to a friends house tell them to make room in their freezer so you can put it right in when you get there.  And Ba-bam now you have an Ice Cream Sam-wich cake!
Colleen's Notes:  Samantha wrote down the above "story" and recipe which I typed word for word (and adjusted the spelling).  This made me smile!  She told me about this "cake" in January after seeing it on Pinterest (yes, she cruises Pinterest).  I am not sure who to credit for this idea since I never found the picture that she first saw for inspiration.
When Samantha made this, she made half of it, I saw it was melting a bit so we put it in the freezer for 15 minutes then she finished it off.
Customize the colors to the holiday.  This would be really fun for the kids on the 4th of july with a sparkler sticking out of it (I just thought of that as I typed, lol).
We always make our own whipped cream (something Samantha has been making on her own since she was 6), however because we were taking this to my friend Molly's house to be enjoyed a few hours later - we went with Cool Whip.
Letting your kids take the help on a dessert like this is priceless - as a parent the pride and sense of accomplishment you see in them when others are enjoying their dish is an incredible thing to watch!
Happy 4th of July!!