Kids Candy - Edible Art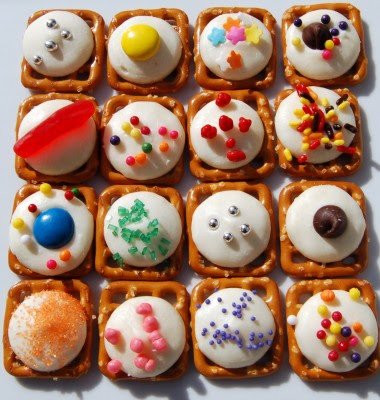 Here is a SUPER fun project for your kids on a hot or rainy day this summer!!
It also makes an exciting birthday party activity for a flock of kiddos (and doubles as part of their goodie bag loot too!!) For another fun edible craft as well as a great birthday party activity and treat click here
Edible Art! It's a craft they can eat...I love things like this and so do my kids!
Let your kids release their inner Picasso and decorate away, who know's what they will come up with 🙂
Do you have an edible craft that you do with your kids? If so I would love to know what it is!!
My tips for cooking with kids:
I cook often with my own kids as well as just about any of my kids friends when they come over (they seem to be ritualistic and always ask me if they can do a cooking show...yes...they all talk to the invisible camera in my house! My daughter often Facetimes her friends when she's cooking so they can watch her "cooking show"...they all love it lol!)
First, lay out the ground rules before you begin, I find if you clearly tell kids what it is they are about to do...they rise up to the challenge and take it seriously yet have fun at the same time.
Second, make the cooking area comfortable. Give them space, a chair, a stool or whatever they need to easily get down to business.
Third, when cooking with more than 2 kids, line them up! They all get a turns...one at a time (unless it is a project like this one where you can allow they kids to work in a group / groups.
Have fun, be a little silly/dramatic and please take pictures. It may not seem huge to you BUT kids really hold on to memories of cooking in the kitchen...they feel so empowered and accomplished. You and they will be very grateful later in life for those photos.
For more ideas on cooking with kids please stop by my cooking site for kids Picture Me Cooking
Supplies
Pretzel Snaps
White chocolate melting disks (I use Wilton)
Decorations like, M&M's, nerds, dragees (edible silver balls and little girls favorites), sprinkles, jimmies, candy…you name it!
On a baking sheet, place pretzels in a single layer. Put one white chocolate disk in the center of each pretzel. Place in a 350 degree oven for approx 2-3 minutes or until chocolate is shiny but not melted or falling through the pretzel.
Remove from the oven and decorate immediately. Cool in your fridge or cold garage for 20 minutes and they will remain hard until ready to eat. They keep well for a week in a sealed container.
Have Fun!!!