Loaded Baked Potato Dip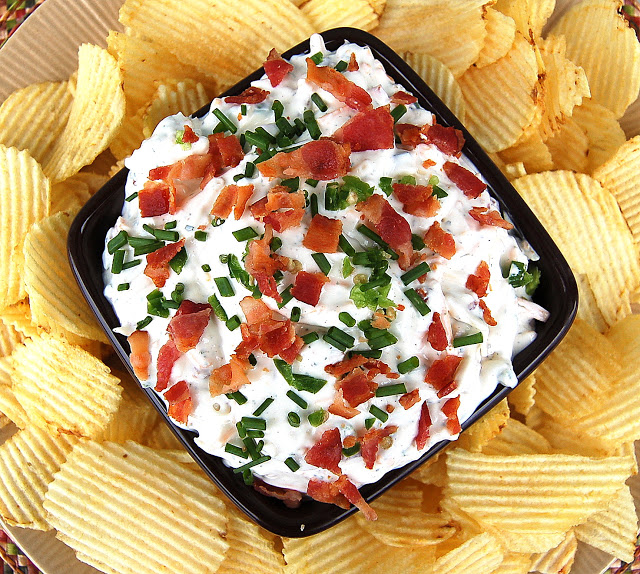 I first saw a version of  this dip on My Recipes almost 2 years ago.  I read the title and thought…huh, a dip with potatoes in it…interesting.  Well the joke was on me because I can say with a clear conscience that no potatoes were harmed during the making of this dip.  It is in fact potato-less lol!  Instead it is all the yummy bits one might enjoy on a potato…minus the butter of course!
Personally, I LOVE butter and bacon on a baked potato.  Add some salt and pepper and I can call that a meal.  Every member of my family dresses their potato differently.   Thinking on that I wondered about the appeal of this to the masses, but then I thought…hey it is a dip and there are chips with it, who am I kidding, folks will gobble it up!  And I was right.
I have added a number of ingredients to that original 5 ingredient recipe and I have omitted the original addition of hot sauce.  I have cut down a bit on the cheese and bacon as well. I don't top it with additional cheese, I am kind of funny about that.  I loooove cheese, but I like it in something or plain, not usually sprinkled over my food.  It is a quirk, I know! I am happy with where this has ended up, hope you will be too.
You can really take this anywhere you want, if you are into Blue cheese, why not throw some of that in there or caramelized onions…Nom!!
Loaded Baked Potato Dip


16 ounces of sour cream
4 oz softened cream cheese
1 oz  packet of Ranch seasoning
1/4 tsp black pepper
1 jalapeno, minced (I use the whole thing, seeds and all)
6 oz of shredded Cheddar cheese
3/4 pound of bacon, cooked and crumbled
3 TBS snipped chives
In a mixing bowl, combine sour cream, cream cheese and ranch seasoning and mix well.  Add in black pepper, jalapeno, cheese, bacon and chives, mix until fully combined.
Scrape the Loaded Baked Potato Dip into a serving bowl, top with some additional bacon, chives, jalapeno, cheese or whatever you like to decorate it.  You can make this up to a day ahead, it holds up well and the flavors deepen.
*If you are concerned about salt, I recommend using low salt bacon and half of the Ranch packet as well as potato chips with less salt.
From my family to yours, may your new year be happy, may it be filled with laughter, good food, family and good friends!  Cheers!!