Maple Chile Glazed Pork Tenderlion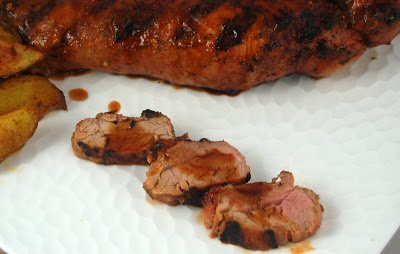 Lucky recipe #13 in my 40 day challenge!
I thought to post "30 New Recipes in 40 Days" would be easy...throw in all the birthdays my family has in March (mine, my Mom's, my brothers, 2 of my nieces), a business trip, my daughter having pneumonia and posting all of these recipes and I think to myself "what was I thinking"!!
But it's all good, I will step it into high gear and see if I pull it off in the end...I hope.
I am having a blast, and my tongue and tummy are doing the happy dance with all the new dishes I am tasting!
This sauce in particular is crazy good! I mean, you want to find a reason to get it on your fingers, hands...elbow even, to just have the opportunity to lick it off!
Try it and you will see!! Patio Daddio rocks the grill!! Gotta love a man that can cook and grill!! When I see photo's of what he whips up, my literally mouth waters!
Maple Chile Glazed Pork Tenderloin
-Patio Daddio
1 cup Pure maple syrup, grade A amber
½ cup orange juice
2 tablespoon Butter
2 tablespoon Bourbon (optional)
1 teaspoon Ground ancho chile
1 teaspoon Kosher salt
¼ teaspoon Sweet paprika
¼ teaspoon Ground ginger
¼ teaspoon Ground cayenne
⅛ teaspoon Smoked paprika
⅛ teaspoon Cinnamon
Heat the syrup and butter in medium sauce pan over medium heat, once melted and combined add the remaining ingredients. Bring to a boil, reduce heat and simmer for 10 minutes.
Brush your tenderloin with a bit of the sauce, grill and continue basting your meat.
Once you remove the pork from the grill, let it rest a couple of minutes and as you do, return the sauce to your pan and bring to a boil once again. Spoon the remaining sauce over your tenderloin and serve.
Serve this with some Roasted Chickpeas and a sweet potato.
After you bake your sweet potato, cut them in half, dig through them with a fork, add some butter and brown sugar and fluff it all up and it's a party in your mouth!
Enjoy!