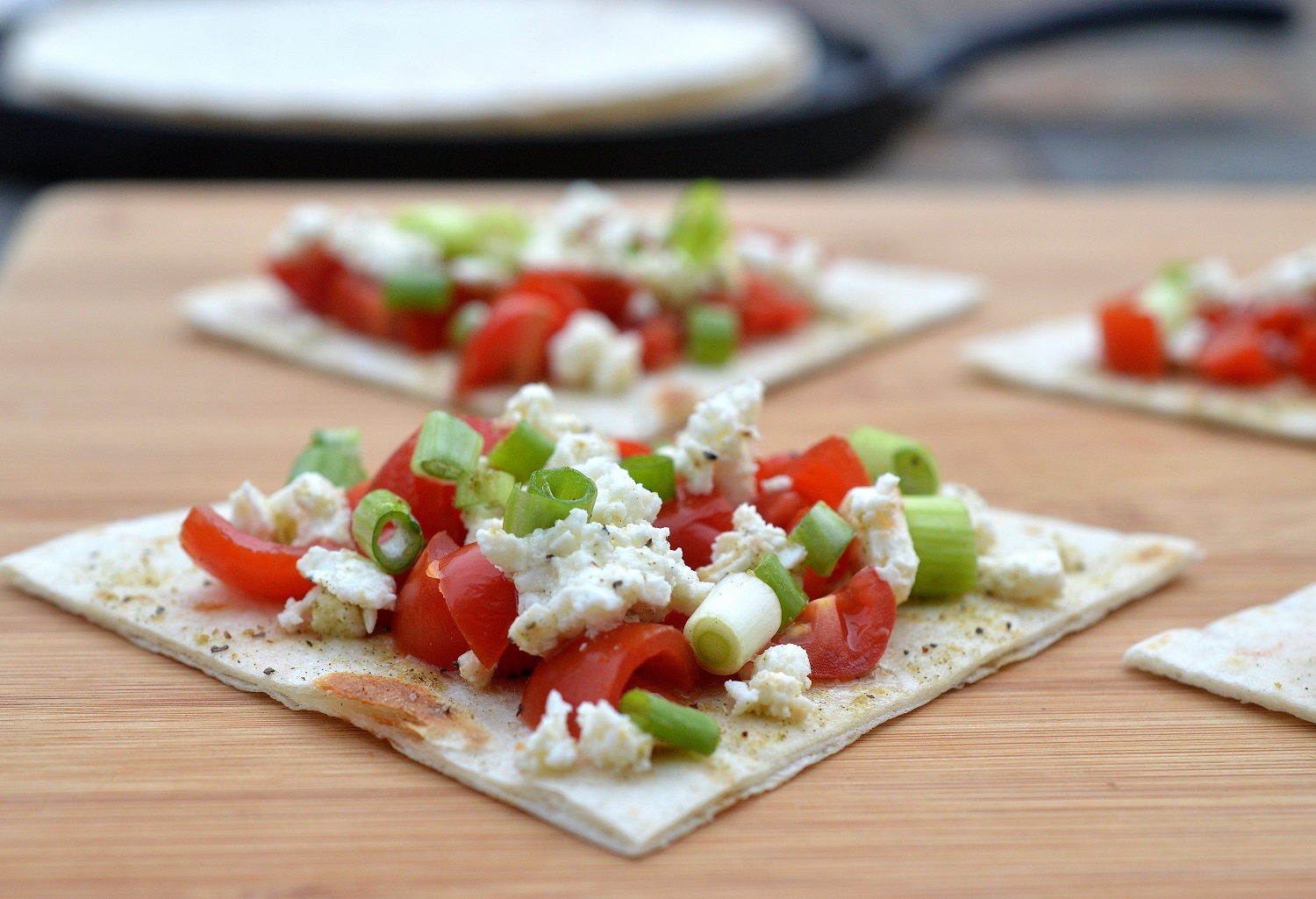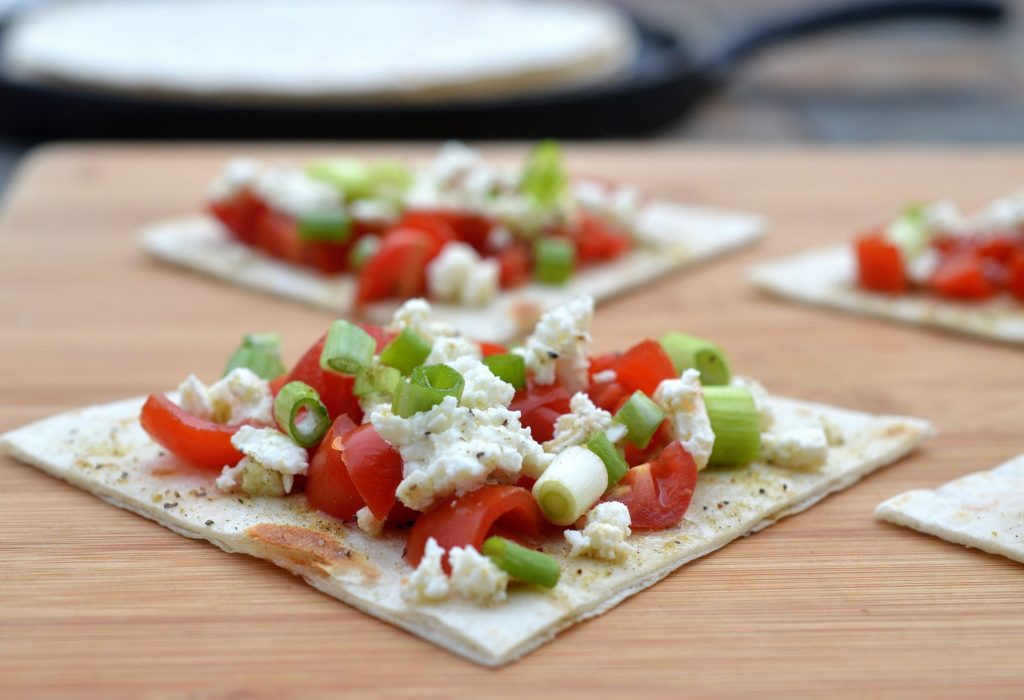 Like many, I get excited for the holiday season! Sure we get busy! We have lists to make (and check twice), shopping & decorating to do, lots of activities, parties and running around. BUT there is also fooood! I adore holiday foods! From small nibbles to 6 course meals…Bring it on!
To me party food is the best, I love small bites that allow me to taste a variety of culinary creations. Take these Mediterranean Feta and Tomato Bites for example.  They are light, flavorful and have a holiday vibe with the red & green colors.
I am a big fan of delicious & memorable dishes that can easily be made.  Mission Tortillas helped me out with these fun and festive Mediterranean Feta and Tomato Bites.  These are a fast appetizer or light meal to make during the busy holiday season. All you need to do is quickly heat your tortillas in a comal or skillet, just enough to get them warm with a hint of crispiness at the edges. Then simply top each tortilla with the tomato, feta & scallion mixture.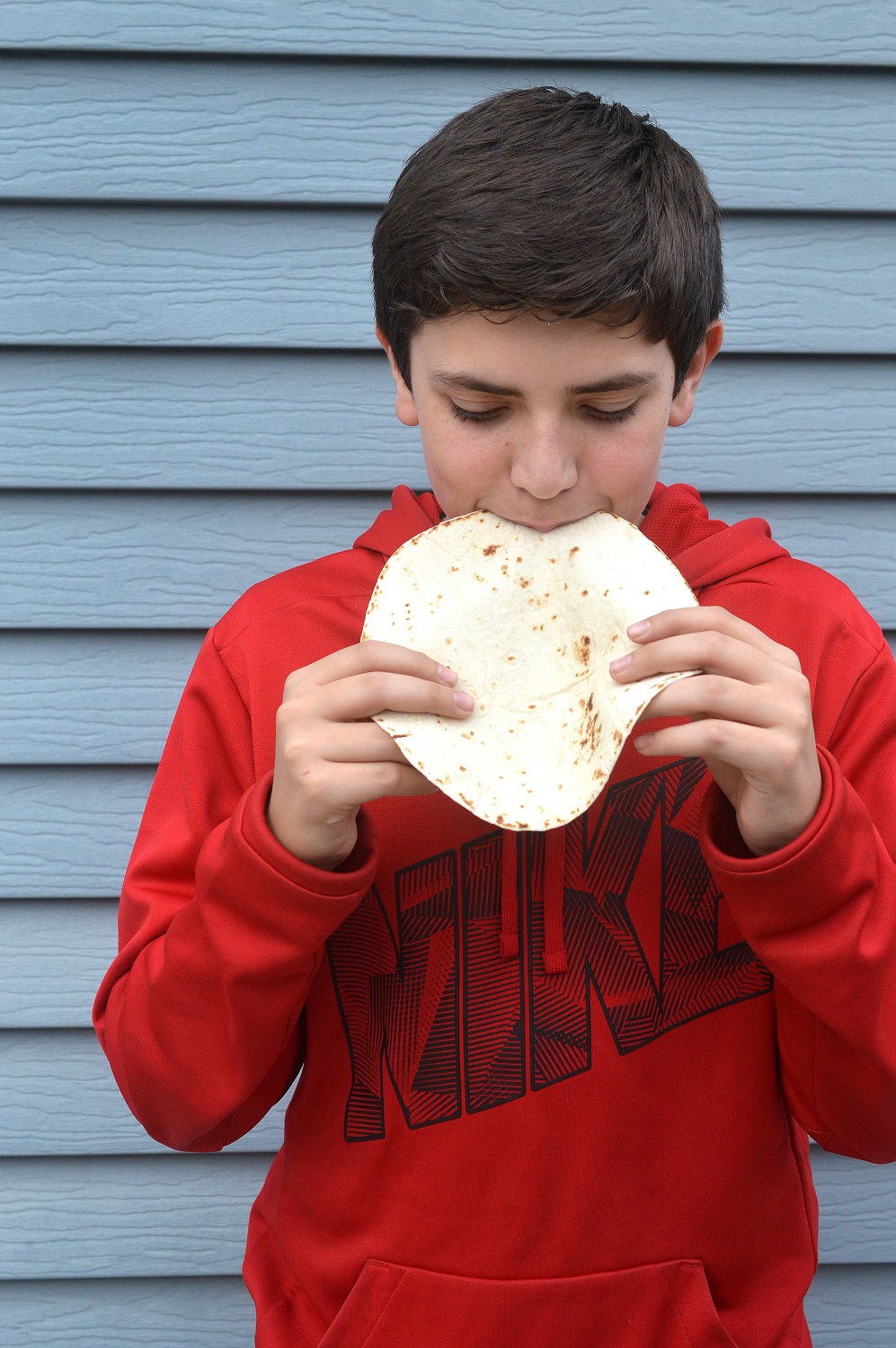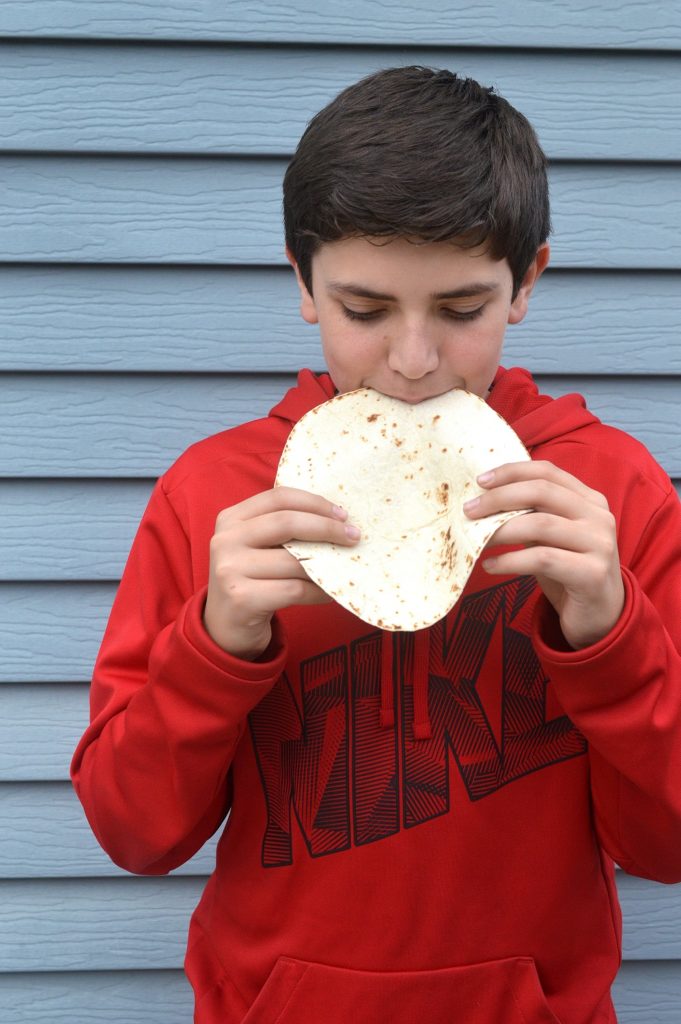 You could serve these as mini pizza's, wedges or bake the tortilla wedges until crisp and serve them alongside a bowlful of the mixture.  Wither way these simple yet flavorful nibbles are sure to please!
In my house, we always have Mission Tortillas on hand…always!
My daughter takes her signature "Sam-wich" to school every day for lunch (which is simply a tortilla, lettuce and Mexican cheeses rolled into a burrito), she even occasionally takes lunch orders from her friends, makes them and sells them during lunch haha!.  My son eats them straight out of the bag for a snack and I…I find so many things to do with them from wraps to nachos to pizza's and more!  My daughter and I even made Homemade Doritos from them…They were so good and a perfect addition to your holiday parties for the kiddos!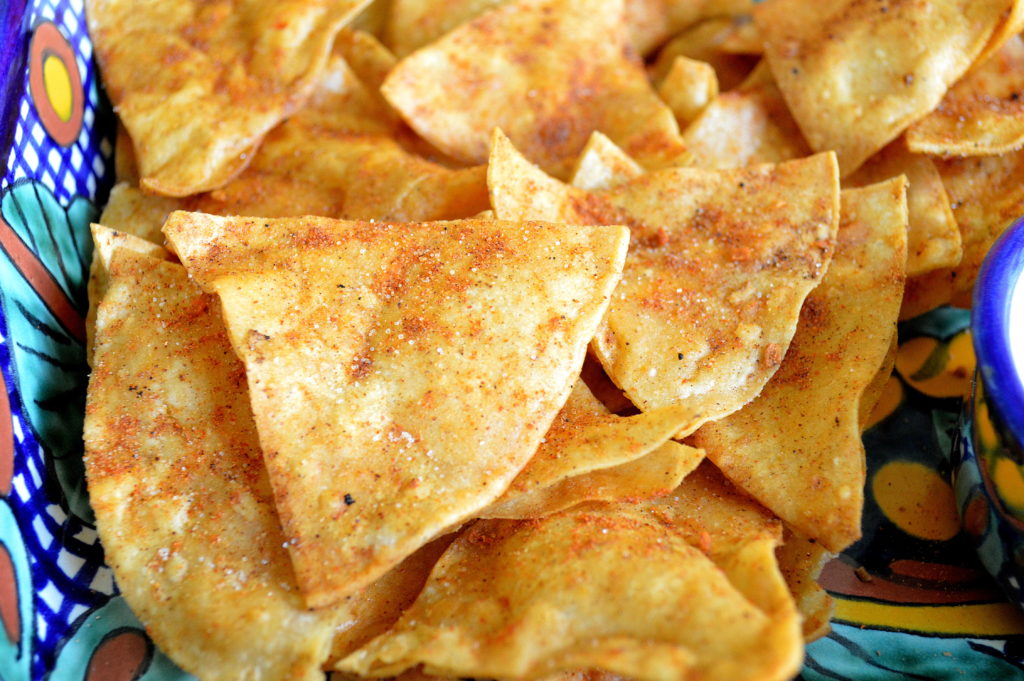 Mission Tortillas are the #1 selling tortilla in the U.S. and make an easy base for so many recipes, grab a bag and see what you can create with them this holiday season! I do love products like this one that deliver a great taste every time!
Who wants some Mission Tortillas delivered to their front door??
Leave a comment below about what you would use Mission Tortilla's for for your entry

and one of you will win a delivery!
For recipes, special offers and more, join the fun over on Mission Insiders
Giveaway ends 11/18/15.  Must be 18 to enter, US Only.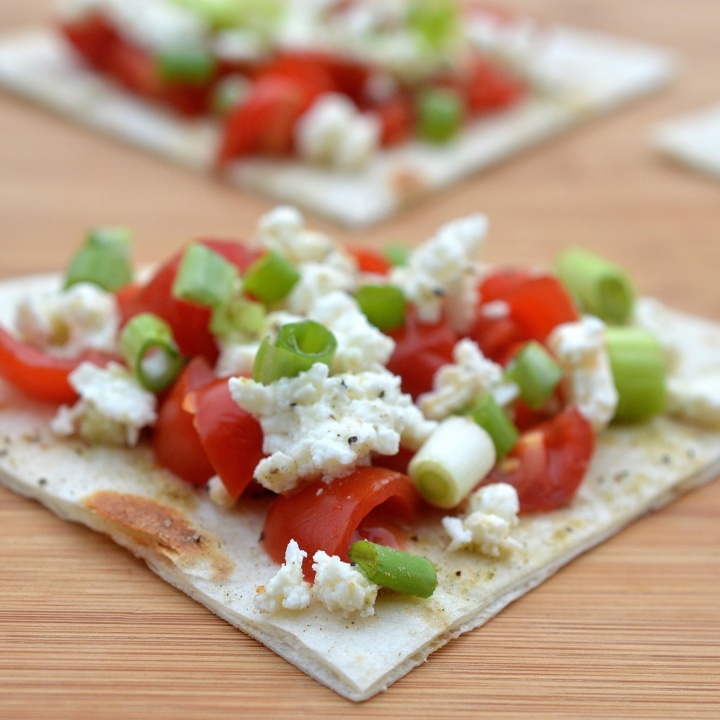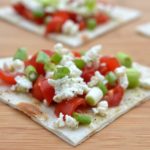 Print Recipe
Greek Feta & Tomato Bites
Ingredients
3

TBS

olive or grapeseed oil

Greek seasoning

1

pint

grape tomatoes

4

scallions

1

cup

crumbled Feta cheese

4

Mission Tortillas

Additional oil for brushing the tortillas
Instructions
In a small bowl, combine oil and Greek seasoning until you get the flavor you desire. Set aside.

Cut grape tomatoes into fourths or sixths, depending on their size.

Slice scallions into thin rings.

Combine the tomatoes and scallions in a small bowl. Crumble in the Feta.

Sprinkle with Greek Seasoning and toss.

Add in 1-2 TBS of oil toss, taste and add more seasoning of you like.

Just prior to serving, heat a cast iron comal or skillet , lightly brush your tortillas with oil and cook on each side until warm and just beginning to crisp (less than a minute per side).

Cut tortillas into wedges and either top with the mixture or pile tortilla wedges on a plate and allow guests to top their own.
Notes
You can also bake the tortilla wedges until crisp and serve them that way. Simply preheat your oven to 400 degrees, brush tortillas lightly with oil on both sides, season with salt, cut into wedges and place on a baking sheet. Bake until crisp, about 8-10 minutes or until crisp,
To make the Homemade Doritos
10 Mission Tortillas
1/2 cup grapeseed or olive oil
1 packet of taco seasoning
Kosher salt to taste
Preheat oven to 350 degrees.
Stack your tortillas in piles of 3 or 4 and cut them into triangles (like a chip). Scatter them across baking sheets and set aside.
In a small bowl combine 2½ tsps of the taco seasoning and the oil. Mix well.
Brush each triangle with the oil mixture (top and bottom) and sprinkle tops with a little bit of salt.
Place in the oven on the center rack and bake for 10-12 minutes or until mostly crisp (chips will crisp up further as they cool down). Sprinkle tops with a few pinches of additional taco seasoning and allow them to cool completely.
This post was a sponsored partnership with Mission Foods. I have been compensated in exchange for this post in the form of payment, product or experiences.