Mini Free Form Caramel Apple Tarts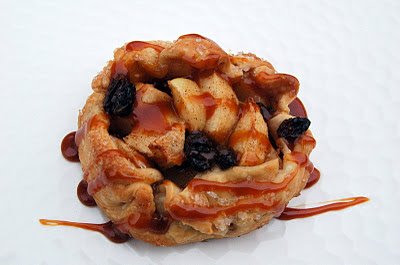 Funny how what one person thinks of as "simple" or "natural" another person thinks is difficult or even beyond them.
For example, if you asked me to draw a picture, I would try...I might even try real hard but who am I kidding. It would be ter-ri-ble.
To some folks, picking paint colors, arraigning furniture or decorating may come easy. For me, it would be a ton of stress...like DOES this color go well, DO these colors go together gaaah! So in the end something so simple may take me a month to figure out or most likely, I do nothing at all.
Now, when it comes to having a taste for something myself or fulfilling something my husband or kids has a craving for, I skip right into the kitchen and make it happen, usually with the help of one or both of my kids. No fear! While others I know wouldn't dream of it or the planning of it would cause them stress or they would be just as happy to buy it.
What's the worst that can happen? It doesn't taste good...so what I'll try again. Case in point, my husband LOVES lemon meringue pie - yup I have made him a couple over the years however that particular treat gives me trouble. I have yet to make one I am proud of...but oh well, each one was made with love and one of these days I will perfect it. That's part of what keeps cooking interesting to me!
When it comes to pies I have NO desire what-so-ever to put a piece of store bought into my mouth...zero.
Here is something super simple that I whip up for a treat for my kids (ok me adults too) whenever the mood strikes. No rules, no real recipe. We just grab (or make) some dough. Grab some apples and a few add ins and ta-da! We each get a "pie" that could easily fit into my palm! Plus the house smells nice 🙂
Mini Free Form Caramel Apple Tarts
Pie dough (store bought or your own enough for 1 pie - top and bottom crust)
2-3 apples (depending on their size) Granny Smith, Fiji or Gala
6 TBS sugar
1 teaspoon cinnamon
½ teaspoon cornstarch
1 teaspoon flour
½ TBS melted butter
½ teaspoon vanilla
¼ teaspoon lemon juice
¼ cup raisins
1 Tbs decorator sugar or raw sugar (optional)
Caramel sauce (optional)
Preheat oven to 375 degrees.
Peel and slice apples into 1 inch chunks and place in a medium bowl. Add in the sugar, cinnamon, cornstarch, flour, butter, vanilla, lemon juice and raisins and toss well. Create 4 dough circles about 6 inches in diameter. Just use a butter knife to cut out the dough in circles - no need for perfection as you will be folding the sides up - roll out scraps if necessary.
Pile ¼ of apple mixture onto center of each dough disk and fold up sides until apples are contained. Brush crusts with a just bit of melted butter and sprinkle with decorator sugar if you like. Bake on a parchment lined baking sheet for 20-25 minutes or until apples are tender. Let cool for 5-10 minutes, drizzle with caramel sauce and dig in!
** Many times I will use store bought dough, apples, sugar & cinnamon and that is it - the kids are completely satisfied. Its a great after school or after dinner treat!
Enjoy!