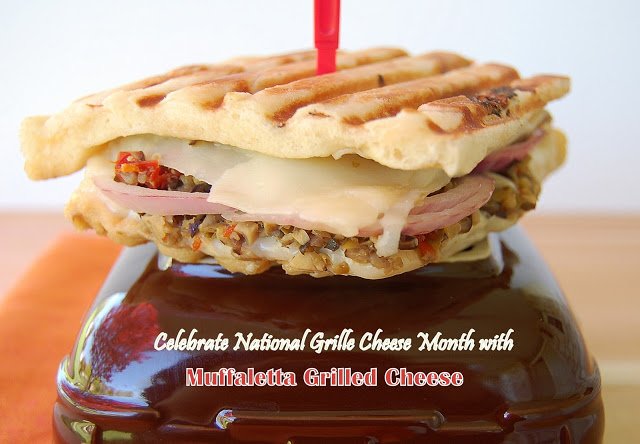 Just about everyone loves a good sandwich…right? How about a warm sandwich…one that consists of gooey melted cheese and more?? To me, it takes a humble sandwich and elevates it to a spectacularly satisfying one.
Here is a delicious fun fact…April is National Grilled Cheese Month and when Land O' Lakes and Kitchen PLAY reached out to me to join 29 other bloggers and be a part of the Land O' Lakes 30 Days of Grilled Cheese, I jumped at the opportunity!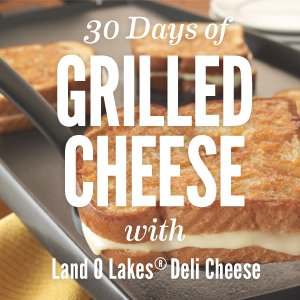 I had so much fun thinking about a number of unusual grilled cheese ideas and settled on this – my version of a Grilled Cheese Muffaletta.
It came together quickly and the results were a flavor explosion bite after bite. I played around with it and made it both with a bit of meat and meatless. I enjoyed the meatless more.
I chose to use Land O' Lakes® 4 Cheese Italian Blend which features a combination of Asiago, Parmesan and Romano Cheeses and blends them perfectly with American Cheese. When I ordered a pound of it at the deli counter gentleman behind the counter immediately exclaimed "That cheese is delicious!"
Muffaletta sandwiches usually feature multiple types of meats and cheeses along with a well made tapenade. I like the fact that I could pick up one cheese that had 4 flavors which lent this grilled cheese sandwich a depth of flavor yet was easy on the wallet. For something different, I used Naan for my bread, however you could use a Focaccia or Ciabatta or whatever bread you enjoy most.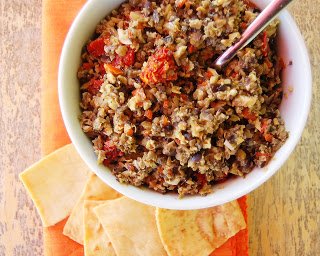 You can easily adapt this recipe into a 2-for!! 2 dishes from one! Make the tapenade for both the sandwiches AND reserve some for straight up tapenade as an appetizer. The tapenade will keep for a week in the fridge and all you have to do is grab some pita chips or bread and you are good to go for another lunch, a snack, take with you to a party, put out for company or plop some in a mason jar and give it as a gift!
Throughout April until May 1, Land O'Lakes will donate $1 to Feeding America http://www.landolakes.com/feedingAmerica.aspx every time someone pins or repins a Land O'Lakes recipe on Pinterest. That's eight meals for a hungry family when you pin a recipe – and eight more every time anyone else repins it. Giving goes viral. Find your favorite Grilled Cheese recipe to pin on www.landolakes.com. I really love it when companies find creative ways to help others HELP others.
What makes your ultimate grilled cheese??
What
kind of bread do you use? Do you butter the bread or
the griddle? What additional ingredients take your grilled cheese to the next
level of flavor? Do you go classic? Or way out of the box? For grilled cheese ideas and inspiration, visit
the Land O'Lakes website
here
.
Disclosure: This post was sponsored by Land O'Lakes as part of the Kitchen PLAY Sidecar Series. As always, all opinions given are my own.
Muffaletta Grilled Cheese
For tapenade:
2 big cloves garlic, peeled (2 TBS)
1/4 cup capers, drained
1 6 oz can black olives, pitted and drained
3/4 cup green olives with pimento
1 small jar (6 oz) artichokes, drained and blotted dry
1 tsp red wine vinegar
1 tsp olive oil
Black pepper to taste
Place garlic, capers, both olives and artichoke in your food processor bowl and pulse until combined. Scrape into a large bowl, add in the vinegar, olive oil and pepper and toss until combined. Set aside.
For your sandwich:
Naan or your chosen bread
1 small red onion, sliced thinly
3 slices of Land O' Lakes® 4 Cheese Italian Blend per sandwich
Brush each piece of your bread lightly with olive oil. Build your sandwich by placing tapenade, onion and cheese on your bread and using a panini press, griddle or pan cook until done, flipping once gently if applicable.
If using a panini press – heat press, once ready, press sandwich for 90 seconds, remove and enjoy.
If using a griddle or pan, add a tiny bit of olive oil, heat your pan to med-high and add sandwich, weigh sandwich down with a small skillet or press hard with the back of your spatula. Flip gently. Cook about 1 minute per side.
Notes: Tapenade is easily customized, add in a handful of sun-dried tomatoes, a spoonful or oregano, some fresh basil leaves or a squeeze of lemon – play around with it until you get the flavor you love. If you ARE using some of this as a straight up tapenade dip, add in another tsp of the vinegar and another TBS of olive oil and give it a good stir.
For the sandwich, feel free to double the cheese, some on top and some on bottom, add some meats like prosciutto, salami or ham. See where you can take it!
Enjoy!!