Oreo Balls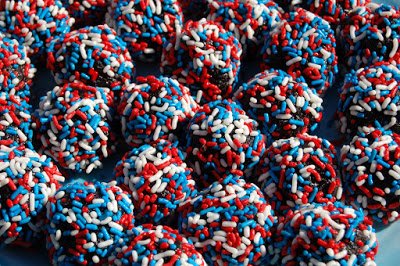 The kids helped whip up a batch of these patriotic, super easy, super tasty oreo balls for a barbecue this weekend.
They love making them and they love eating them. My son(8)is so funny, this is one of the treats he is so proud of making…his friends always go crazy for them and he puffs up a bit – pretty cool.
He has been saying since he was 2 that he is going to be a doctor and help people(as well as cure Asthma…lol) but who knows…maybe there are some chef whites with his name on it down the road of life somewhere!
Hope you have fun making these oreo balls with the kids in your life 🙂
These little guys are so, so easy to make and disappear fast!
Just last night a woman whom I had just met came out of the home we were at saying "Oh My Gosh…I just had a food-orgasm"…and she was talking about these…I am always like…"oooh, ummm, those are for the kids…it's a kids treat"…then it's usually to late – make a double batch!
Roll these in any festive sprinkles to mark the season or holiday.
If you have a guest chef days at your kids or grand kids school, this is perfect recipe to have the kids finish off – just have them form into balls and roll in the sprinkles. You can also make this a birthday party activity!
Oreo Balls
1 package Oreo's
8oz bar of softened cream cheese – you know I use Philly Cream Cheese!!
Your choice of sprinkles
In your food processor, pulse until the cookies are crumbs – almost like dust.
Add in the softened cream cheese and pulse until it becomes a big ball of chocolate.
If you don't have a food processor, try using your blender to crush the cookies, only do it in small batches. Then in a big bowl, add in the cream cheese and mix until creamy.
Place in a bowl, cover with wrap and refrigerate for 30-60 minutes or until a bit firmer.
Roll into balls, decorate, plate and serve! Oh, and save some for the kids!!
Enjoy!!
Colleen