Parmesan Encrusted Chicken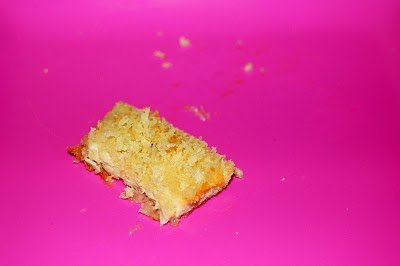 What the heck is this a picture of you ask???
Well, it's all that is left of eight…yes 8 pieces of Parmesan Encrusted Chicken.
I made this the other night for a quick weeknight meal.
No sooner did it touch the table then THIS is what remained!!
I THOUGHT I would have a couple of pieces left over for my Mom and niece that were popping over for a visit…but NOOOO!
I kid you not my son who is 8, ate 3 pieces of Parmesan Encrusted Chicken himself and was sniffing for more.
My daughter who is 5 and does not like meat (just fish and sometimes chicken) inhaled it as well. I have made this a few times for them over the years but all of a sudden it's the dish to beat in my son's eyes especially.
This is a great quick and easy family meal. Throw a salad together and some white rice or a vegetable and there you have it!
I like to sprinkle mine with hot sauce(yum)!!!
Parmesan Encrusted Chicken
6 thin boneless chicken breasts (I like the fit and easy)
If your chicken breasts are large and thick slice them down the middle to make 2 thin ones.
1/2 cup milk or buttermilk
1 teaspoon olive oil
1 cup Panko
1/4 cup grated Parmesan cheese
2 TBS parsley, chopped
A few drops of olive oil to grease your baking sheet
Preheat your oven to 400 degrees
Lightly oil a baking sheet
Combine Panko, Parmesan, and parsley in a big bowl. Set aside.
Whisk oil and milk/buttermilk in a shallow bowl.
Dip one piece of chicken at a time into the mixture then immediately press and coat in the Panko mixture. Place on prepared baking sheet.
Bake for 35-35 minutes depending on the size of chicken used.
I think the kids like the simple plain flavors.
You could certainly add some paprika, basil, black pepper and red pepper to the dry mixture to kick it up a bit or do like I do and grab the nearest bottle of Tabasco!
Also I have made this with freshly grated Parmesan cheese as well as the store bought variety, both work. Freshly grated is a little less crisp but tasty!
Enjoy!
Colleen