Pasta Cake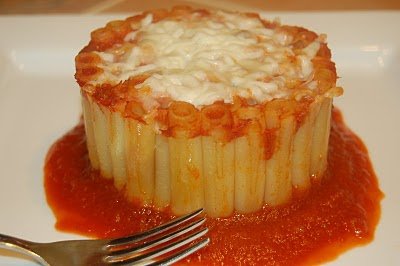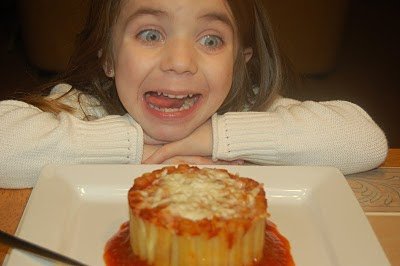 My daughter and I had some fun in the kitchen the other night…we made a "cake" from pasta…let me explain. In the past year or two I was in the waiting room of one appointment or another and I was flipping through a magazine and I saw a cute pasta cake…I am almost positive it was from Martha Stewart.
The pasta was standing up, I don't remember red sauce, but I know what my kids will eat so that is how we did it.
Leave it to Martha to come up with something so creative!
I decided to make mini cakes because I happen to have a few mini springform pans, plus I though the kids would enjoy that more…and they did!
You can see from my daughters face she was totally into it!
Have fun with this Pasta Cake…I know we did!
Pasta Cake
1 box of tube pasta (rigatoni, tortiglioni, etc), cooked al dente
Olive oil
Mozzarella cheese
Sauce
Preheat oven to 375 degrees
Cool pasta under cool water while in your colander.
Immediately toss with a bit of olive oil.
Lightly grease your springform pan with a bit of olive oil.
Begin to fill the pan with the pasta, standing each tube on its end. You may find tilting the pan to one end helps.
Once pasta is packed in, pour some sauce over top and gently smooth into some of the holes with the back of a spoon. Place in oven and bake for 10 minutes.
Pull it out sprinkle with cheese and bake for an additional 5-7 minutes or until cheese is melted and bubbly.
Remove from the oven and let it rest for a few minutes, run a knife gently around the sides to ensure no noodles are stuck then gently release the spring-form pan.
Serve with additional sauce, Parmesan cheese and a hunk of crusty bread.
I am sure also that you could incorporate some cooked ground meat, sausage or chicken bits throughout this as you assemble as well.
Make it your own.
Enjoy!!
Colleen