Pub Tenders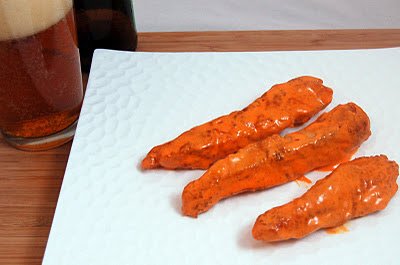 My husband and just about every man I know are semi obsessed with chicken wings. Hot wings, sweet and spicy wings, Cajun wings…you name it, they want it. I on the other hand don't want anything to do with them. They kinda freak me out. The thing is though, the smell is intoxicating and the taste of the sauce is a party in my mouth! I just don't want any part of the dark meat, the squiggly stuff or the bone. So what's a gal to do?
I opt for chicken tenders in wing sauce…or better yet in a pub sauce.
Yummy, yum, yum!
THIS I can get into! All it is is a standard hot wing sauce mixed with either blue cheese dressing or ranch dressing. I personally like it with ranch dressing.
So if you ever have a night where you are in the mood to hit the local pub with friends but find yourself without a sitter or you are just in the mood for bar food…here you go! These would be great as well if you are hosting a Super Bowl Party. I would just halve them and make them bites instead of strips before cooking.
As I am typing this…very early in the morning…my mouth is watering lol! I just love this sauce!
Pub Tenders for Two
3-4 Boneless chicken breasts, trimmed and cut into strips
Salt and Pepper
1/2 cup of flour
1 tsp Paprika
1 cup Buffalo Wing Sauce (your own or purchased)
1/2 cup of Ranch or Blue cheese dressing (your own or purchased)
Oil for frying
Season your chicken strips with a little S&P. Set aside. On a plate combine of flour and 1 tsp of Paprika. Dredge your chicken in the flour mixture and set aside.
In a small bowl, combine your wing sauce and your Ranch or Blue Cheese dressing, mix well and play around with it until you get the flavor you like. I like about a 60% wing sauce / 40% Ranch combo.
Heat enough oil in a large skillet to cover your pan completely as well as come up about 1/4 of an inch of the side of your pan. Add in your chicken strips and fry for a 4-6 minutes, being sure to get all sides crispy. Drain and blot on a paper towel lines plate. Cooking time really varies depending on the size and thickness of your chicken strips.
I usually preheat my oven to 350 and as I pull off pieces I feel are done, I pop them in the oven for a few minutes more…just to be sure 🙂
When ready to serve, drop your strips into your sauce and coat well. Pull them out and plate them.
The recipe ingredient quantities really depend on how much you want to make.
Also you could make the coating much more "chunky" if you like it that way by dredging the chicken in a mixture of egg and milk first, before the flour – your call.
Enjoy!