Quinoa Cakes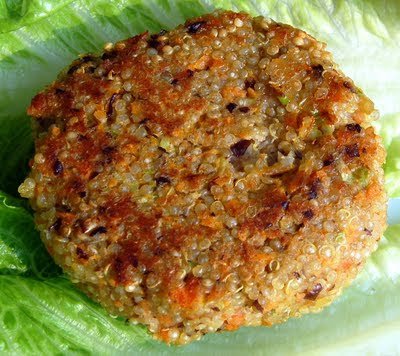 Have you had Quinoa?
I had always thought it was pronounced quin-on-a, however it is actually pronounced keen-wah (and let me tell you I am having a hard time remembering that, lol). The nutritional benefits are amazing as is both its history and current trend. I had heard of quinoa but had not tried it until a friend of mine (who happens to have a Gluten allergy) was talking about it, saying how tasty it was and how very good for you it is.
I was curious, so I got myself some quinoa and decided to make a "burger" out of it.
I purchased an organic brand by the name of Ancient Harvest and as a bonus it happened to be pre-rinsed! (Quinoa has a natural bitter coating to it which makes it unattractive to bests and animals)
In my head I thought I was making a burger, so I plopped it on a roll and munched away. I hadn't thought of any sauce for it and if I had sour cream on hand I may have doctored it up a bit and made something tasty. Then, I ate one by itself and I really liked it better that way. To me it didn't needed anything additional, I really liked it. Later, as I thought about it, I decided that next time I will make a salsa for it and enjoy it that way...maybe some corn, scallion and tomato...we shall see.
Quinoa Cakes
-adapted from Enlightened Cooking
½ cup quinoa, cooked to package directions
½ cup carrot pieces
½ cup black beans, drained and rinsed
2 whole scallions, sliced
1 teaspoon garlic
1 teaspoon olive oil
⅓ cup Panko
1 egg
Salt & pepper
Cook your quinoa according to your packages directions. Set aside.
Combine carrots, beans, scallions, garlic, olive oil, Panko and salt and pepper in your food processor and pulse until combined. Add to your quinoa and form cakes (like a crab cake). Place the cakes in your refrigerator for 20 minutes or so allowing them to set. In a large frying pan, add some olive oil allow it to heat up then add the cakes. Cook over medium heat for about 3-4 minutes per side.
Hope you enjoy it!