Ribs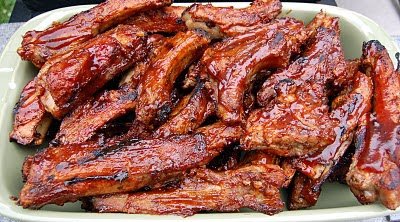 I was never a rib person until I met my husband. I used to think, what do I want to pick up a bone with a bit of meat on it and nibble away for…man was I wrong!
When I first saw my man enjoy a rib early in our relationship…I though I can do that…then of course I tasted it and I was hooked!
How's this for a big pile of ribs?
Last week I actually grilled 16 pounds of ribs myself…usually my husband finishes them off on the grill for me but this time I was delivering them to an office where I work…they won a prize…77 locations (branches of a bank) competed for a lunch made by me. The winning location was can almost 3 hours from where I live…man what a day…grilled 16 pounds of ribs, made 3 pounds of Asian Noodle Salad and a few dozen Cheesecake Shooters and off I went!! I gave them this site and said pick 3 items for lunch and that is what was settled upon.
Never mind once I got up to the Pocono area where I was headed the GPS decided to stop talking to the satellite and the cell phone had no service – I still found my way. I hung out with some great folks, saw a beautiful branch, drove BACK home then went roller skating with the family…whew!
Ribs
2 slabs of spareribs
Your favorite BBQ sauce homemade or bought
(I love Sweet Baby Rays Honey Barbecue when I am using store bought)
Salt and pepper
Make it easy on yourself and buy one or two huge tin pans to cook these in your oven. That way no clean up is involved.
Preheat oven to 300 degrees.
Cut the ribs apart and season with salt and pepper.
Bake for 2 hours. Remove, pour off any grease, brush with your sauce and cook for another hour to and hour and a half at 275 degrees. It really depends on the ribs you end up with…how big, how fatty etc. Just check them after 3 hours…are they cooked to your liking?
Remove from the oven, brush with more BBQ sauce and tent with foil, let them sit and hour or overnight. I have found that if you grill these while they are hot/warm from the over the char to quick – so let them rest an hour or two or overnight prior to grilling for the best turnout).
Prior to serving, fire up the grill. You just want to warm them up and give them some nice grill marks. Brush with sauce along the way, then once more prior to plating.
Enjoy!!
Colleen