Roasted Cauliflower and Cheddar Soup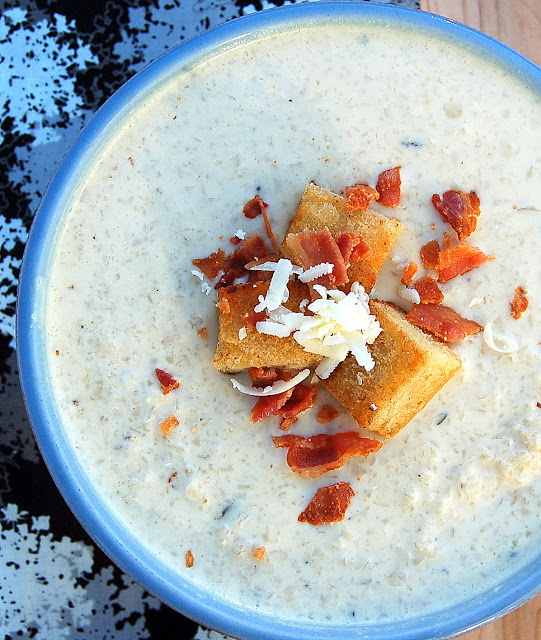 I have been on a soup kick lately.  I don't know if it is because I had the flu  just after we rang in the new year and it has been hanging on and on aaaannnd on!  Or if it's because once January rolled in it finally got seriously COLD in my neck of the woods!!
Either way, I like it!  Not only is making soup fun, or so I think.  It makes the house all warm and cozy the leftovers are delish the next day.  I 'm not a big one for eating leftovers, so I usually cook accordingly.  But to me, most is better the next day.  As an added perk, my scale says I am down 4 pounds since the last time I weighed myself…I think it was all that soup eating!!
Last week I made this French Onion Soup, to make my man happy.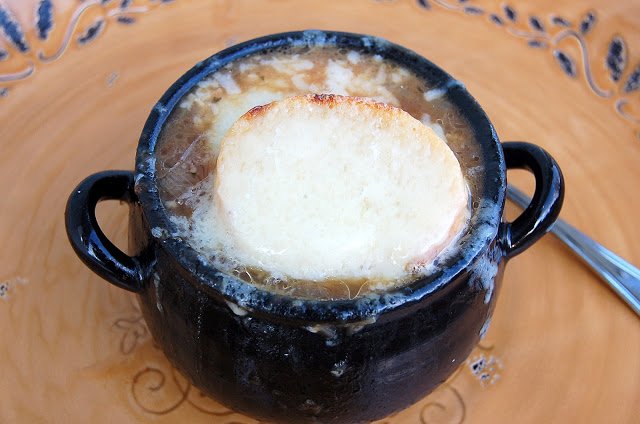 For me, I made my favorite quick, packed-full-of-flavor Garlicky Tomato, Spinach & Tortellini Soup and I made this Cauliflower soup which was inspired by Closet Cooking.  When I saw his soup, I literally wanted to grab a spoon and reach into my computer screen to get a mouthful!  I knew I had to try it!
My soup was a bit thicker than his because, I do not have an Immersion Blender, insert sad face here!
I DID…and I was probably the first person of any household in my circle of life to have one!   Around age 20, my Mom bought one for me one day and I was like what the heck is this thing…she was a a store closing sale, saw it and thought I would find a use for it, and I did!  I used if forever, then one day it went off to the kitchen tool graveyard…but it served me well.  For whatever reason I never replaced it, I just used my food processor or blender as a workaround.  The funny thing is 2 weeks ago I had one in my hand, grrrr I am not sure whey I didn't buy it…it was probably due to me being in "mommy mode" and buying things for my kids instead of me…you all know how THAT goes…right??
Well I will fix this problem in the very near future, then make this soup again!  I LOVE, love, loved this soup!    So did my daughter (of course she did…it has cheese in it).  My husband however did not (see my French Onion Soup Post, lol!) and my son who usually will try anything was like nope, nada, not gonna happen mom.  Oh well, there was more for me!
I am a big one for throwing crackers or hunks of bread into my soups.  I spied a 1/2 of a loaf of French bread on my counter and decided to make some croutons for it.  Why not!  They were a great addition and totally worth the few extra minutes!  They also kept great in a baggie until the next day!!
I am not one to eat much cauliflower, I have always felt it was bland raw, so why eat it and growing up, my parents only boiled it…shudder!  It wasn't until Wegman's first came to town and had samples of Roasted Cauliflower with one of their signature olive oils that I began enjoying it.  Thanks Wegman's xoxo!!
Roasted Cauliflower & Cheddar Soup


1 medium head of cauliflower, cut into florets
2 tablespoons olive oil
Salt and pepper to taste
1 medium sweet onion, diced
2 nice sized cloves of garlic, chopped
1 teaspoon fresh thyme, chopped
3 cups vegetable broth
1/4 cup white wine
1 1/2 cups aged white cheddar, shredded
1 cup cream or milk (I used cream)
In a large bowl, toss your cauliflower florets in the oil , salt and pepper and arrange them in a single layer on a large baking sheet.  Roast the cauliflower in a preheated 400 degree oven until lightly golden brown, about 20-30 minutes.  Heat the oil in a large sauce pan over medium heat, add in your  onion and saute until tender, about 5-7 minutes.  Add your garlic &  thyme and saute for about 1 minute.  Add the broth and wine,  deglaze your pan.  Add the cauliflower and  bring to a boil, reduce the heat and simmer, covered, for 20 minutes.  Puree the soup until it reaches your desired consistency with an Immersion blender (or transfer in batches to your blender to puree).  Add in your cheese, let it melt, however do not allow it to come to a boil.  Add in the milk, adjust your seasoning if necessary with salt and pepper.   Remove from heat and serve with the croutons.
Crispy Pan Fried Croutons
2 TBS butter
1/2 tsp minced garlic (optional)
16 pieces of cubed French or Sourdough Bread
Dash of salt & pepper
Melt your butter over medium heat in a small frying pan, add the garlic and saute 1 minute.  Add in your bread, and quickly coat all sides in the butter. Allow each side to crisp up (about 20-30 seconds a side once your pan is hot), being careful not to burn them, then transfer your croutons to a paper towel.  I couldn't help myself and added a bit of crumbled bacon over top…loved it!
Enjoy!!