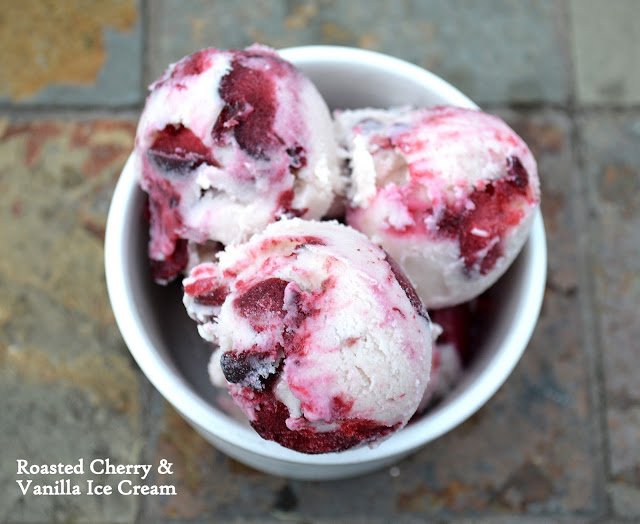 Growing up, from time to time, my dad would make ice cream in the backyard in one of those old ice cream makers that required rock salt and ice to make the magic happen. I know now that I took that for granted!
I usually tell people "I don't like ice cream" and then instantly get the crazy eyed "are you nuts or from another planet" look. I never go and just get a bowl of it and rarely have it in the house, my poor kids only really get it out. The only way I really enjoy it is in an ice cream soda - one scoop of vanilla and one scoop of strawberry - I get this when we are at the beach. It cools me off and is so refreshing going down!
I realized a few years ago that it's not that I don't like ice cream, I just have a taste for the homemade stuff, the difference is incredible. I remember my dad making peach ice cream one day after we had gotten a case of peaches, I helped him cut up some peaches, then just sat watching the ice cream maker go at it. Remember being a kid and just salivating over a dessert that was in the making?? The wait was agonizing, but so worth it! Thank goodness funnel cakes were fast when we made them in the summer by the pool or my siblings and I may have mutinied!
I have long been a nut for kitchen gadgets, and have occasionally bought something that "I had to have" only to let it sit in the box (ugh...I know). My ice cream maker did just that. I had to have it, aaaand it's been in the box for about 4 years! Well now it's out and I WILL be using it, much to the excitement of my husband & kids! I have to say I owe a thanks to Williams Sonoma for making me finally open up my ice cream maker. I was in the Philly location a couple of months ago and tasted a sample of a batch of Vanilla-Cardamom Ice Cream they had just made with their Vanilla Ice Cream Starter. It-was-incredible! I love both cardamom & vanilla so I felt like it was made just for me! I immediately bought the starter and knew I was going to finally open my beautiful ice cream maker!
Recently, I saw some gorgeous cherries from my local market, used some for a BBQ sauce I was making for ribs, and decided to roast some for ice cream. Luckily for me I had the assistance of two 9 year old ice cream aficionados, my daughter and niece, we had a blast making it and everyone enjoyed eating it! It was so good, plus it was fast & easy!! There will now be more ice cream in my familys future!!
I have to say that I was really pleased with the flavor, texture and ease of the starter packet and I will use the other packet I have, then move on to making the base myself to compare the flavor since at the end of the day it is less expensive to just make the base myself. But I am grateful that it gave me the push to finally make ice cream...and finally use my ice cream maker!
Now I need some good recipes and Ideas for ice cream (anything without nuts). Have any to share??
Roasted Cherry & Vanilla Ice Cream


1 ½ cups chopped fresh cherries, pitted
2 TBS sugar
1 teaspoon pure vanilla extract
1 packet Williams Sonoma Vanilla Ice Cream Starter
1 ½ cups heavy cream
1 ½ cups half & half

Preheat your oven to 375 degrees. Toss your pitted cherries with the sugar and vanilla and roast your cherries for 20 minutes, stirring them around every 5 minutes. Roast the cherries until they begin to collapse and become tender (time will truly depend on the both the size and firmness of your cherries) . Remove from the oven, allow to cool a bit then give the cherries a rough chop. Set aside.
Follow ice cream starter package directions to make the ice cream, add in your roasted cherries, then follow your ice cream maker's instructions.
For those of you who choose to make your own base, I Pinned these delicious looking recipes that I know I want to give a whirl:
Blueberry Muffin Ice Cream
Bourbon Cherry Vanilla Ice Cream
Blueberry Cheesecake Ice Cream
Enjoy!