Roasted Walnut Encrusted Cod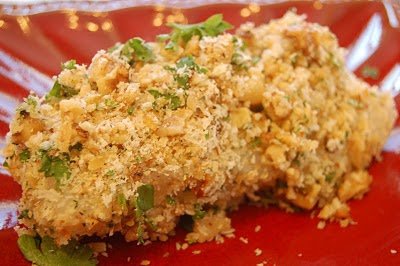 I love dinner parties and try to please every one's tastes, so often I end up making two entrees…just in case. Believe me sometimes in the midst of it I wonder what the heck is wrong with me that I somehow always take on a bit to much…but it always ends up OK!!
I love to experiment and end up with new dishes that I enjoy and that I can feel good about serving to those around me. It just makes me feel good.
I love planning on paper what the gathering will look like and then making it come alive.
What are your best practices for planning and pulling together parties…big or small??
Here is a past crowd-pleaser – Roasted Walnut Encrusted Cod. You can use Halibut, Cod or another firm white fish – For a big get together I suggest Cod…it is easy to work with, 1/3 the price of Halibut, readily available and tastes great! Plus this can be made ahead, then all you have to do is pop it in the oven – glorious plus when having folks over!!
I like to whip up a sauce to go with it but it is not necessary…I either serve it with a dollop on top or plate the serving dish with the fish resting on a smear of the sauce. The photo shown is prior to the fish going in the oven…since I completely forgot to snap a picture after it came out. But it comes out looking very similar, just a little browned.
Serve with the Roasted Tomatoes (warm) from last week, roasted or mashed potatoes and some snow pea pods or green beans (blanched and tossed with a bit of butter salt and pepper) and you have a great meal.
Also,if you happen to have pecan's on hand, those will work in place of the walnuts.
Roasted Walnut Encrusted Cod
1 TBS light olive oil
1/2 cup Panko (Japanese breadcrumbs)
3/4 cup finely chopped walnuts
4 TBS fresh chopped parsley
2 TBS basil, fresh if you can
1 teaspoon of Dijon mustard (I use Grey Poupon Country Dijon)
3 pounds of Cod, cut into 6 inch pieces
6 TBS Butter, melted
Salt and pepper
Lemon slices (optional garnish)
Sauce
1/4 cup Mayonnaise
1 TBS Grey Poupon Country Dijon Mustard
Dash of Worcestershire sauce
a drop or two of lemon juice
Preheat oven to 450 degrees
Mix walnuts, herbs and panko in a bowl, pour onto a plate and set aside. Add the mustard to the melted butter stir well and set aside.
Mix sauce ingredients together until well blended. Warm sauce in the microwave just prior to serving…just enough to warm it a bit.
Sprinkle fish pieces with a bit of salt and pepper.
Use your hands to evenly coat a piece of fish with butter, then dip fish into panko mixture and coat, place one piece at a time on a lightly oiled baking sheet.
Split leftover panko mixture between fish pieces, mounding a bit on top of each.
Bake fish 8-10 minutes depending on the thickness, until just cooked.
Plate fish, garnish with lemon slices and sauce if desired.
Enjoy!!