Shrimp Bisque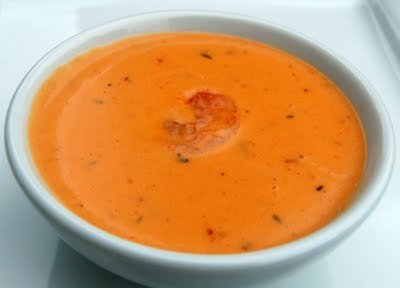 I am a sucker for shrimp, crab or lobster bisque.
When we go out to eat, if any of the three are on the menu…it's a done deal! Sometimes I am doing the happy food dance and sometimes I push the bowl away…seems its always hit or miss for me on what I happen to like in a bisque.
I was flipping through a cookbook I have from Tyler Florence called Tyler's Ultimate (a great book btw) and I came across this bisque recipe as well as a simple swordfish recipe (next post)that I knew I needed to try asap.
This bisque was very easy to make and turned out well. I enjoyed it.
The idea of cooking shells, pureeing shells etc for a bisque has always freaked me out a bit, so I have stayed away leaving that for an out to dinner experience.
Tyler made it easy! Thanks Tyler!!
Shrimp Bisque
-Tyler Florence
1 1/2 pounds medium shrimp, in the shell
3 long strips of orange zest
3 TBS extra virgin olive oil
3 TBS unsalted butter
2 leeks, trimmed, halved lengthwise and rinsed well
1 onion, trimmed, peeled, halved
2 celery stalks, cut into big chunks
2 carrots, peeled and cut into big chunks
3 fresh thyme sprigs
1 bay leaf
2 TBS tomato paste
1/2 tsp cayenne pepper/red pepper
1/4 cup brandy
3 TBD flour
4 cups heavy cream
Kosher salt and fresh black pepper
Finley chopped chives for garnish (optional)
Peel and devein the shrimp, reserving the shells. Heat olive oil in a large pot over med-high heat add the butter. Once melted, add in the shrimp shells, leeks, onions, celery, carrots, thyme, bay leaf, orange zest strips, tomato paste and Cayenne pepper. Cook stirring every now and then until the shells are red and the vegetables start to soften, about 10 minutes.
Take the pot off the heat and carefully pour in the brandy, return the pot to the heat and cook for 2 minutes more. Sprinkle in the flour, give it a stir and cook for another 2 minutes. Add in the cream and bring to a boil. Immediately turn the heat down to low and simmer gently until the soup is reduced and thickened 30-45 minutes. Strain soup into a clean pot, season with salt and pepper and possible more cayenne. Just before serving, return the bisque to simmer, add the shrimp (whole or chopped) and cook for 3 minutes until the shrimp are cooked through. Taste and adjust seasoning if you like (add chives if you wish for garnish or a nice crouton made from french bread) and serve. Serves 6.
Enjoy!!