Snickerdoodles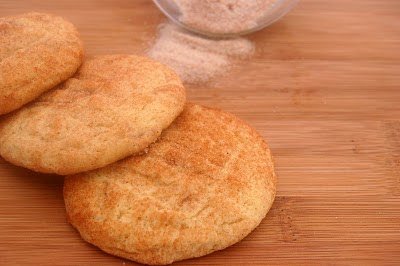 Recipe #4 in my "30 New Recipes in 40 Days Challenge".
For me, eating certain foods and hearing certain songs are the most powerful drivers of my memories.
The food memories, for whatever reason, are all warm and happy…the music ones take me back to so many different events, some crazy happy some achingly painful and some "what was I thinking"! Anyone with me on this?
Case in point…Snickerdoodles.
I can see in my minds eye my Grammy often making Snickerdoodles, I can see me helping her, sometimes alone, sometimes surrounded by my cousins and siblings.
I can't recall a Christmas at her house without having eaten as many of them as I possibly could without any adults saying a word! Man, holidays are best!!
But do I have HER recipe…nope. I do make Snickerdoodles often as my children love both baking them up and of course eating them up.
I was intrigued when I saw this recipe for Snickerdoodles from Miss in the Kitchen (a really nice gal who cooks up quick family-style dishes). One of the ingredients in her recipe is cream cheese….yes…cream cheese. Never heard of such a thing in a Snickerdoodle, so I wanted to find out how that would change things.
These were good…they were softer than what I am accustomed to and did not last long in my house lol! We even made 1 HUGE cookie that could have fed 4 kids easily, however, my two knuckleheads decided to split it to see if they could eat it! My 9-year-old son polished off his half…while my 6-year-old daughter made a valiant effort!
Cream Cheese Snickerdoodles
-Miss in the Kitchen (Blog)
4 oz cream cheese, softened
1/2 cup butter, softened
1 cup sugar
2 eggs
1 teaspoon vanilla
2 cups all-purpose flour
1 teaspoon baking soda
2 tablespoons sugar mixed with 1 teaspoon cinnamon
Preheat oven to 375 degrees. In your mixing bowl, add cream cheese and butter. Beat with an electric mixer until well combined. Beat in sugar, eggs, and vanilla. Add flour and baking soda mixing until all combined. Scoop into 1 1/2 inch balls and roll in sugar and cinnamon mixture. Place 2 inches apart on a greased or lined baking sheet and press gently with tines of a fork in a crisscross pattern. Bake for 10 to 12 minutes. Remove to a wire rack to cool.
Enjoy!