Snowman Christmas Treats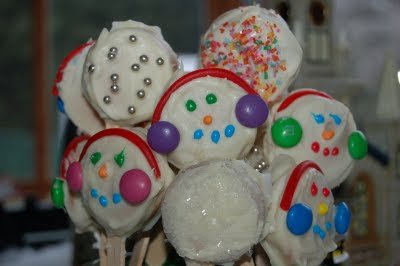 The kids and I had fun whipping up some snowmen and "sugar plums".
Snowman Christmas Treats
Vanilla Wafers
Vanilla frosting
White Chocolate melting disks
Various candies and sprinkles
We took vanilla wafers put a bit of icing in between to make them stick, inserted a popsicle stick, dipped them one at a time in melted white chocolate and laid them down on parchment lined baking sheets. Decorated them and let them cool in the garage to set. They were quite the hit at a holiday party.
We used a popsicle stick to smooth out the melted chocolate.
Have fun!!