This  Spicy Chicken & Bacon Flatbread with Avocado Cream hits on so many of the notes I enjoy most!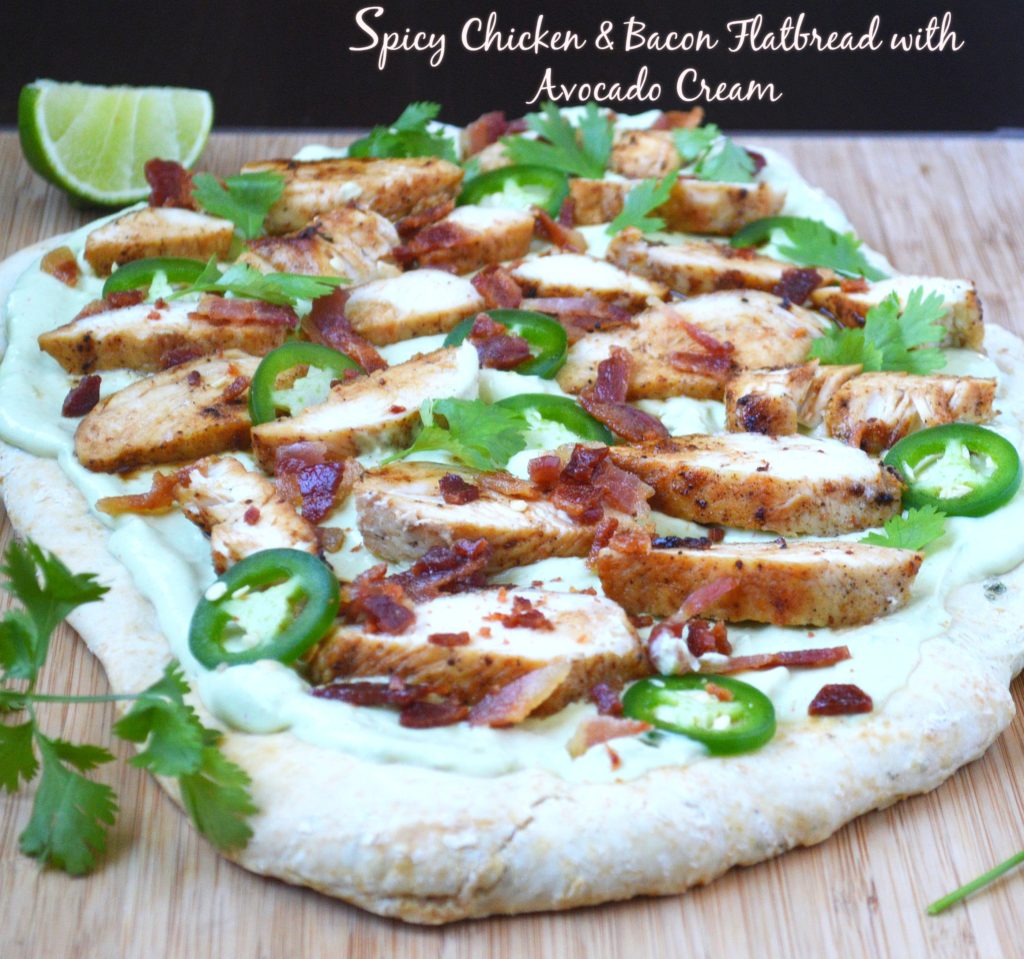 I hope your holidays were wonderful and filled with family, friends, good food and lasting memories and cheers to a magical 2014!  As you can see I took a little time off to unplug and be with my family over the holiday break, I had such a good time that I want to hit the rewind button and do it again!!  How about you, any highlights to share?
Is it cold enough for ya?? How crazy is this weather?  On Monday, here in Southeastern Pennsylvania, we had a 60 degree temperature shift.  It snowed like the dickens the other day, warmed up a bit, got really warm for about 6 hours..and today its like 5 degrees and below zero if you factor in the wind chill - Brrrr!
I know many of you are like me and cook up a storm on days it snows...it's just so lovely to have school and work closed, be cut off from everyone and just relax and have fun as a family.  Some of my best memories come from past snowstorms.
During the storm my sister and my 9 year old niece were staying with us, so we had extra fun!  I cooked up a big pot of this incredible Sweet Potato and Carrot Bisque that I made for a site I contribute recipes to, you have to try it...it's delicious (we like to spice it up in our house...the silky soup and the sweet and spicy flavors...whooo, it's a keeper)!  This time however I used sweet potatoes with a dark purple skin that I had found at the farmers market...inside they were very white.  They were delicious...have you ever come across them before, if so what's the difference?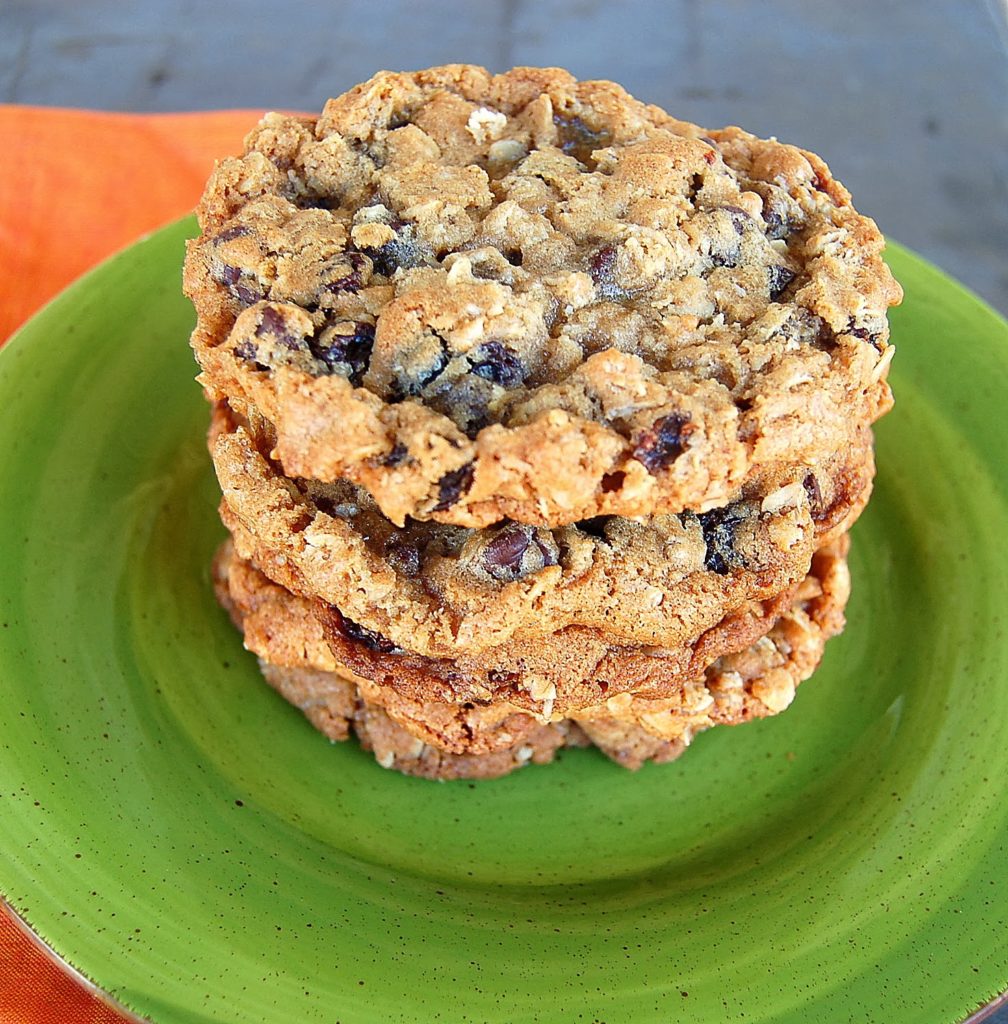 I also made one of my familys favorite cookies, which was created by Pam Anderson (no...not THAT Pam Anderson!). We call it The Perfect Cookie - they are giant - BUT you will eat the whole darn thing and want another!  I love to freeze them raw, straight from a big ice cream scoop, and bake them up whenever someone needs a sweet treat filled with love (after all aren't all homemade cookies filled with love?) or when company pops by unexpectedly. Oatmeal, brown sugar, raisins, chocolate...it's everything you could ever want in a cookie...sigh!
I had this Potato & Caramelized Flatbread, that I won a prize for last summer, on my mind, so I rummaged through my fridge to see what I could make and came up with this de-lic-ious flatbread...pizza, whatever you want to call it.  I made a quick flatbread but you could also use pre-made or homemade pizza dough.  I took a quick pic...I wish I had taken more time to get a better photo...oh well, next time...because there will totally be a next time!  My husband, sister, niece and I gobbled this up - My kids passed which was a good thing since we didn't leave a crumb behind!
Chicken and bacon are phenomenal together, right?  So I knew I was starting there. One of my favorite spices is Vulcan's Fire Salt from The Spice House (by now, you KNOW I have a love affair with their products as a matter of fact, as soon as I finish this post I am ordering some more Vulcan's Fire Salt as well as a few other things I am low on) I also had a few avocados...I ALWAYS have avocados on hand, I just can't get enough of them...so I whipped up a Creamy Spicy Avocado Sauce for something a little different on the flatbread.  I didn't have any cheese - if I had some Cojita cheese, I may have sprinkled some overtop - but you know what, it really wasn't needed.  One thing I totally meant to do but forgot to was to dice up my last avocado and sprinkle it overtop the flatbread.  For extra heat I thinly sliced up a jalapeno and scattered it overtop - next time I may cook the slices a bit first, per my sisters suggestion.  Have fun with this and make it your own.
The sauce, chicken and bacon are the star!  My sister and husband were crazy for the chicken all on its own as well and ate up the extra piece I had cooked - toldya that spice is good!  It is fantastic sprinkled over top raw shrimp too - just grill it up and you have a fabulous appetizer!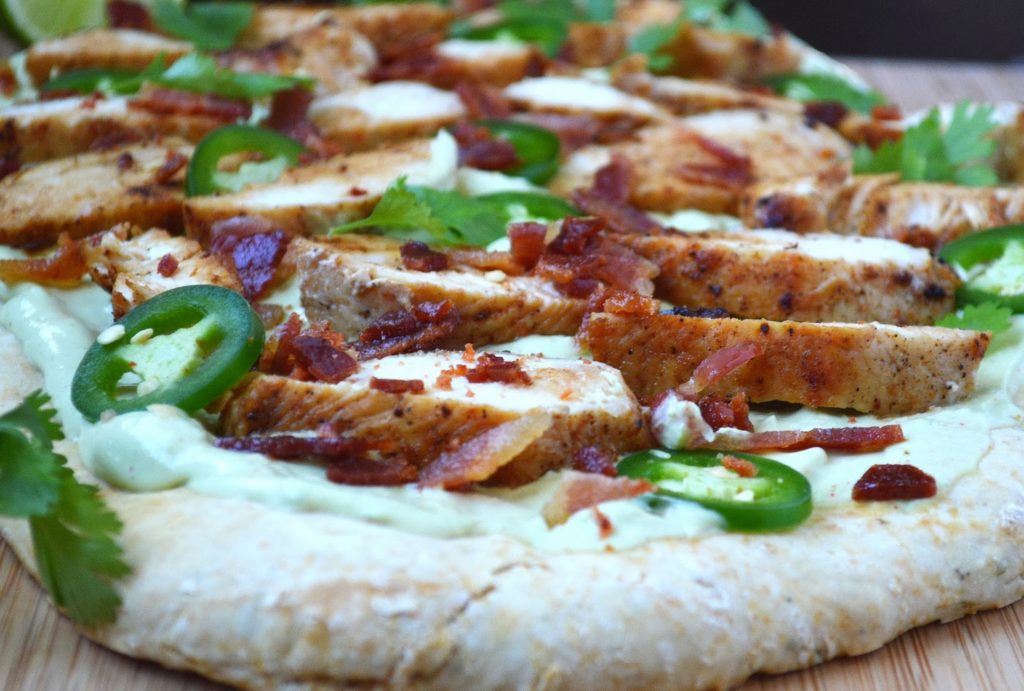 What did you make during your last snow?? I could use some delicious ideas and inspiration for the next one (can't wait!!)!


If you love avocados as much as I do...try my FAVORITE salad - Crispy Avocado Bacon and Tomato Salad or try this Crab Cake & Avocado Sandwich. Mmmm-mmm-mmmm!
I hope you are all finding a way to stay warm during this record breaking weather!
For the flatbread
1 ¾ cup flour
1 teaspoon baking powder
1 teaspoon salt
½ cup plus a little bit more of water if necessary
⅓ cup grapeseed oil or olive oil plus ½ TBS more for brushing
A couple pinches of Kosher or sea salt and black pepper for sprinkling
Preheat your oven to 400 degrees.  Combine flour, baking powder and salt in a bowl.  Make a small well in the center, add the water and the oil  to it and move the mixture around until a dough forms with a spoon or spatula. Then, gently knead the dough for a few minutes, form into a rustic shape with your hands and flatten a bit with a rolling pin (your call how thick or thin you like it - cracker like or pizza dough like).  Brush the top of the dough with a little grapeseed or olive oil bake it on a parchment lined baking sheet for 15-20 minutes (the thicker you make it the longer you bake it).
Colleen's Notes: You can also divide the dough in half, roll it thin, brush it with a bit of oil, scatter fresh herbs over top and extra seasoning to make a cracker-like flatbread, which is delicious and a great dipper or fab on its own!  If you do this preheat your oven to 450 degrees and bake 9-11 minutes. Flatbread recipe adapted from an old Kitchen Parade recipe.  Maybe I will post how to use this dough to make cracker-like flatbread soon.
For the Creamy Avocado Sauce:
2-3 cloves of garlic, minced
½ a jalapeno pepper, chopped(more or less depending your your heat preference, I myself include some of the seeds for extra heat!)
2 ripe avocados
6 oz sour cream
A few dashes of Cayenne pepper
1  TBS fresh lime juice
Kosher salt to taste

Throw your garlic & jalapeno into your food processor and pulse until minced, scrape down the bowl. Add in your seeded and skinned avocado halves and pulse until combined, add in the sour cream, pepper, lime juice and salt and pulse until smooth.  Adjust the seasoning to your liking, then scrape a small bowl.  Cover very tightly with plastic wrap (you want the wrap to touch the dip)until using (no more than 30 minutes ahead).
Colleen's Notes - I adore this as a dip as well and make it often for parties, depending on the size of your avocados you may have a little extra Avocado Cream to dip some chips into.  Go for it!  I like it spicy so I sometimes add a whole jalapeno or extra cayenne in, depending on my mood (or the size of the avocados) I sometimes add 3 in. I have also used ½ Greek yogurt and ½ sour cream with great results.  Make sure you add both salt and fresh lime - it really brings it to life!
For the Spicy Chicken, Bacon and Avocado Cream Flatbread:
Cooked flatbread (on the thicker side, I use the whole dough from above) hot from the oven
Prepared Avocado Cream (above)
2 chicken breasts, seasoned with Vulcan's Fire Salt or your own mixture, see notes
5 crispy strips of cooked Applewood Bacon (or your favorite bacon)
Cilantro
½ jalapeno, thinly sliced
Optional: ¼ cup Cojita cheese and or avocado cubes
Season your chicken breasts then saute them whole in a pan with a small amount of grapeseed or olive oil. Once they are done cooking, remove them to a cutting board and allow them to rest a few minutes.  Slice them into bite sized pieces. Once your flatbread comes out of the oven, smear it with a good amount of the Avocado Cream then top it with the slices of cooked chicken.  Sprinkle over top the bacon, cilantro and jalapenos (as well as cheese and avocado cubes if you choose), cut into hunks and gobble it up like we did!
Colleen's Notes: In lieu of Vulcan's Fire Salt, feel free to use your favorite seasoning for chicken and add in some red/Cayenne pepper or combine 1 teaspoon salt, 2 dashes of allspice, a few shakes of red pepper, a few shakes of black pepper and ¼ teaspoon garlic powder.  Blend it well, taste and adjust.
This may sound like a lot of work - but really it isn't just a lot to describe.
Enjoy!