Strawberry Fluff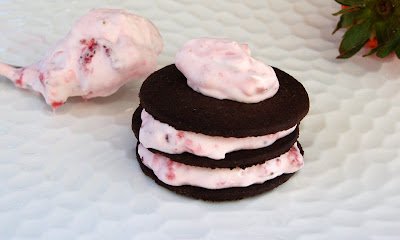 Recently I was lucky enough to be invited by Kerrygold to attend a really cool event in NYC at Cooking By the Book with none other than Darina Allen of the famous Ballymaloe Cookery School in Ireland.
I jumped at the chance to attend…I figured first…I am in love with Kerrygold products as well as the company's history. Second, a chance to meet Darina and watch her in action would be fantastic. Third, why not have a fun adventure in New York and finally an Irish gal having the chance to eat Irish cheese as well as food prepared by an Irish chef…you-betcha!!
To make it even more fun, my mom decided to join me for the day – she set up a lunch with her life long friend, Susie, who took a train in from CT.
Now even though I live in Bucks County PA…a 2 hour train ride from NYC…I don't get there very often, so I really don't know my way around. I am soooo one of those folks who has a directional challenge. My husband was like "have fun babe…try not to get lost".
Somehow, my mom and I did a-ok navigating the train, subway and streets of NYC and I have to say…we both commented on the fact that everyone…and I mean everyone we talked to or asked for directions was so, so nice…everyone! It was a great day!
I left My mom to enjoy her visit with Susie and off I went to Cooking by the Book. Cooking by the Book is really neat with a fantastic set up. It's perfect for cooking demos, cooking classes, bachelorette parties and more!
I arrived and met the Kerrygold team who were wonderful and excited for the event. I loved hearing the sounds of Ireland roll off their tongues throughout the visit. Darina is amazing, she is so full of life and passion, I was immediately smitten with her. I was pleasantly surprised to see a few familiar faces when Pam and Maggie of Three Many Cooks, Ken of Hungry Rabbit and Jackie of the Diva who ate New York walked in. We had wine and some Kerrygold cheese of course (I am crazy for the Aged Cheddar with Irish Whiskey) and met a few new friends, then we were off to the kitchen to watch Darina work her Irish cooking magic!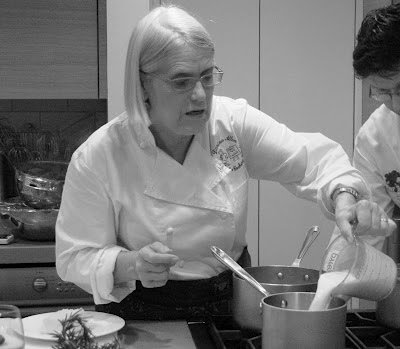 She made her "Mummy's Brown Soda Bread" – Which hot out of the oven, slathered in Kerrygold butter was glorious!
A couple key points I picked up from Darina as she made the bread were – first, our milk, here in the US (even whole milk) and buttermilk do not have the fat content needed to do Irish Soda Bread and brown breads justice – we should add in a bit of cream as well. Second, Irish flour really adds a taste difference in the breads…I need to get my hands on some of that! And one of my favorite tips…after Darina made the traditional cross on her dough to bless the bread…she then quickly jabbed each quadrant with her knife to "let the fairies out"! I loved that!
She also made a lovley Watercress Soup – something I don't think I have had before – even though I did spend a summer in Ireland. It was lovely. Such a beautiful green color! Finally Darina made a Traditional Irish Salad with a unique cream dressing.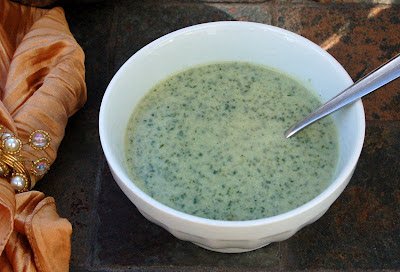 Later as I perused through Darina's beautiful cookbook, Traditional Irish Cooking, which was fascinating to read. Darina collected many traditional Irish recipes for this one. Folks across Ireland, at Darina's request, sent in both recipes they enjoy today as well as some that were almost forgotten. It was a great read for me! While relaxing and going through the cookbook, my 7 year old daughter would snuggle up against me from time to time and look over my shoulder…she saw the word "strawberry" in a recipe title and said "what's that?" I told her it was Strawberry Fluff and how to make it and she immediately said "when can I make it mom?" So the next day we did! She loved it! My kids love fresh whipped cream and often whip it up themselves and enjoy it with strawberries (and of course right off the spoon too). So the idea of incorporating the two into one was right up their alley!
Strawberry Fluff
-Darina Allen
4-4 1/2 cups of cleaned and hulled strawberries
2-4 TBS sugar (to taste)
Heavy or whipping cream
In a large bowl, use a potato masher or muddler to mash up the berries, sprinkle with sugar and allow to sit for 30 minutes or more at room temperature (to macerate).
Make your whipped cream. Click here for a recipe if you need one.
When ready to serve, drain off the liquid (save for over top your ice cream later) and toss the mashed berries with the whipped cream. Serve in small cups, over top pound cake or angel food cake or as my daughter and I did wedged between chocolate wafers.
Samantha made the whole dish herself 🙂 Job well done sweetie!!
Watercress Soup
-Darina Allen
3 Tablespoons sweet (unsalted) butter
1 cup diced potatoes
1 1/4 cups chopped onion,
Kosher salt and freshly ground pepper, to taste
2 1/2 cups chicken stock
2 cups whole milk
1/2 cup cream
4 cups chopped watercress (remove the coarse stalks)
Melt the butter in a heavy-bottomed sauté pan. When it foams, add the potatoes and onions and toss until well coated. Sprinkle with salt and freshly ground pepper. Cover the pan and sweat the vegetables over low heat for about 10 minutes. Add in the stock, milk and cream, bring to a boil and cook until the potatoes and onions are soft.
Add the watercress and boil with the lid off for approximately 4 to 5 minutes until the watercress is cooked. It will taste soft and tender. Do not overcook or the soup will loose its fresh green color.
Puree the soup in a blender or food processor. Taste and add a little more salt and pepper if necessary.
Notes: When buying your watercress, look for larger dark green leaves…stay away from shorter, yellow-ish leaves. Also, watercress is packed with vitamins and nutriendts and touted to be something you want to eat in the battle against Lung or Breast Cancer.