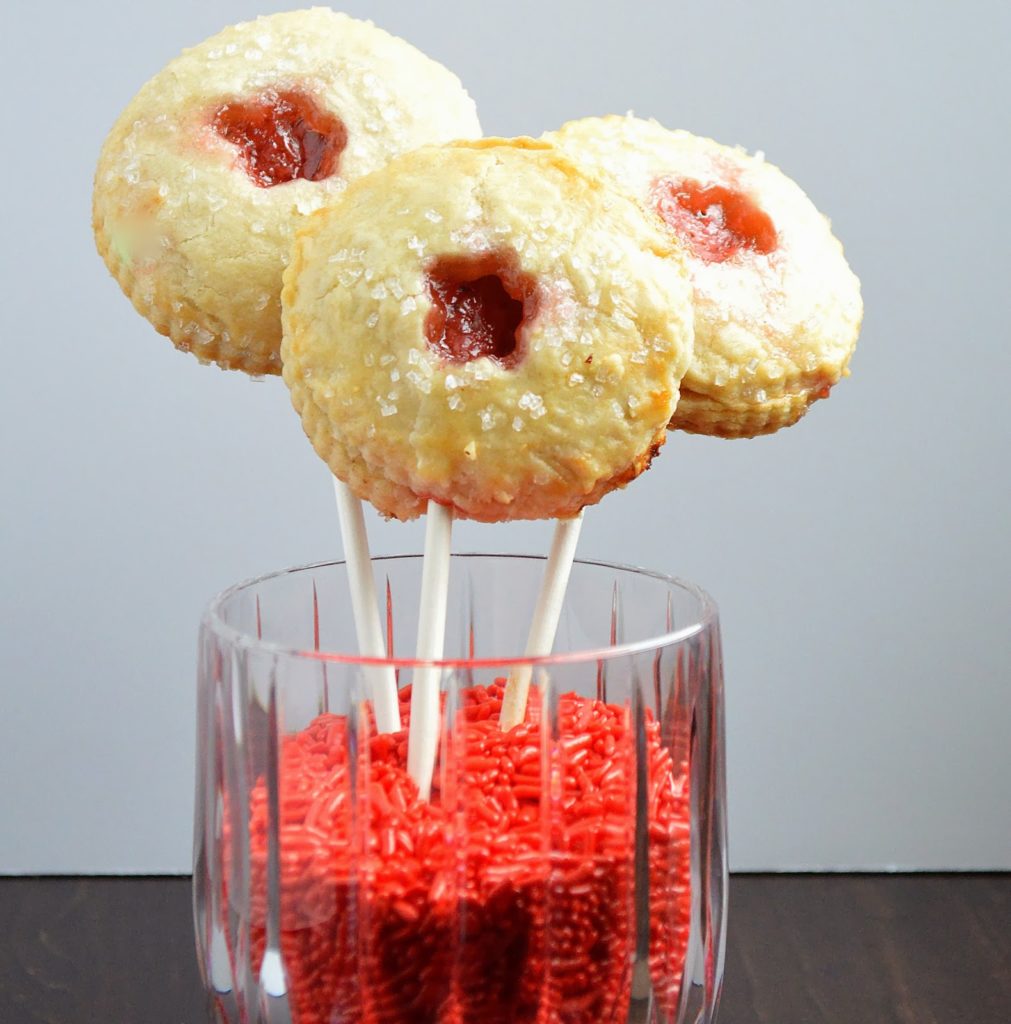 Hey guys it me Samantha again! Today I wanted to tell you about a new cookbook I received called Easy As Pie Pops by Andrea Smetona. The book has really cool smart and cute ideas for baking pies as little pops on sticks!
My favorite pie pops from the book are the Caramel Apple, the Raspberry Whip, and the Strawberry Limeade(that is in the pictures here). I think the pie crust was pretty easy to make and its really fun to roll out the dough. I love chopping things, so chopping the strawberries was fun too. The strawberry lime filling is sweet and very flavorful and I told my mom I want to make that again as a filling for a cake or as a topping for cupcakes. I think my mom will like that idea because she couldn't stop eating the filling with a spoon!
This is a fun cookbook to get. Try it!
Surprise!!! One lucky winner gets one of these cookbooks for free from meeeeee!




Hi, its my turn now (Colleen), Samantha totally enjoyed receiving this cookbook for review. She flipped through all the pages, picked a few she wanted to make right away and got to work. The book is full of sweet and savory pie pops as well as a number of non pie pop recipes. In addition to making pie pops, Samantha also made the above recipe as a small pie – both were delicious.
Easy As Pie Pops is easy to understand and I have to say that the pie crust recipe is a really good one! The pie crust recipe produced a pie crust exactly as a pie crust should be – light and flakey, mmmm! I only wish the recipe explained how thin or thick to roll the dough for the pops – Samantha followed the recipe but there was no mention of that. In hindsight, she/we definitely should have rolle it thinner – next time!
I have always thought a kitchen is filled with love – what goes on in it from something as simple as packing lunch for your kids to baking for others to holiday baking and dinners to my favorite – cooking with my kids! Its appropriate this post is going up on Valentines Day…Cooking for or with those you love is priceless! Happy Valentines Day!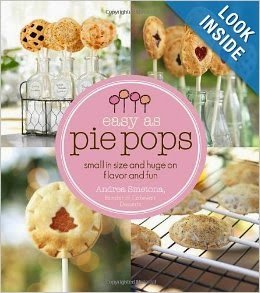 Win a copy of the fun new cookbook Easy As Pie Pops!
Recipe Courtesy of : Easy As Pie Pops: Small in Size and Huge on Flavor and Fun by Andrea Smetona
(Page Street Publishing (November 12, 2013) Printed with permission
Strawberry Limeade Pie Pops (Book Excerpt)
I remember going to the local Sonic Drive-In as a teen and getting a big strawberry limeade drink during those hot Texas summers (and winters, as a matter of fact). The flavors are actually very complementary with the sweet and sour, and are just as tasty served warm. I love to display these pie pops in a clear vase filled with small limes, for a beautiful pop of green. They're also perfect for barbecues and are super easy to bring along for picnics!
YIELD: 2 DOZEN PIE POPS
1 recipe Homemade Pie Pop Crust (page 13), or 4 unbaked store-bought or homemade 9″ (23 cm)-diameter pie crusts
STRAWBERRY & LIME FILLING
3 ½ C (33 g) strawberries, hulled and sliced
¾ C (143 g) granulated sugar
¼ C + 1 tbsp (122 g) Clear Jel, or
10 tbsp (94 g) cornstarch
1 C (236 ml) cold water
3 ½ tbsp (51 ml) freshly squeezed lemon juice
1 tbsp (9 g) lime zest
¼ C (59 ml) freshly squeezed lime juice
1 large egg white, beaten, for brushing
Coarse sugar, for garnish
Preheat the oven to 400°F (204°C). Grease and flour a large baking sheet.
To prepare the filling: Bring ½ gallon (2 L) of water to a boil. Meanwhile, wash the strawberries under cold water in a colander, picking out any leaves or stems. Blanch them by placing them in the boiling water and bringing it back to a boil for 2 minutes. Drain the berries and keep them covered in a large bowl.
In a large pot, combine the granulated sugar, Clear Jel (or cornstarch) and cold water. Stir the mixture over medium heat until it thickens and begins to boil. Add the lemon juice and, stirring, continue to boil for 1 minute.
Remove from the heat and fold the berries, lime zest and lime juice into the hot mixture, stirring gently. Let cool to room temperature. Transfer the mixture to a food processor or blender and pulse for 4 to 5 seconds.
To assemble the pie pops: Flour both sides of the two piecrusts, then roll flat with a rolling pin. Using a 3-inch (7.6 cm) round cookie cutter, cut twenty-four rounds from the dough, twelve for the bottom crust and twelve for the top crust. If doing peek-a-boo, stamp out a star-shaped peek-a-boo from each of the twelve top crusts, using a star-shaped Linzer cookie cutter.
Lay out the twelve bottom crusts on the prepared baking sheet. Brush each bottom crust with egg white, using a silicone basting brush. Press an 8-inch (20 cm)-long cookie stick firmly on top of the center of each bottom crust.
Dispense a 1 ½-inch (about 4 cm) dollop of strawberry limeade filling in the center of each bottom crust. Place a top crust over each bottom crust and press firmly around the sides only, sealing the filling inside.
Create a cookie stick dowel by cutting a 1-inch (2.5 cm)-long piece off the end of an 8-inch (20 cm)-long cookie stick. Use this dowel to crimp the sealed edges of the pie pop by pressing firmly on each side of the stick first, then move counterclockwise around the edges. This will keep the stick from moving around once the pie pop is baked.
After each pop is sealed and pressed, carefully brush more egg white on each top crust, except over the filling inside the peek-a-boo opening. Finally, sprinkle the top crusts with coarse sugar.
Bake the sheet on the center rack of the oven for 15 minutes, until the crust is nice and golden. Then place the individual pops on a cooling rack and let cool for at least 15 minutes before serving.
Enjoy!

& Samantha