Sweet & Spicy BBQ Pork Roast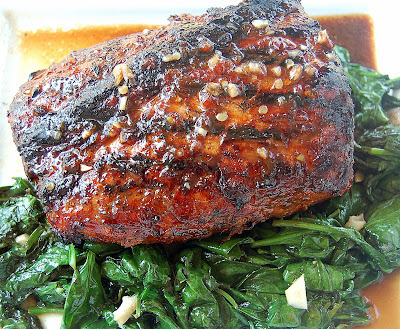 Leave it to me to crave something off the grill on one of the hottest days of the year...yup...it's a 100+ degrees out!  But when a gal wants some barbecue...she's gonna get it!
My husband works outdoors often and when its a scorching hot day, he comes home like a wilted flower and really doesn't have much energy left. Often, he can't even muster up the energy to put his swimsuit on and jump in the pool (which "I" would think would help perk him up). He just wants to stay put in the AC...and I guess I  really don't blame him!
Lucky for me our Char-broil Quantum 4-burner Infrared Gas Grill makes grilling easy! For most of our life together I prepped the food that was intended for the grill and he took care of the rest. Since owning this grill however, I often take care of it. Especially if my husband had a hard & hot day at work. I have to say I have never been around a grill easier to light or easier to manage so finally I enjoy the grilling part of grilled food!
What I wanted was a grilled pork tenderloin, however I ended up at the farmers market at the end of their 3 day weekly run and they were sold out of them, so I picked up a center cut pork loin roast instead...why not!
My son had one of his friends over who happens to be a rather picky eater and I totally enjoy, getting him to try new foods...its like a sport for me!!
Not only did he finally break down and try a slice of the pork...he asked for more! Then his mom asked for the recipe 🙂 I'm 3 for 3 in his last 3 visits (insert evil laugh here!!)
My husband was also crazy for this...kind of funny, since its not a cut of meat I have ever bought before. He even said "honey...did you write down what you did??" I said "yes"..."its in my little notebook" and he was like "oh good"!! He would have been happy to have this again the next day and THAT makes me happy!
Speaking of hot, I could not get a photo of this to come out well...once I went to take the shot outside...my camera was totally steamed up due to the extreme heat. I waited but it barley got better...so this is what you get...because this gal was hungry!
Head on over to the Char-Broil Live Site where I am one of the All-Star Bloggers to get this recipe as well as many other great grilling recipes and tips! I hope you enjoy it!! It's a keeper for me!