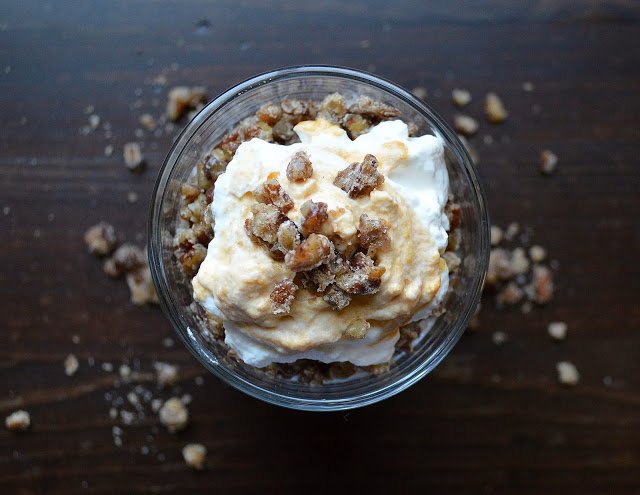 Are you ready?? I just figured out how to get out of Thanksgiving Day dishes!!
Go, me…go me, uh-huh…go me!!
Ok…so you know how we all anticipate Thanksgiving dessert as much (if not more) than Thanksgiving Dinner??
What if I, you….we…set up a Thanksgiving Day Parfait Bar?? A dessert bar…parfait-style?? How fun would THAT be. Of course we will still have Aunt Bernie's famous Lemon Meringue Pie, our sisters Pumpkin Pie and so & so's cookies – BUT how fun would it be to set out a bunch of mason jars, spoons, crumbled chocolate cookies/gingersnaps/graham crackers plus add-ins (think candied nuts, chocolate shavings, chocolate sprinkles), fresh whipped cream, a pumpkin pie mousse and or cheesecake filling. Maybe some chopped pan fried cinnamon & sugar apples for anyone who isn't into pumpkin (gasp)! Actually the apples would be phenomenal with some whipped cream! And/or whatever other ideas you dream up for a fun parfait dessert bar!?

I am SO excited to do this!!
Each guest can make own creations and whether you are 5 or 95 I bet you would have fun coming up with what your perfect parfait should be – I think as each person finished up making their parfait you quick snap a picture and they will have a perfect reminder of their oh so fun and tasty Thanksgiving of 2013.
OR – you could let the kids take over (they sure do LOVE to help, don't they)! Let them take the orders and make the parfaits…that would be a fun and tasty activity for them…don't you think?
Do it, do it, do it!!
Just think…dinner ends…some of them men slink away to watch "the game" (oh, you know who you are…wink), the dishes await, people are figuring out who is going to do what in the kitchen. YOU say – well, while you guys are tackling THAT – I am going to set up the parfait bar!! BINGO!!!! No dishes for YOU!
I bet the kids especially will think you are the best aunt, mom, grand mom, step mom, neighbor or "insert title here"….ever!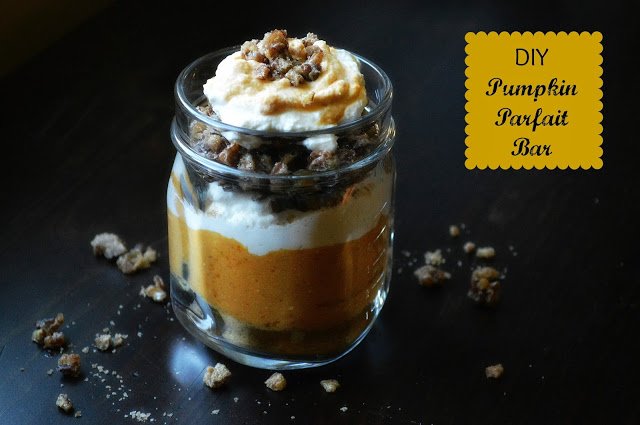 Now I wasn't about to set this all up just to get a picture – after all who the heck would eat all of that today November 15, 2013….not me!


But here is what I have in my head…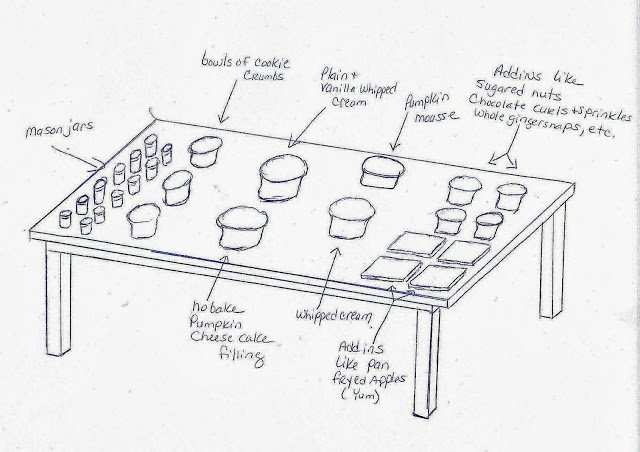 Get it?


If I was making one for me…I would have ground gingersnaps on the bottom, pumpkin cheesecake mixture next, then whipped cream, some candied nuts, more whipped cream (why not) and a tiny sprinkle of candies nuts for garnish 🙂 Like the photo above.


For recipe ideas for your Thanksgiving Pumpkin Parfait Bar check out these delicious looking recipes:


Mini Pumpkin Pie & Gingersnap Shooters
Easy Pumpkin Ginger Mousse Parfaits
Spiced Pumpkin Cream Parfaits
Pumpkin Cheesecake Parfait
Salted Caramel Pumpkin Parfaits (Squeal!)
Pumpkin Pie Shooters with an Oreo Crust
Sweet & Spicy Pecans (however I would leave out the heat for this)
Pumpkin Pie Almonds
Homemade Whipped Cream
Enjoy!!