No recipe today BUT I do have The Best Kitchen Tip EVER to share!! Or so I think 🙂
I don't know about you but me…well I burn pots and pans from time to time. Since the advent of social media, I would say I'm good for burning something once a month! Ugh! My husband says "honey, why don't you set a timer?"
Did you ever put on a pot of eggs to boil, run upstairs for a minute to check something on the computer, go work on the laundry or get caught up in playing with the kids outside and the next thing you know – no water in the pot…burnt eggs and a terrible smell?? Not to mention a burnt pot!
I did that Wednesday.
My husband was like oh no, you ruined a brand new pot.
I was like "I'll show him"!
And show him I did!
My favorite kitchen tip ever, It has saved me and my pots and pans so many times!
When we go away and rent homes in the Poconos or elsewhere, I even do this to their pots and pans, lol! I just can't help myself!
Seriously BEST TIP EVER!
Have a burnt pot or pan (or one that needs some sparkle)?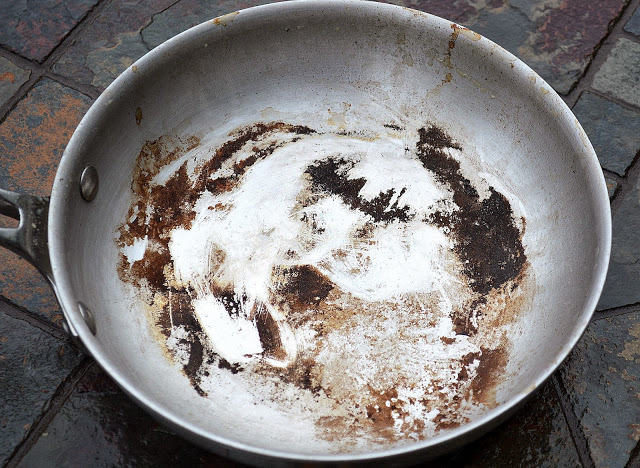 Grab your baking soda, sprinkle enough over the pan to coat it. Don't be stingy – the stuff is cheap.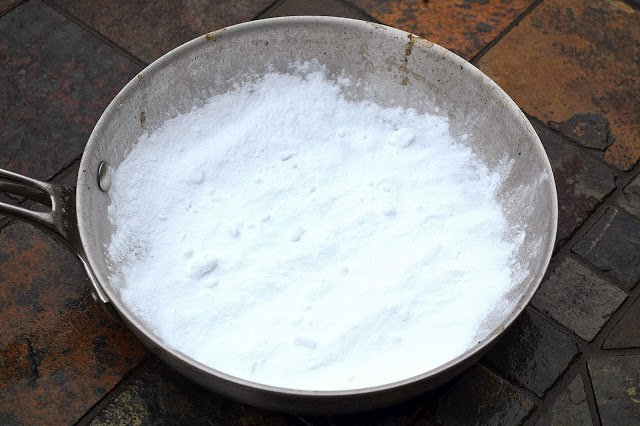 Add enough water to just barely cover it, bring it to a boil for 2-3 minutes. Use a wooden spoon or a spatula to gently scrape off the residue. Take the pot/pan over to your sink and being careful not to burn yourself, use the scrubby side of your sponge to just wipe it all way! Sometimes I use my trusty wooden spatula to push the sponge around until the pan cools off a bit.
Your pan will look like this again – unless it was a horrific caramel disaster or you accidentally left the house and went out to dinner with your family and forgot to turn the pot of soup you had on the stove off and you arrived home to a house full of black smoke – but no fire…a smell that was terrible throughout the house for weeks…one that you thought would never leave but it finally did….NOT that I would know anything about either of those things.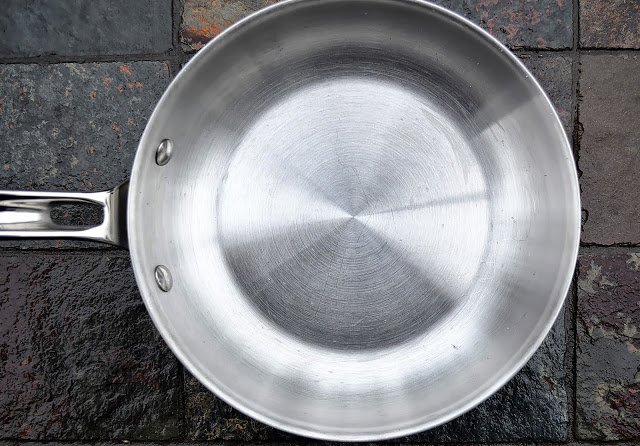 I am amazed at the number of people in my life that have never heard of this or done this. Our grandma's knew all this stuff…just ask them!
I have to confess I often do this with peoples engagement/wedding rings too…I whip them off friends fingers, heat up some windex in the microwave, plunk their ring(s) in the super hot liquid, let them sit for 5 minutes, grab the toothbrush I have stashed in the kitchen for just-this-purpose and BAM! They have a ring that looks like it just came out of the box again!
This concludes my good deed for the week!
If you try this let me know if it excited you as much as it always does me!!


Do YOU have a Best Kitchen Yip Ever…to share?