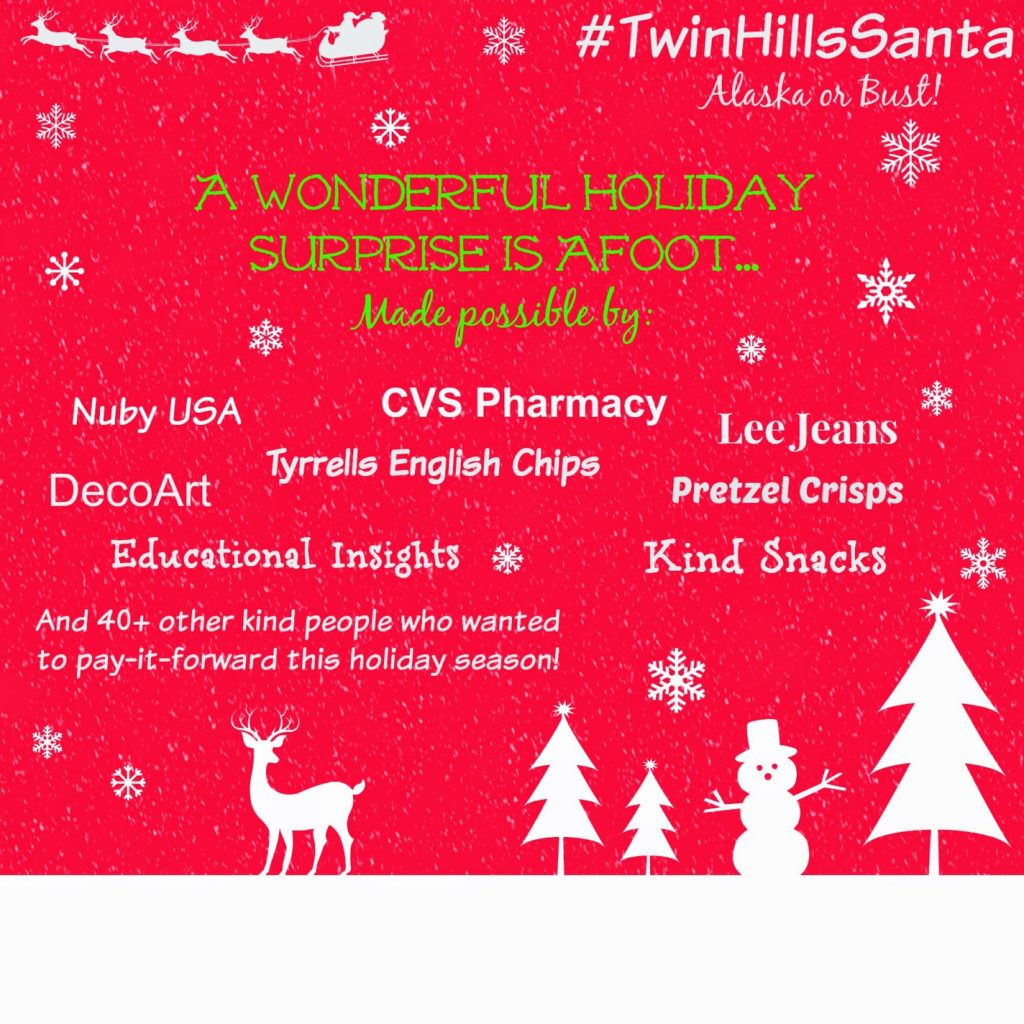 Can you feel it?  This time of year there seems to be a little extra magic in the air, people smile more, have longer conversations, hold doors open and find ways to do more kind things for people. Its the holidays!


I had the idea to reach out to some blogger friends of mine and ask them to tap some of their collective contacts to pull off a fantastic holiday surprise for 21 children who live in a small remote village in Alaska where one can only get in or out by bush plane or a small boat via the rough Nushagak River. Over 20 bloggers from PA, NJ & DE jumped on board and #TwinHillsSanta began to take off.
I thought to myself, bloggers and brands work together all year long…how amazing would it be if we teamed up for a holiday pay-it-forward-initiative.
We actually only started this initiative about a month ago, pretty darn late…especially when we were shipping everything about 4000 miles! I am no stranger to organizing holiday surprises, its something I have done for at least the past 15 years – anywhere from helping out 1 child to organizing the complete holiday giving for 5 full families its something that I love doing, its a great example to my children and others as well and it makes me so happyI But long distance…whew…what an undertaking!
A friend of mine, Dani, took a position in the village teaching this year, Dani didn't know what to expect when she packed up and moved from Pennsylvania, however she has already fallen in love with the people, their culture and Alaska.
She has 16 students ages 4-13 and the village has 5 additional kids under 4. There are no places for the 76 residents to work or shop, so they live simply.  They don't have much.  As a matter of fact while discussing Christmas and Santa recently one day in school, one of the younger kids said simply "Santa doesn't come to Alaska."  
Let that sink in for a second….
This year…these kids have one heck of a surprise in-store for them!! And I am so very happy and grateful…THIS is what the holidays are about to me 🙂
We reached out to some of our contacts and I am so humbled and thrilled to share with you that they hopped right on board!
Lee Jeans
is sending clothes to the kids, those kids are going to be so excited and well dressed!!
CVS Pharmacy
is sending all kinds of personal products from toothbrushes to scrubbies and body washes, & shampoos to chapsticks, candy, small toys and much more!
Nuby USA jumped in to send the younger children sippy cups, infant and toddler toothbrushes & toothpaste, toys and fun feeding plates & utensils!
Tyrrells English Chips
(who has the most fun website BTW)  sent cases of their crazy delicious chips – those kids are going to be happily crunching away with a new-to-them snack!
And speaking of snacks,
Pretzel Crisps
sent cases of their crazy-good pretzels – Boy are the kiddos in for a tasty treat! I see new fans just ahead!
Educational Insights
was happy to send the kids learning games, reading games, puzzle toys and more.  These kids are going to be happy, busy and fine tuning their skills as they play!
Kind Snacks
shipped some of their healthy AND tasty Kind Bars to the kids, those will get them pumped up and full of energy!
And
DecoArt
sent a bunch of craft supplies to the kids who I hear are LOVE making things and crafting any chance they get, they are going to be blown away!
How awesome are these 7 companies who said YES to pay-it-forward!  When stories like this reach my ears it makes me an even more loyal customer OR it makes me want to try/support a brand I am not familiar with!  Thank you all!
All of the bloggers involved made sure every kids will get a new pair of pajamas, hats, scarves, gloves and more!  Then additional friends, some bloggers and many not heard what was happening and either grabbed USPS flat rate boxes or hopped on Amazon to send stuff the kids way!
Then I posted it on my personal Facebook Wall and within a couple of hours and other 15 of my friends…some who I haven't even seen since high school jumped right on board! My heart hurt from happiness and excitement for these kids!
I can't wait to share more specifics, which I will do in January once I get the intel from Dani as to how it all went.  The pilot who flies in and out of Twin Hills with deliveries won't know what hit him and neither will the post office!
Magic is in the air!!
When people come together…great things happen!
Thank you Lee Jeans, CVS Pharmacy, Nuby USA, Tyrrells English Crisps, Pretzel Crisps, Educational Insights, Kind Snacks and DecoArt for making THIS a very special Christmas for 21 children, who I know are going to be so very grateful!
Thanks to just some of the bloggers who helped and posted about this initiative:
Becky Adams, Life with Kaishon
Colleen Kennedy, Souffle Bombay
Debbie Bookstaber, Mamanista
Denise Ruggieri, Mom 4 a Difference
Gina Badalaty, Mom Blog
Heather DiNuzzo, Girl Gone Mom
Heather McCurdy, Real the Kitchen and Beyond
Heather Schugar, Diapered Knights
Jennifer Oxenford, Philly Fun 4 Kids
Jo-Lynne Shane, Jo-Lynne Shane
Katie Pietrak, BusyBee Kate
Larisha Campbell, We're Parents Blog
Lauryn Blakesley, The Vintage Mom
Lindsay Podolak, The Naughty Mommy
Lindsey Shuster, Sisters to Sons
Natalie Dixon, A Turtles Life For Me
Nicole Quier, One Punky Mama
Pam Margolis, Unconventional Librarian
Rachel Blate, Can't Google Everything
Sarah Mazzone, Made in USA Challenge
Tomika Bryant, My Mommy's Neighborhood
Tricia Goodman, The Good Mama
Trina O'Boyle, O'boy Organic
In my neck of the woods I would also like to thank Schneider Dental who also sent toothbrushes and toothpaste up North as well as the many friends that jumped in to do an amazing thing!!
Oh!! Can I share where I think my personal need to do good things for people who are not usually on any holiday list came from? None other than Donny Osmond. But that is another story 🙂
Happy Holidays to you and your families…Thanks so very much for your support, comments, shares of my recipes and encouragement all year long!!

XO