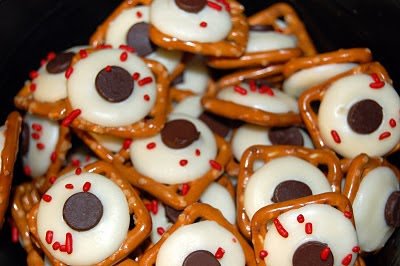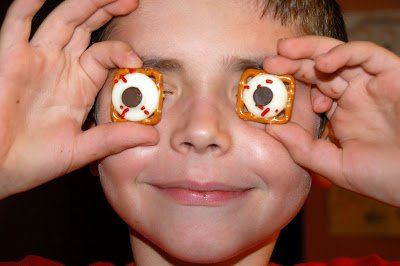 I love bringing kids imaginations to life! My own or others, it doesn't matter. Anything from a tricked out tooth fairy visit to stuffed animals that come alive and move when we are not looking (believe me I have been doing THAT one for 7 years!)
So it feels natural to have fun with food - they get such a kick out of it.
Sure, it would be easier to run and pick up some donuts or cupcakes, but where is the fun in that. Plus this way they get to help. My 5-year-old daughter assisted in both of these fun Halloween treats.
Edible Eyeballs for Halloween - We have had a number of blow-out Halloween parties and I wanted some "Edible Eyeballs" for the kids to eat...You know they were not going to eat olives - so I came up with these a few years back. This year I could not find round pretzels so I used square and it didn't make a difference. The kiddos still saw them as eyeballs.
Making Edible Eyeballs for Halloween is easy and fun, Get the kiddos involved. Even a 2-year-old can help!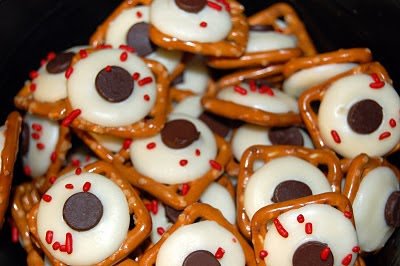 Edible Eyeballs for Halloween
These Edible Eyeballs for Halloween are so fun And so easy! Let the kids make them.
Ingredients
round or square pretzels

white chocolate disks

chocolate chips

red jimmies
Instructions
On a baking sheet, place pretzels in a single layer.

Put one white chocolate disk in the center of each pretzel.

Place in a 350-degree oven for approx 3-4 minutes or until chocolate is shiny but not melted, falling thru the pretzel.

Remove from the oven and sprinkle with red jimmies.

Invert one chocolate chip in the center of each disk.

Cool in your fridge or cold garage for 20 minutes and they will remain hard until ready to eat. They keep well for a week in a sealed container.
Follow me on Tik Tok for 1 minute videos
We also make Frankenstein Pops - The kids always get a kick out of them!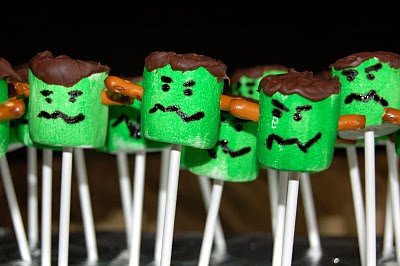 And these fun Mummy Sugar Cookies are a hit with the kids (and SOOO good!)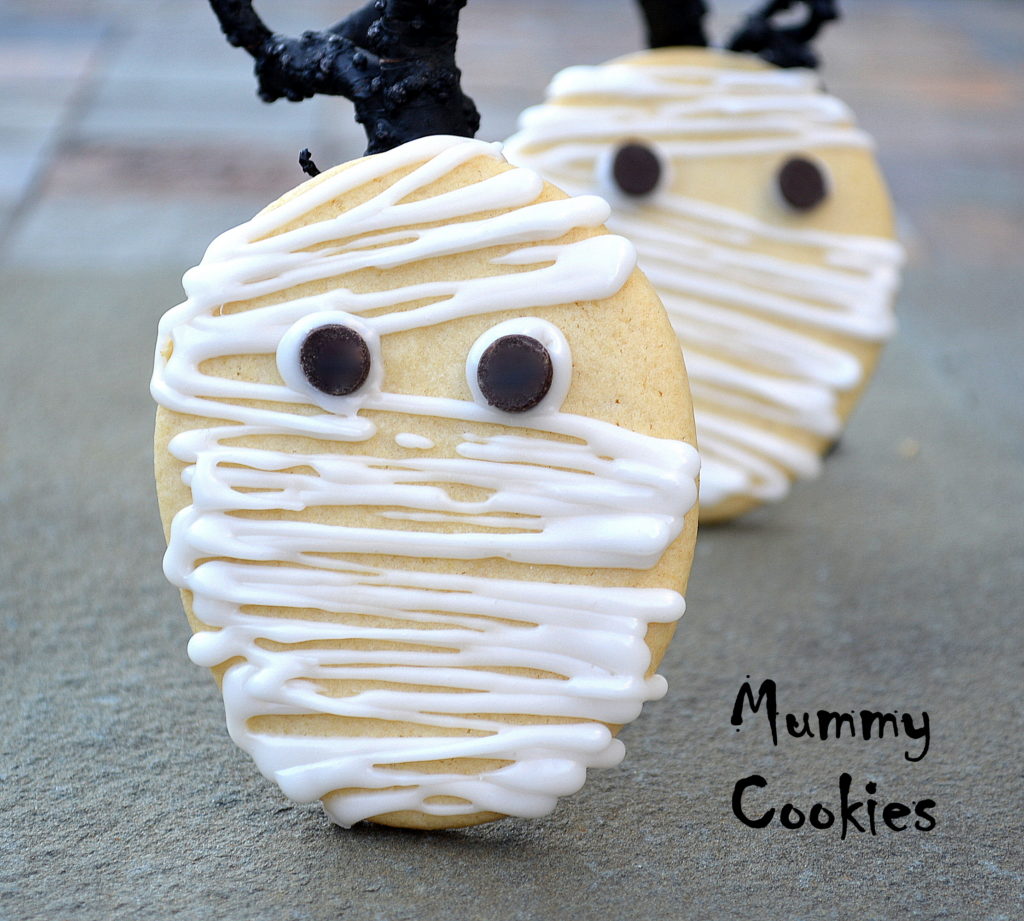 Frankensteins
½ cup chocolate chips
24 large marshmallows
green food coloring
water
pretzel sticks
black dye
lollipop sticks
Tools - wooden toothpicks and a kids paintbrush
First, place a small amount of green food coloring in a small bowl with a few drops of water, mix well. A little food coloring goes a long way. Using your clean hands and a clean tiny paintbrush, paint each marshmallow green. Place on parchment or wax paper lined baking sheet to dry.
Once dry, melt the chocolate chips in your microwave for 45 seconds, stir then microwave again for an additional 15-30 seconds depending on your microwave. Stir until smooth. Dip the top of each marshmallow into the chocolate, use a toothpick to arrange Franks' hair. Place back onto baking sheet. Once finished, place the sheet into the fridge for 20 minutes to set the chocolate.
Break the ends off of pretzel sticks to use for the bolts. Place one "bolt" into each side of the marshmallow (Franks' head). Moving back and forth until stuck.
On a small plate place a small amount of black food coloring mixed with a drop or two of water. Use the end of a toothpick to "draw" Franks' face.
"Screw" lollipop sticks into the bottom of each finished marshmallow.
For fun, place the sticks into a piece of Styrofoam or an old kids shoebox, inverted and wrapped in tin foil, to have the pops stand up.
These take some time but the kids love them. Happy Halloween!
Enjoy!
Colleen