Turkey Artichoke Panini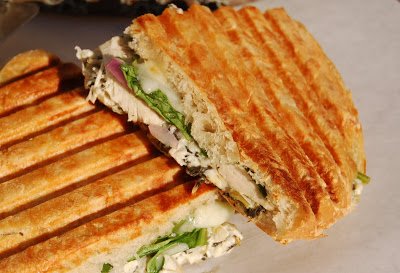 I have posted a few times on my being a bit of a Panera addict…well they did it again! I am in love with their new Turkey Artichoke Panini, so naturally after Thanksgiving I couldn't wait to use some leftover turkey in a similar version.
Lucky for me, I have a Calphalon panini maker (which ROCKS btw). I had a pre-Thanksgiving strategy…as I shopped for my Thanksgiving menu, I made sure I grabbed everything I would need to maximize my left over turkey (the BEST part of Thanksgiving…smile)!!
I have to be honest here, usually I would make my own Spinach and Artichoke Dip and for this I would thicken it up a bit. Click here for my recipe which took me years to perfect, but knowing I was going to be "cooked out" from turkey day, I nabbed some from Wegmans while doing my holiday shopping. The sandwich took literally a minute to assemble, the panini maker did the rest!
If you don't have a panini make, do they old cast iron skillet on top of your griddle trick, it works!
Turkey Artichoke Panini
1 loaf of round foccicia bread (I love the Asiago cheese from Panera)
1/2 cup spinach & Artichoke Dip
Leftover roasted turkey (or chicken)
A handful of fresh baby spinach leaves
a few very thin slices of red onion
A dozen shavings of Asiago cheese (use your potato peeler)
Preheat your panini maker or get ready your griddle and additional skillet for weight. Slice your bread carefully down the middle lengthwise so you end up with two bread circles. Assemble your sandwich by spreading the bottom loaf liberally with your spinach & artichoke dip. Place onions next, followed by turkey, then the spinach and finally the cheese shavings. Place the top bread round on and press down firmly. Hold the sandwich securely and slice it it half, then in half again (making a cross). Cook 2 triangles at a time (or more if your set up allows) for about 2-2 1/2 minutes.
Enjoy!! (My husband sure did)