Warm Potato Salad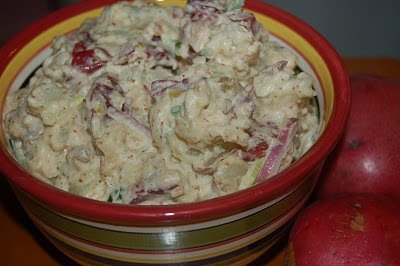 It's cold…I mean COLD cold!
You know the saying "there is a time and place for everything"??
Well, I will take the cold if I am skiing, I will take the cold if it's snowing…really snowing that is and I will take the cold on Christmas…snow or not…otherwise I am dreaming of spring and summer.
WE love to have folks over, sit out back, fire up the grill, light a fire or hop in the pool…nothing better! Last night we had some folks over for dinner.
We had a Caesar Salad, crab cakes with a Cajun remoulade sauce, blanched green beans tossed in butter dusted with salt and pepper and these potatoes, which make me think of summer.
I forgot how it felt outside for the evening.
My husband built a fire, we had good company, good food that made me think of warmer times and a delicious red sangria.
54 days till spring…hang in there people!!
Oh and if you dig sangria…I love, love, love Chadsford Winery's Sangri-La Sangria.
This warm potato salad is based off of Bobby Flay's Mesa Grilled Potato Salad,
I think he is one of the coolest dudes in cooking. When Boy Meets Grill came out, he opened up the mind of legions who man the grill, taking simple meat, potato and vegetable dishes to the next level! Love him!
Warm Potato Salad
adapted from Bobby Flay's Mesa Grill Potato Salad
3 pounds red potatoes (big or small, your choice)
Sauce
3 cups mayonnaise
1/2 cup Dijon mustard (you know I only buy Grey Poupon Country Dijon)
1 1/2 TBS pureed canned chipotlesOR 4 TBS pureed canned green chili's
4 scallions (green onions) whites and halfway up the green, finely chopped
1 good sized red onion, slices as thin as possible
2 TBS fresh lime juice
1 jalapeno pepper, finely diced
4 cloves garlic, finely chopped
A few good shakes of red pepper
Salt and pepper
Optional 5 TBS cilantro, chopped
Note: I have never found canned chipotles in my neck of the woods, which the original recipe calls for, I have always used the tiny can of chopped green chili's from Old El Paso. Depending on my mood I either puree them or just throw the whole can in, as is…which I did last night.
In a large bowl, combine all the ingredients for the sauce, whisk until fully incorporated. Set aside.
Boil the potatoes in a large pot of salted water until cooked through and easily pierced with a fork. Depending on the size of potatoes used this can take between
15 and 25 minutes.
The tricky part is to time the potatoes with your meal, this salad is to be served warm. As soon as your potatoes are finished, drain and slice into 1/2 inch slices.
Throw them into the sauce, mix it up vigorously, smashing it a bit as you stir.
Take a quick taste, decide if you need a bit more red pepper, salt or pepper and you are good to go!
Enjoy!