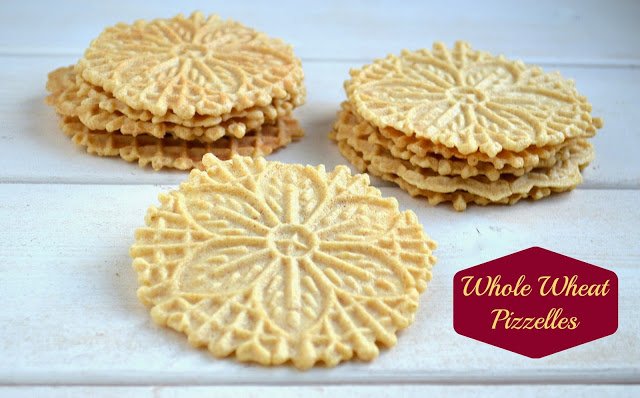 Pizzelles are my family's favorite holiday cookies. During the holidays my pizzelle iron stays out on my counter for about a month. Once you start making pizzelles…people just can't get enough! Plus, I like making a couple of dozen a day, we love them best the day they are made (but believe me…we still gobble up week old ones just as quick but they don't usually last that long).
Pizzelles are not complicated to make, the ingredients are simple and they are just so pretty and different from other cookies. They make such a festive and pretty addition to any cookie tray.
Last week I received some products from Hodgson Mill to promote out their 25 Days of Grain Holiday Sweepstakes and decided that I would use Hodgson Mills 100% Stone Ground All Natural While Whole Wheat Flour to make a healthier version of Pizzelle's for my family to try this year.
"White enriched flour might be tasty in breads, cookies and pastries but it does not provide the benefits of whole wheat flour. White flour is enriched with some of the nutrients lost in processing, but parts of the whole grain are still missing. The 2010 U.S. Dietary Guidelines recommend that at least half of your daily grain intake come from whole grains. Foods made with whole wheat flour can help you meet that requirement." – SF Childrens Hospital
This year my 9 year old daughter, who is a whirlwind in the kitchen, wanted to try using the pizzelle iron – something I had not let her try previously. She has watched me for years and within a couple of minutes she had the process down! I literally walked away from her plopped down in front of the TV to catch up on a recorded show I was dying to watch, put my feet up with a glass of iced tea while she made 6 dozen Whole Wheat Pizzelles. I of course peeked in on her a couple of times and praised her on her technique and efficiency. I was SO proud of her. I will forever remember her scraping the very last bit of batter out of the bowl to make "just one more". Sniff, my baby is growing up so quick!!
The pizzelles you see in the photo above are the ones Samantha made 🙂
If you are looking for a more wholesome cookie this holiday season…why not try these Whole Wheat Pizzelles! Since I teamed up with Hodgson Mills, I will be giving away some of their flour to a lucky winner – come back tomorrow to find out the details, in the meantime you can also enter to win in the sweepstakes link above. To find out more about Hodgson Mill and Alva Hodgson who back in 1800's started this company click here. For a coupon click here.
I received a variety pack of products from Hodgson Mill to use in the creation of the above recipe.
Whole Wheat Pizzelles
6 eggs
1 1/2 cup sugar
1 cup vegetable oil
Dash of salt
1 tsp Anise oil (or 1 1/2 tsp of vanilla)
2 cups Hodgson Mill 100% Stone Ground All Natural While Whole Wheat Flour
1 tsp baking soda
Combine the eggs, sugar, oil, salt and Anise oil (or vanilla) in a mixing bowl and mix until incorporated. Add in your flour and baking soda and mix until it all comes together. Refrigerate batter for 15 minutes. Heat your pizzelle iron and make pizzelles according to your iron's instructions. Place pizzelles on cooling racks as they come out of the iron and make sure you allow your pizzelles to fully cool before storing them to help keep the crispness.


Colleen's Notes: If you do not have anise oil or you don't like its flavor, you can use vanilla extract to lend the cookies flavor. You can serve pizzelles with a sprinkling of powdered sugar if you like as well.