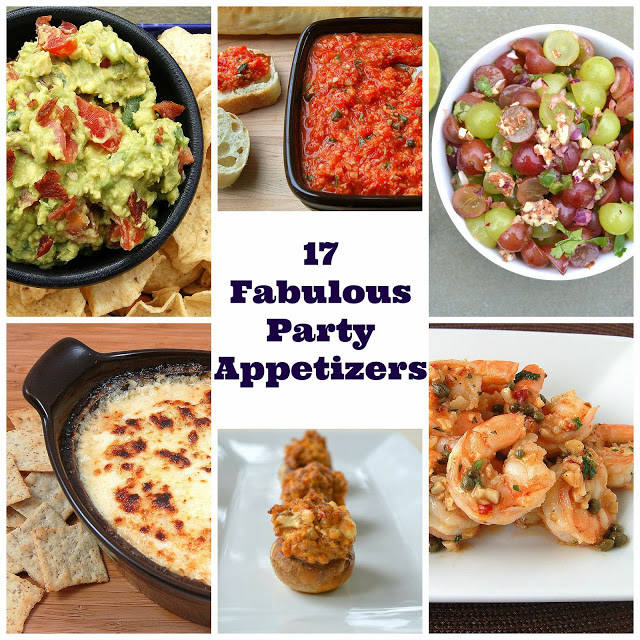 The food I look most forward to at parties are the appetizers! Appetizers, scream party to me and are always so interesting, fun and delicious! I LOVE nibbling on as many of them as I can try, then for my dinner (if I have any room) I have a small salad. That is perfect in my book!
Last night we were at a Christmas Party where the appetizer offerings were many. I brought a homemade Pub Cheese as well as a Hot Crab & Artichoke Dip that had some nice spice to it. Some of the other apps included the biggest bowl of red grapes you ever saw (I ate about 30 of them), blackberries, a hot sausage dip, a taco dip, artichokes and olives, clams casino, bite sized beef wellingtons (a big hit) and a few more. I never made it to the room with the main foods except to plop a bit of Caesar salad on a plate. The apps left me happily full!
Wherever the apps are at a party, people congregate…you just can't help yourself! The conversations, the connections and the laughter all seem to stem from that table!
Here are 17 fabulous and fun appetizers that would be perfect for the New Years Eve party you are headed to or hosting this year. Whether its simple or spectacular…people just love a good appetizer!
I think its wonderful to have some totally prepared apps like this super fun Sriracha Caramel Corn, these Marinated Mushrooms and these Prosciutto Wrapped Asparagus. You make them ahead and scatter them about your tables.
Dips are always a hit at any party…as far as cold dips go, I am obsessed with this Bacon & Tomato Guacamole as well as this Creamy Guacamole Dip (I make it spicy) and make it all year round people literally almost lick both the bowls to those dips clean! If you want a light option, this Roasted Red Pepper & Artichoke Dip bursts with flavor and is gorgeous too! If you have a food processor and want to make something in 5 minutes flat to bring to a party or when guests pop by, this 10 Minute Tapenade is wonderful, no one will believe it took you less than 10 minutes to whip up!!
Dips hot out of the oven are always a crowd-pleaser! This 5 Ingredient Hot Onion Dip recipe is asked of me more than any other at parties…it is SO simple and addictively delicious! I have not made this Baked Brie with Pepper Jelly but it looks de-lic-ious, something I would totally go for!! This Baked BLT Dip is one I want to try asap!
I always like to have a couple apps that I finish off while company is present – I love pulling a tray of these Easy Stuffed Mushrooms out of the oven while surrounded by guests…they grab them as fast as I can plate them! Plus they travel easily to bake in someone else's oven. I totally have to update this photo but….these Clams Casino are a one of my favorite appetizers to eat..period! I almost always bring them to wherever we go on New Years Eve. I tinkered around with the recipe for years until I got it right where I want it. A hot plate of this Incredible 10 Minute Garlic Shrimp will be appreciated by your guests and disappear faster than you can imagine – pile it right from the pan onto a serving dish, dot it with tiny plastic forks and let them have at it!
I love it when people have fruit out as part of their appetizer offerings – a bowl of berries, a basket of grapes, hunks of watermelon or slices of a Roasted Pineapple are all things I want to eat (and so do the kids). I had fun coming up with this Spicy Honey Lime Grape Salsa this summer and have made it a few times since then. Another New Year's staple for me are these Goat Cheese Stuffed Grapes – they take a little patience and work but people go crazy for them. Once they taste one, they always come back for more! If you can get your hands on some ripe watermelon – a Watermelon Salad is hard to resist…especially when you add some bacon and balsamic reduction…drool!!
Happy New Year – May your 2014 be filled with good luck, good health and a few fun surprises!