These Asian Pork Meatballs With Ginger Honey Sauce are my favorite meatball to make! They are different and delicious and by default, they happen to be gluten-free too!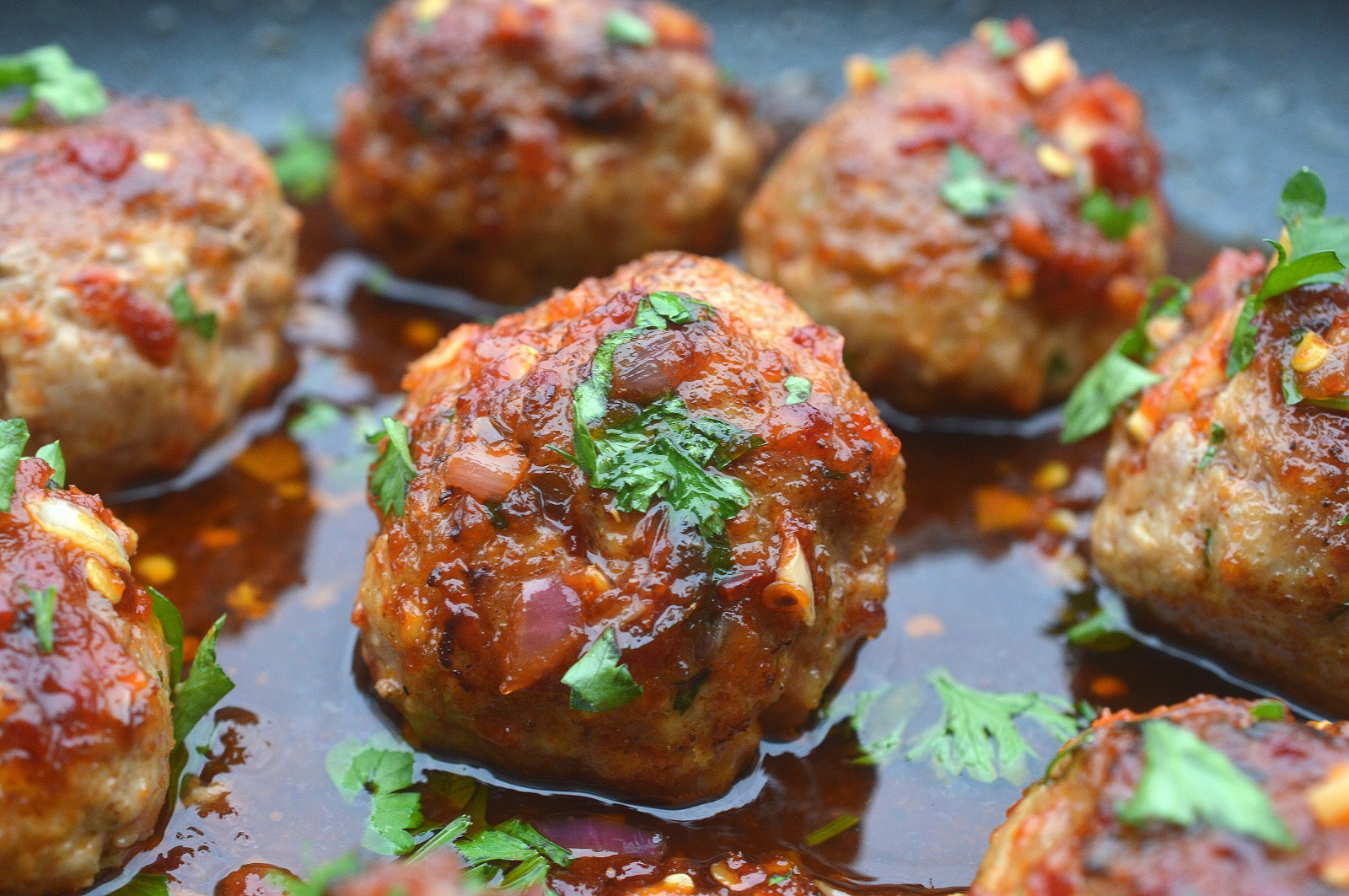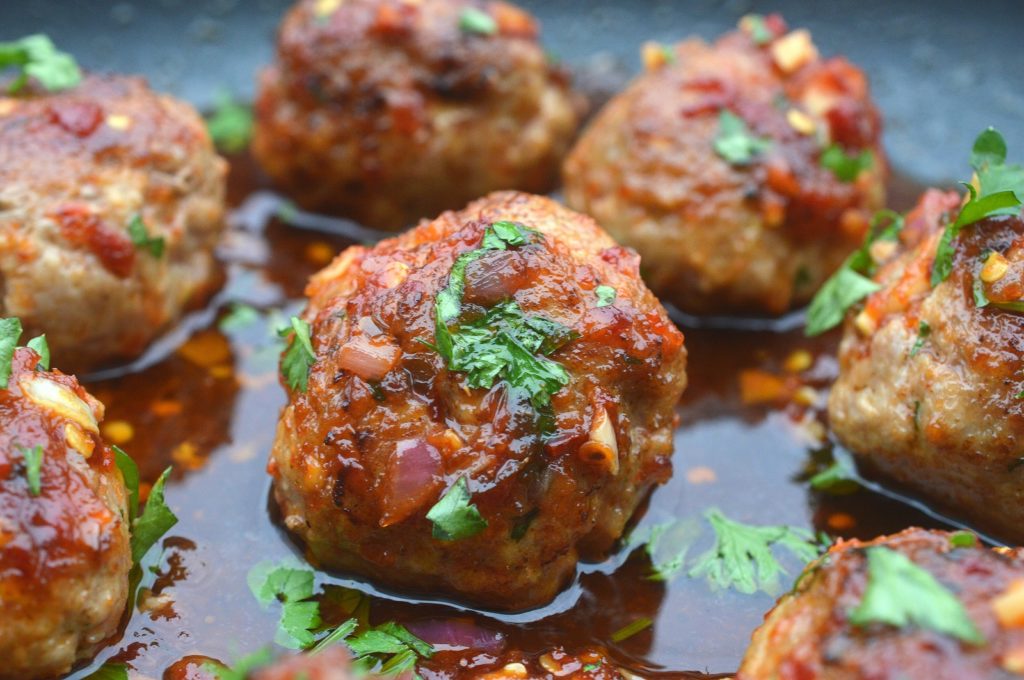 Love meatballs as much as I do?? If so, this recipe for Asian Pork Meatballs With Ginger Honey Sauce will become a new family staple!
If you read Souffle Bombay then you know just how much I love a good meatball! I seriously think I could write a cookbook filled with meatballs or write a song about them and sing it proudly...the second of the two would be easier for sure, I'm one that bursts into random songs quite often and somehow the words just flow...just ask my kids!
They say I am like a rapper that way...without the actual rapping skills, one of my few talents haha! I am a little nutty at times!
These Asian Pork Meatballs with Ginger Honey Sauce are so...so...SOOO delicious!
They're very flavorful, moist, easy to make and will impress anyone who's palate they cross! Peoples minds get blown every time I bring them places and then within a few weeks, they tell me they made them at home! Love that!
When it comes to pork meatballs, I try to not use any filling and that's part of the key of why they are so stinkin' good...in my opinion anyway so because of that, as a bonus these Asian Pork Meatballs With Ginger Honey Sauce are gluten-free!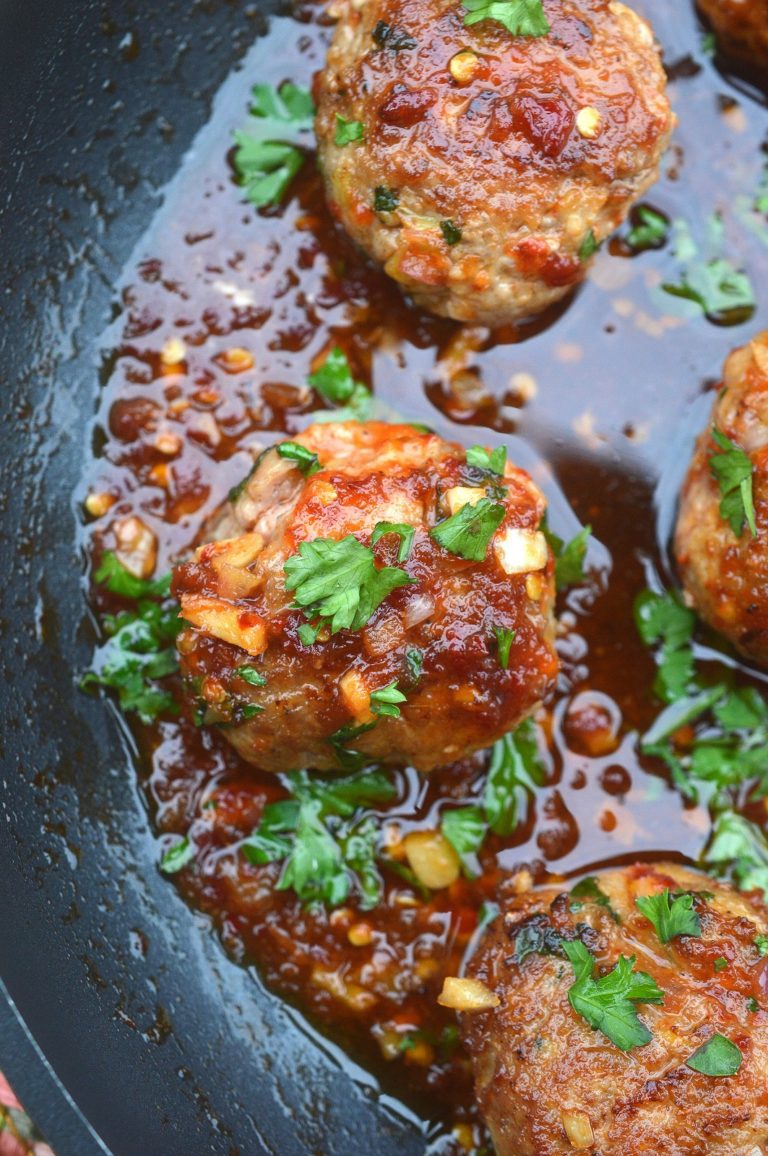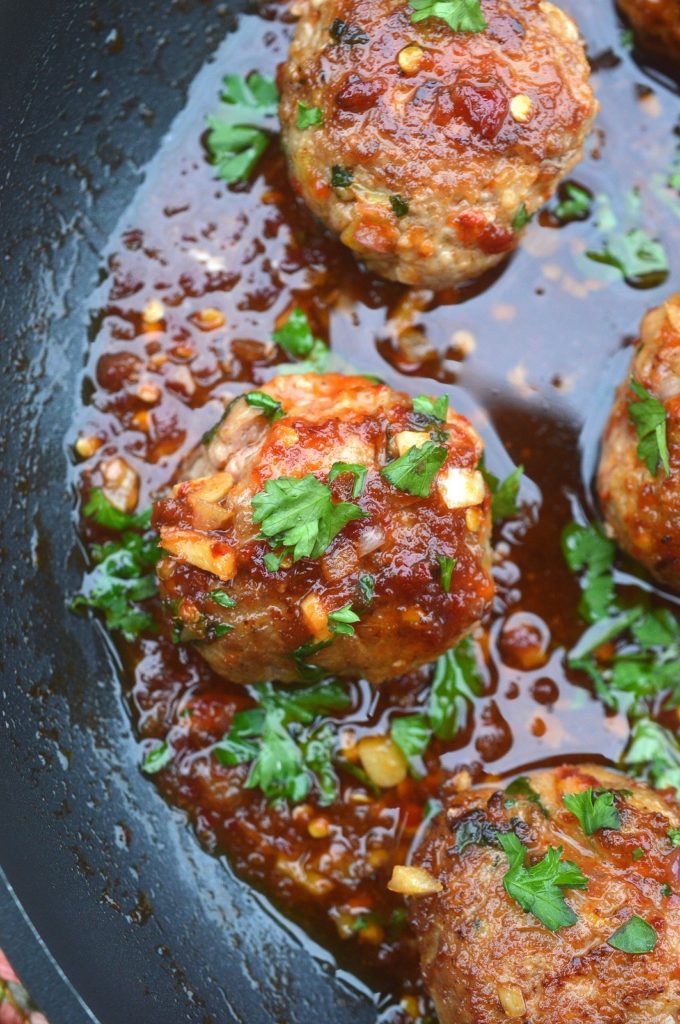 How Do You Make Asian Meatballs?
I call these Asian Meatballs because of the flavor profile created by the ingredients I use. These are simple to make, all you need to do is combine all the ingredients for the meatballs in a large bowl.
I like to let the flavors develop for 30-60 minutes before I roll them into balls so I cover the mixture and place it in the refrigerator.
Making the Ginger Honey Sauce is simple as well. The only time-consuming part is frying the meatballs in a pan.
The larger the pan the better. You will have to do this in batches. You do not want to crowd these meatballs. Their delicious flavor comes in part from the crispy exterior, so oven cooking only is not recommended by me for this meatball recipe.
Make extra sauce too, most people who have made this recipe want more sauce, so double it.
How Do You Make Gluten-Free

Meatballs?
In my opinion, this recipe for Asian Pork Meatballs does not need breadcrumbs. Just be gentle when you fry them up. Allowing them to set up in the refrigerator as formed meatballs is key. It holds together just fine without them. To stretch them further you can add in some breadcrumbs if you wish.
Can I Freeze These Meatballs?
You can freeze these raw once you form them into balls (simple line a baking sheet with parchment or wax paper and freeze balls for 90 minutes, then transfer them to freezer containers or to freezer bags). You can also freeze them cooked. Make the sauce the day you decide to enjoy the meatballs.
Note: I am not a fan of frozen meats, no matter what I do, even using a vaccum sealer ice crystals will always form inside of the meat. Freezing raw meat will result in sharp crystals of ice forming within the meat which cause fibers to break down and some of the meat's natural flavors to escape once thawed. Which is why you always see liquid once thawed.
How Much Ginger Honey Sauce Should I Make?
The recipe as written was for just a bit of sauce. Just enough to glaze the meatballs. I now often double or even triple the sauce since people enjoy it so much.
If you love meatballs as much as I do you have to try these Asian Pork Meatballs with Ginger Honey Sauce and then check out some of my favorites below!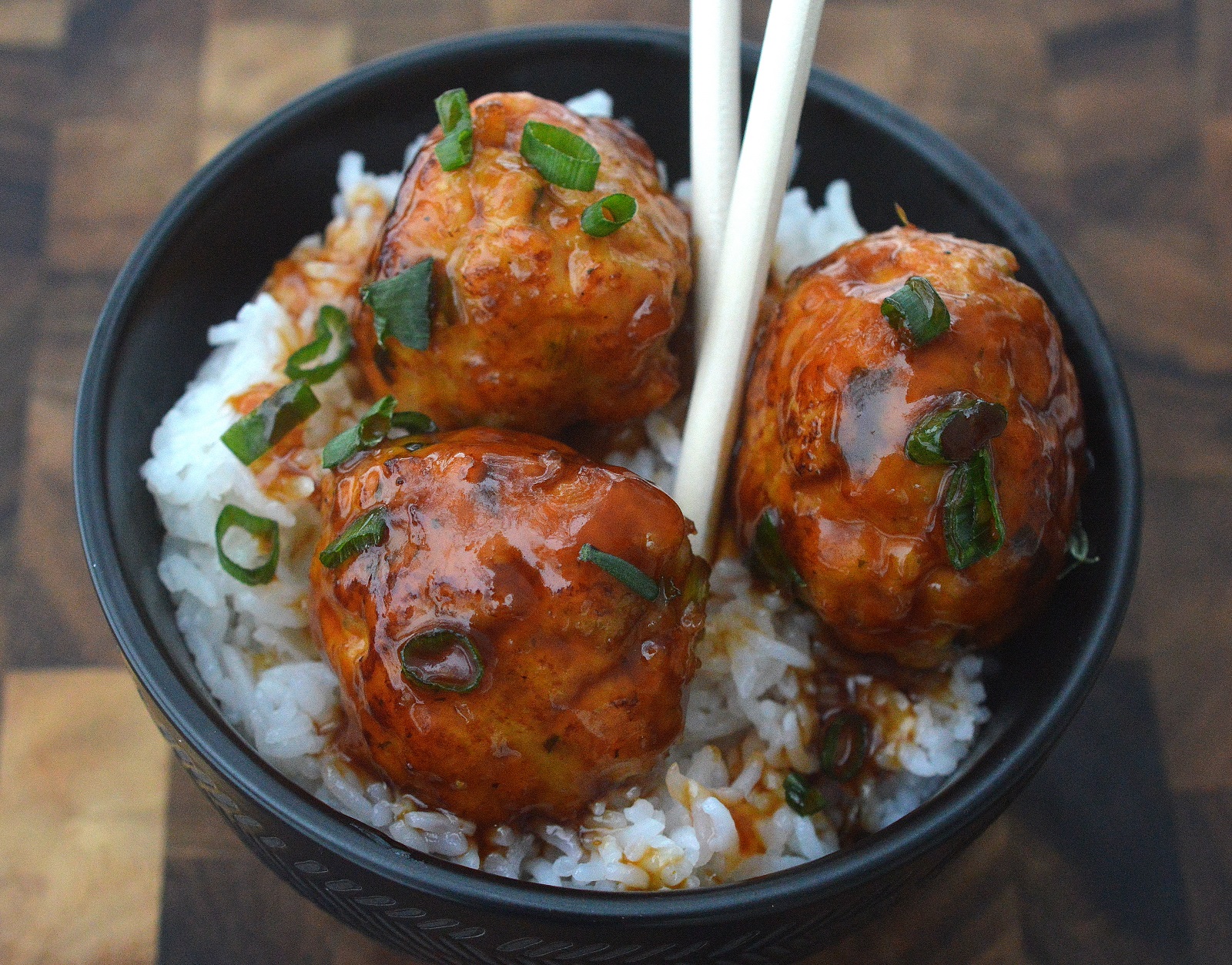 Or any of these favorites - General Tso's Chicken Meatballs, Asian Chicken Meatballs, Chicken & Bacon Meatballs. Buffalo Chicken Meatballs, Turkey Meatballs in a Savory Broth and the ultimate meatball sammie...The Bahn Mi! Yummmm!
I wasn't kidding when I said I-love-meatballs!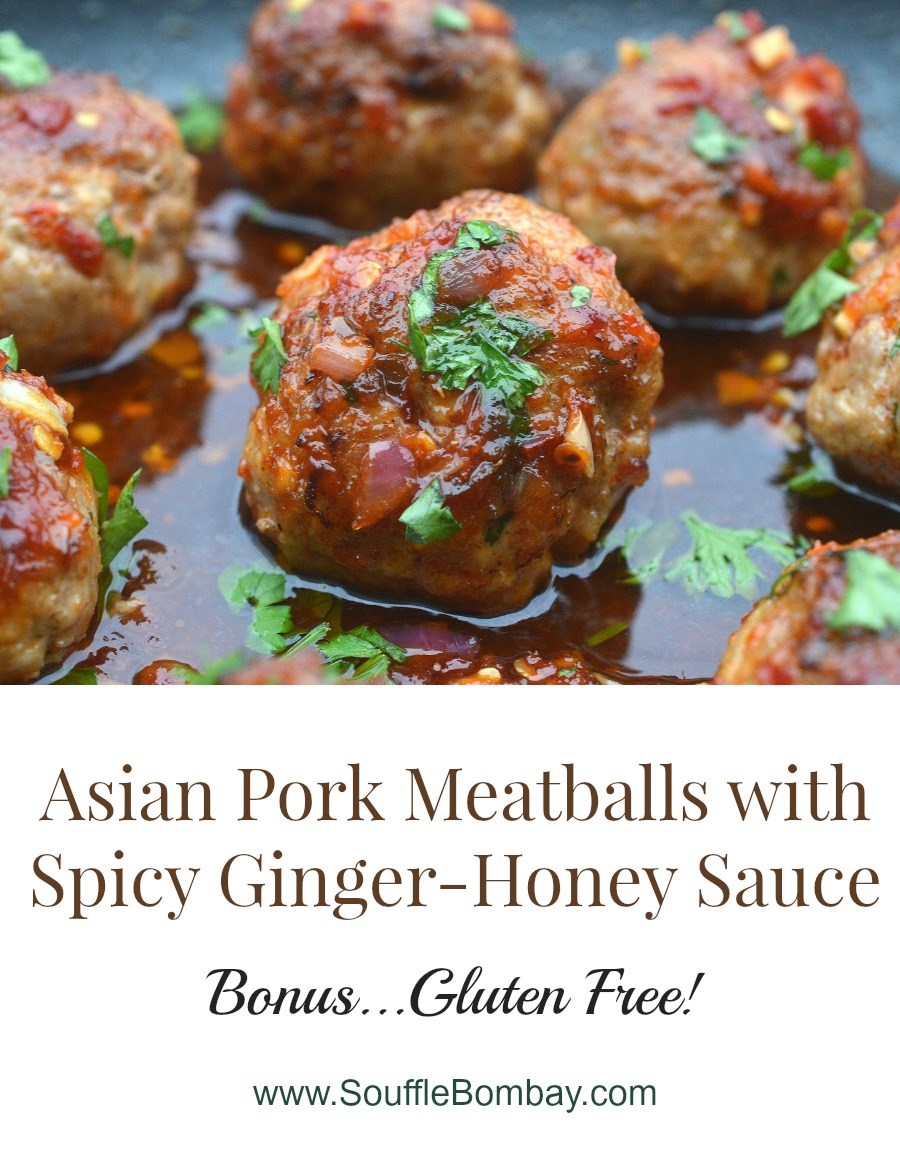 Updated August 29, 2019.
Enjoy!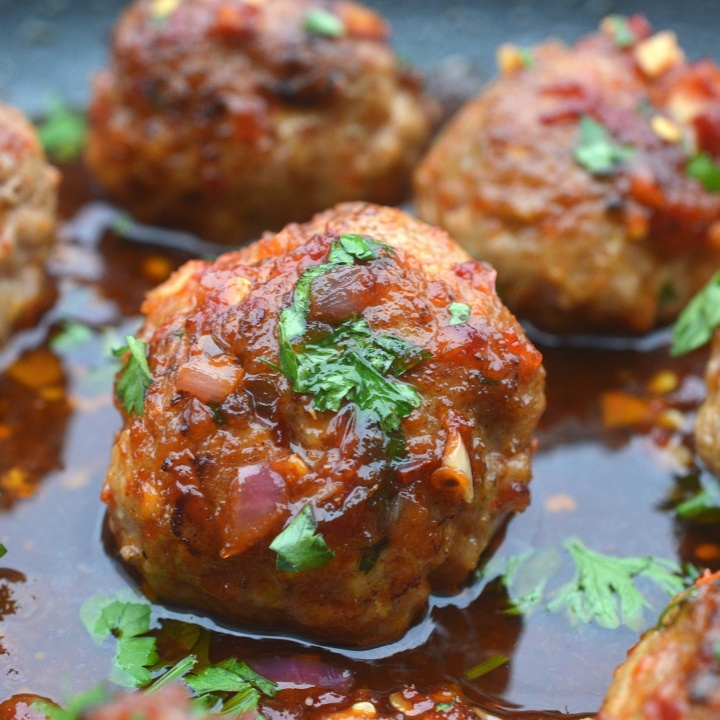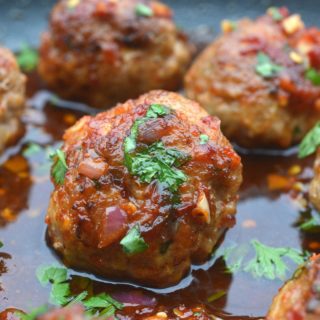 Asian Pork Meatballs
My favorite meatballs! Asian Pork Meatballs in a Ginger Honey Glaze. I have them every New Years Eve or Day. AND they just so happen to be gluten-free.
Ingredients
For The Meatballs

1 ½

pounds

ground pork

2

TBS

minced sweet or red onion

2

large cloves garlic

minced

1

teaspoon

minced ginger

½

TBS

sesame oil

Kosher salt & pepper

Ginger Garlic Sauce

3

TBS

sesame oil

1

teaspoon

minced garlic

1

TBS

minced ginger

1 ½

TBS

rice wine vinegar

2

TBS

honey

1-2

TBS

Chili with Garlic Sauce

depends on how much you enjoy heat

½

teaspoon

cornstarch

Cilantro for garnish
Instructions
For Meatballs:

Combine all ingredients together and form balls. They will be wet. It's fine, just get them to hold together. Place on a baking sheet until ready to cook.

When ready to cook, preheat oven to 350 degrees.

Use a small amount of olive or grapeseed oil (2-3 TBS or so) to fry the meatballs until nicely browned. Place on a baking sheet and bake another 10 minutes until cooked through.

For Spicy Ginger-Honey Sauce

In a frying pan with sides, combine sesame oil, garlic and ginger and saute for 1-2 minutes until fragrant. Add in vinegar, honey and chili with garlic sauce and bring to a boil. Add in cornstarch and whisk until combined and thickened. Taste & adjust. Place meatballs in your pan, coat with sauce, garnish with cilantro leaves (if you like)and serve.
Notes
These are delicate since I choose to not use breadcrumbs. you can totally add some in if you want to stretch your meat a little further, they will still be delicious.
Move meatballs around the pan gently and I always double or triple the glaze. People love it.
Nutrition
Serving:
8
g
Calories:
230
kcal
Carbohydrates:
6
g
Protein:
30
g
Fat:
9
g
Saturated Fat:
2
g
Cholesterol:
83
mg
Sodium:
100
mg
Fiber:
1
g
Sugar:
5
g
Follow me on Tik Tok for 1 minute videos
Updated August 29, 2019.