I've always said sweet & spicy should have been the name of my food blog, I can't get enough of that flavor profile! These Sriracha Honey Chicken Mini Chicken Meatballs are a perfect example!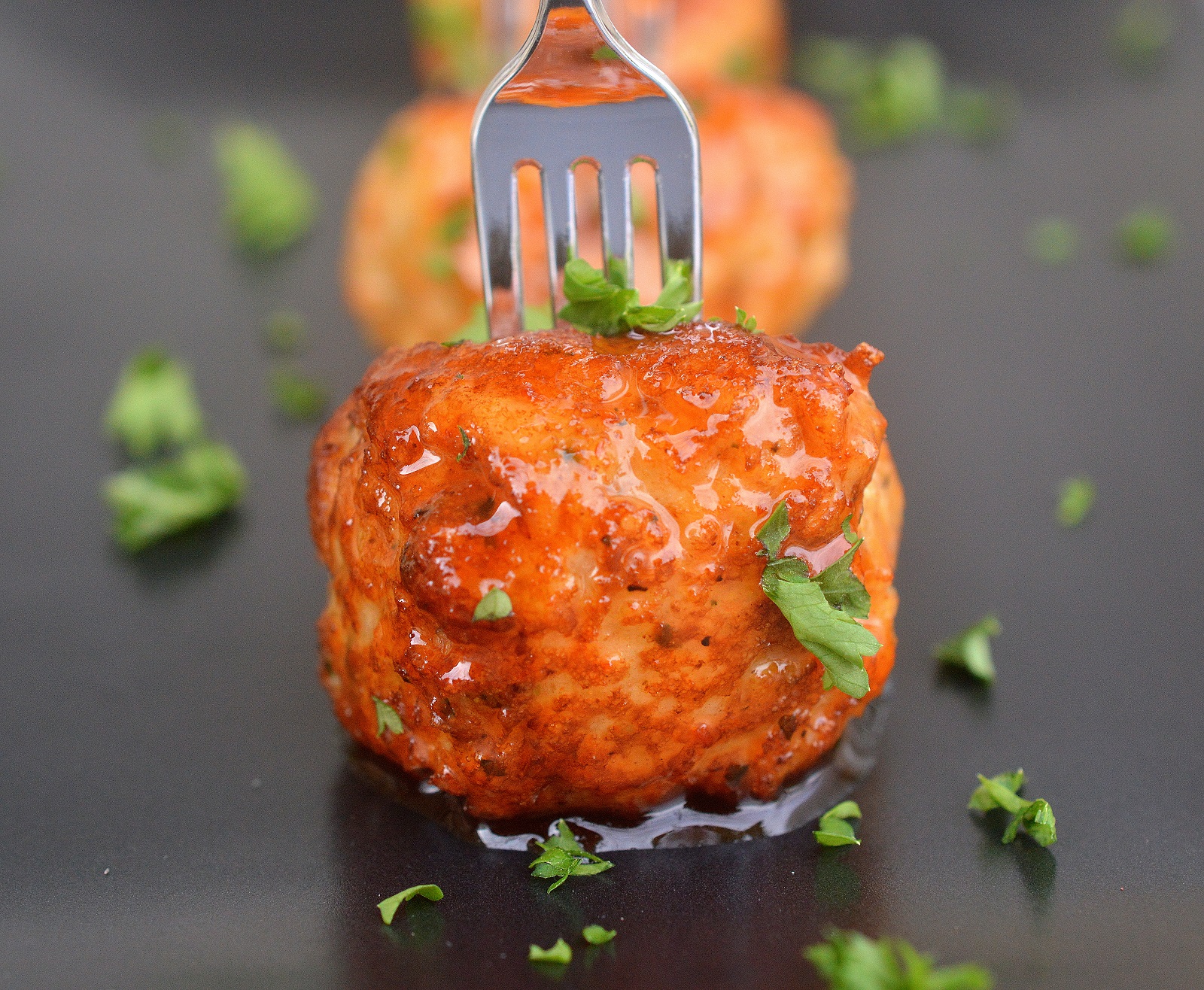 I decided to make a couple of versions of these chicken meatballs. I made one that younger kids could think are chicken nuggets (and my youngest said that was what she thought they tasted like). Kids would likely eat them plain however if they wanted a dipping sauce you could make a simple yogurt sriracha sauce or they could dip into honey or honey mustard.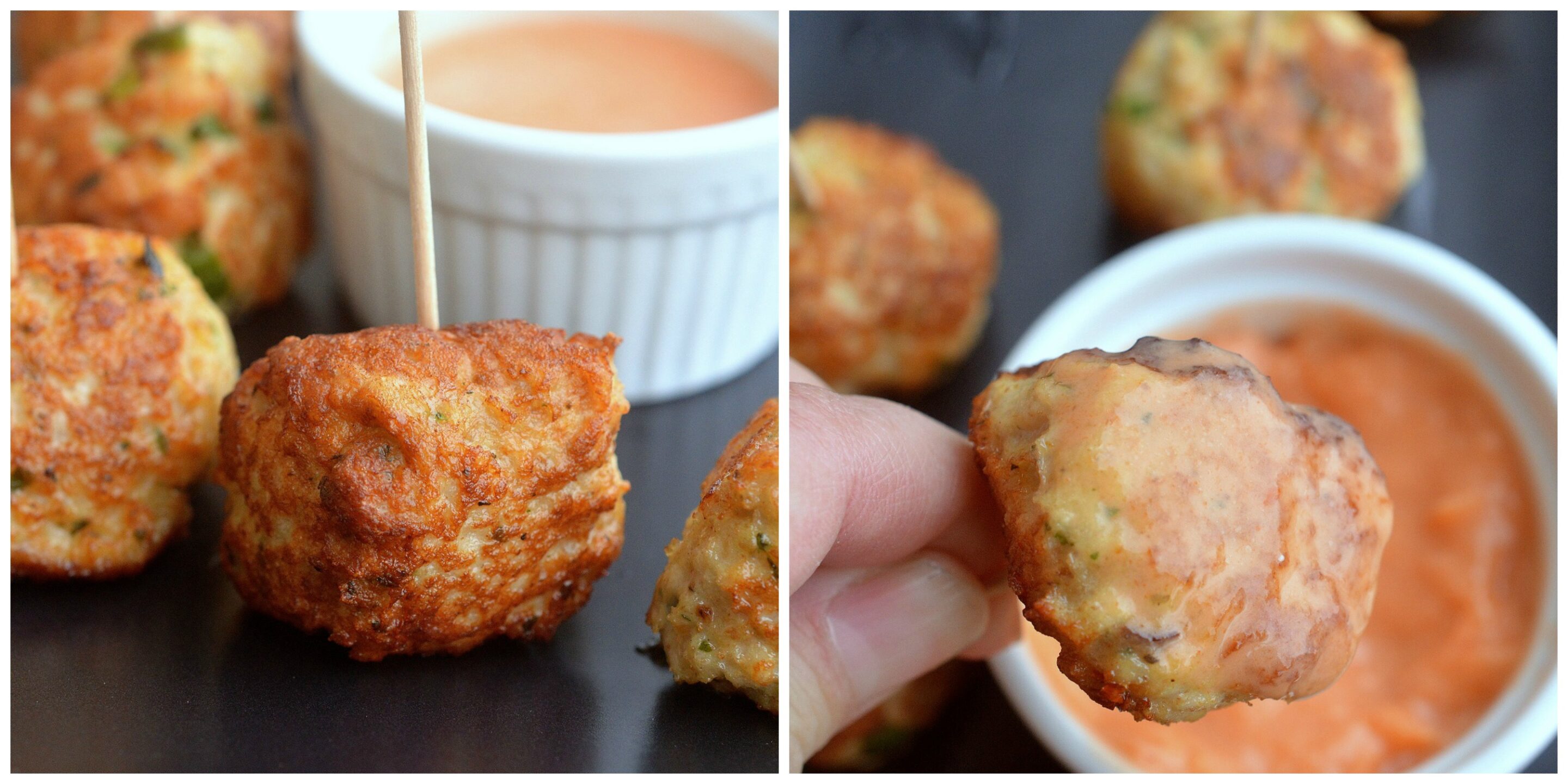 The Sriracha Honey Mini Chicken Meatballs go great over rice, on their own with a salad or as a party appetizer. I baked a batch as well as fried a batch. Don't fear frying these. All you need is 2 TBS of grapeseed oil (you can also use olive oil) and you get a wonderful crisp outside. Turning them throughout the cooking process gives them a nice even crust (which is why you can pass them off as chicken nuggets to the kiddos).
The batch I baked in the oven tastes good, really good and full of flavor. However, they are only browned on the bottom.  I prefer the look of the fried ones, they also are a bit moister and the browning is even throughout the meatball. Your call.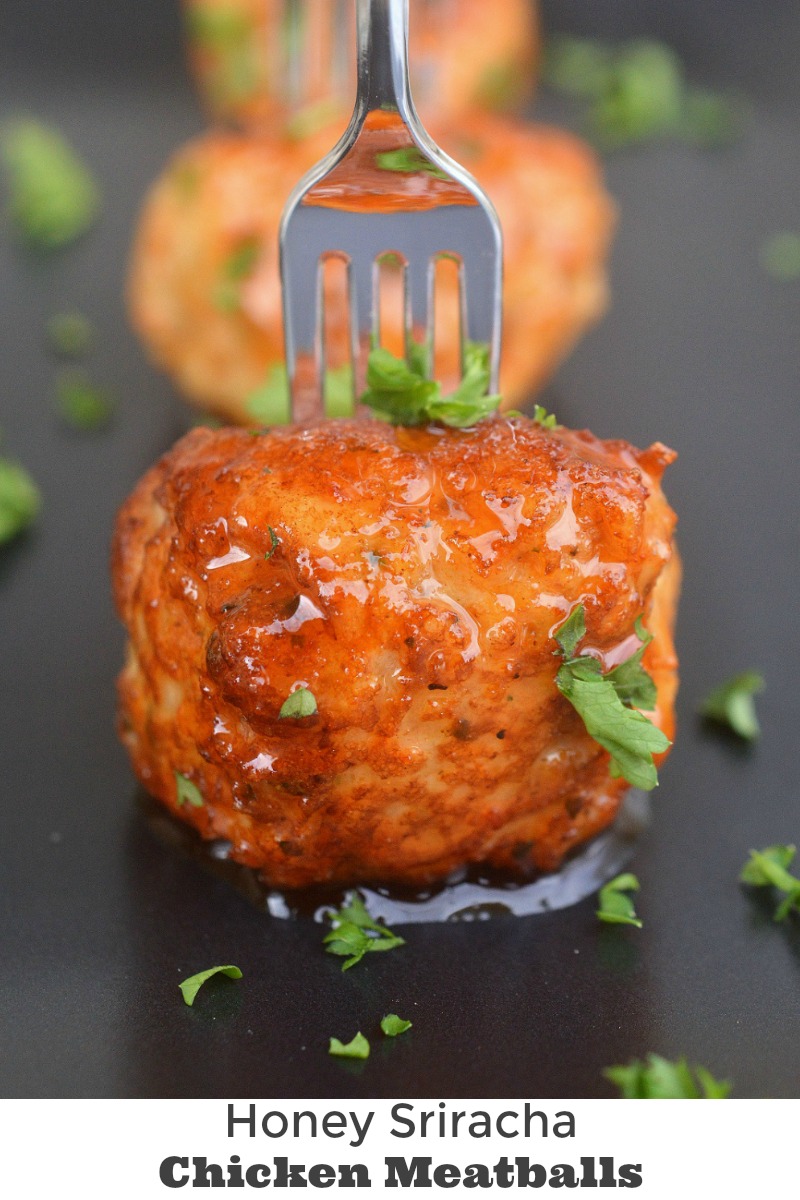 Give these Sriracha Honey Mini Chicken Meatballs a try, they are a nice alternative to traditional meatballs and Chicken Parm Meatballs. in my opinion and they make a great appetizer offering for dinner parties, tailgating or gatherings.
Skewer 2 or 3 of these mini meatballs on sticks and the kids will eat them right up…Food on a stick always makes kids happy!
If you love meatballs as much as I do you have to try these Asian Pork Meatballs with a Ginger Honey Glaze (middle below in photo) with Ginger Honey Sauce and report back to me here or on Instagram. They are UNBELIEVABLE and Bonus they just so happen to be gluten-free.
I also now have a meatless meatball! It's made of mushrooms but I swear you will think you are eating meat! Take a look at these Cheesy Meatless Mushroom Meatballs:
Here are some of my other meatball recipe favs! 

Turkey Meatballs in a Savory Broth
And the ultimate meatball sammie…The Bahn Mi! Yummmm!
I wasn't kidding when I said I-love-meatballs! 
Enjoy!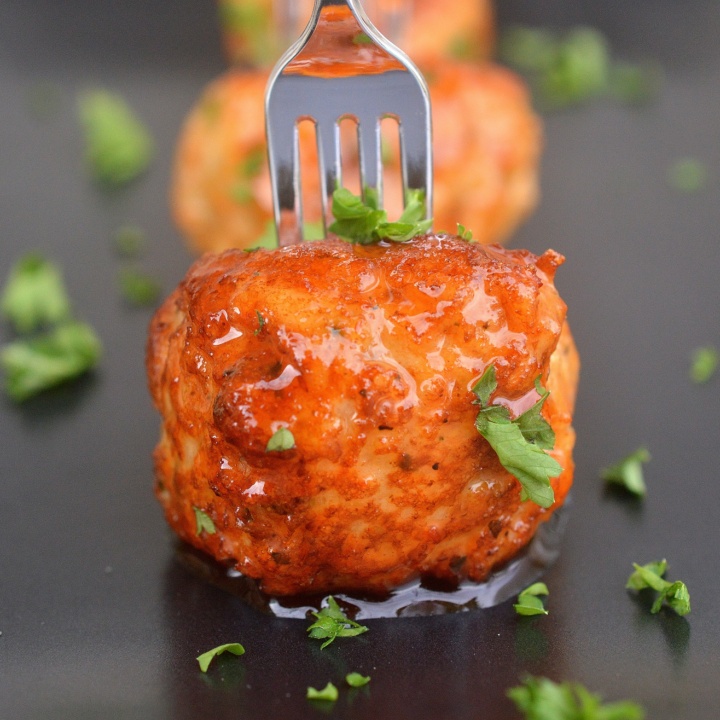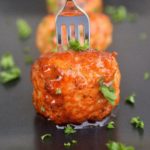 Print Recipe
Sriracha Honey Mini Chicken Meatballs
Ingredients
For the Meatballs

1

pound

ground chicken

1/2

cup

breadcrumbs

Salt & pepper

1

small egg

or half a larger egg

A bit of lemon zest

1-2

TBS

chopped parsley

2

scallions sliced thin

1

TBS

soy sauce

1

TBS

garlic paste

or 1 clove of garlic, minced

Pinch

or two of red pepper flakes

For the Sriracha Honey Glaze

1/4

cup

Honey

2

TBS

Sriracha

1

tsp

Worcestershire
Instructions
Combine all ingredients in a small bowl and mix well.

Allow the mixture to chill for 30 minutes or more.

Roll into small balls about 2 inches in diameter. The mixture will be a bit sticky but it works.

Heat 2 TBS grapeseed oil in a nonstick skillet and fry balls until browned on all sides and cooked through about 5-7 minutes. Alternatively you can bake the meatballs on a greased baking sheet at 375 degrees for 12 minutes, however, in my opinion, they just taste better fried because of the browned edges

Glaze with the Sriracha Honey Glaze.

To make imply mix the ingredients until fully incorporated in a small bowl.
Notes
Notes: Ground chicken varieties can vary. If your chicken is too wet, feel free to add in additional breadcrumbs. Just not too much or the meatballs may be dry. Even though the mixture seems wet and sticky, by chilling the mixture or the balls after you roll them, it will ensure they hold together nicely! You can even pop either the mixture or the balls in the freezer for a bit to rush the process.
Also feel free to use ground white chicken or dark or like typically I do, a mixture of the two.
Enjoy!!