Asian Chicken Meatballs & Food Choices

I have always taken the role of becoming a mother very seriously, I figure I am "making people" and I get one shot at doing it "right" in a variety of ways.
Are my kids happy, do they have good morals, are they doing well in school, do they have enough friends, are they kind and true in every way…every day?These are the things I think about every day.
One area that I have wrestled with is how to best protect my children from hidden dangers, like those found in our foods, our personal products and other environmental hazards.
I began educating myself and was horrified at some of what I found. Did you know that something so simple as painting my little girls nails for the first time could do her harm? I didn't. Years ago, I stumbled across a website called Skin Deep – a database that ranks the dangers common everyday items can pose to our children until they are fully developed – it ranks the safety of personal products from toothpastes, to soaps to yes, even nail polish. So I made some changes in our lives.
Then I began looking into food safety, I cut anything with partially hydrogenated oils, high fructose corn syrup and a few other things. I educated my kids on why we didn't buy this or that, telling them an ingredient was potentially dangerous inside and until that say…cereal company fixed it…we were not going to eat it. They totally "got it". One thing I have going in my favor is that I bake and cook – often. So my kids will take a home baked goodie over a store bought one any day!
Now, I don't run and tackle my kids if they eat something maybe I choose not to buy at a party or friends house…I just stock my pantry they way I feel is best.
THEN, I came across Robyn O'Brien's video on YouTube and it flipped my world upside down…I even bought her book. She is a one woman crusader trying to clean up our food supply…some of what she says will shock you. If you can, take 18 minutes out of your life, watch her talk and begin to have your eyes opened on how our country is disappointing its people by not protecting us when it comes to food.
I thought…for Pete's sake…I will have to quit my job to find a way to shop right, grow more stuff etc…maybe we should move and be more self sufficient…well that wasn't going to happen…lol!
So what I began doing is buying meats only from farmers markets and getting savvier at my food purchase choices.
Recently, I was contacted by Gold'n Plump – a chicken. They said they were now selling their chicken in my part of the world and would I give it a try. I took a look at their company and what it stood for as well as their products and eagerly said yes!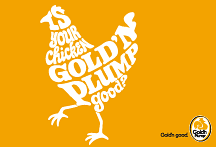 Gold'n Plump's motto is:
Farm to Fork…safely, humanely & responsibly
"Chicken done the right way, not the easy way. With only the best care. Meaning nothing added you don't want. No shortcuts. No compromises. Just wholesome, delicious chicken. From our family farmers to your family's table."
In addition to a great tasting product (my family tried the drumsticks, ground chicken and 2 varieties of their seasoned chicken), I LOVE this companies values, its way of giving back to it's communities, it's farm families stories, how they take ideas from their employees, implement them and reward them for their outside of the box thinking.
I feel good about feeding this chicken to my family!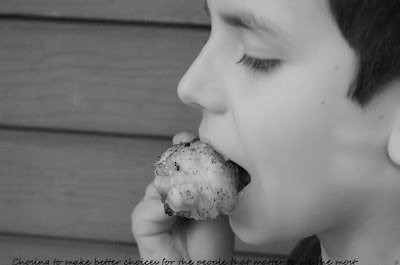 In their annual report – they point out 4 areas very important to them…People, Planet, Poultry and Progress.
Under Poultry they say "We are acutely aware that consumers entrust us daily with their health and well being as well as that of their families. And that awareness is what drives us to make no compromised when it comes to the care of our chickens or our safe, relevant, transparent and truthfully labeled products".
Love that!
My kids really enjoyed the drumsticks as well as the chicken breasts. I used the ground chicken to make meatballs with an Asian flair. They were so good!


Try Gold'n Plump for yourself and taste the difference. Target carries the brand in my area. Visit their website to find out more information as well as for some recipes you may enjoy! Here is a coupon to enjoy as well!
Asian Chicken Meatballs
-inspired from Gimmie Some Oven
Meatballs
2 pounds ground chicken
2 TBS sesame oil
1 TBS soy sauce
1 tsp chili with garlic sauce
1 1/2 cups Panko
2 eggs
2 TBS minced garlic
2 whole thinly slices green onions
Sauce
2 TBS hoisin sauce
2 TBS rice wine vinegar
1 TBS minced garlic
1/4 cup soy sauce
1 TBS sesame oil
1 TBS minced fresh ginger
2 tsp chili with garlic sauce (or more if you like it spicy – or less)
2 TBS honey
Preheat oven to 400 degrees
In a large bowl mix together all meatball ingredients until combined, then shape into small balls (about 1 inch). Place your meatballs on a lightly oiled baking sheet and bake for 12 minutes (if you make yours larger…increase the cooking time).
Be sure they are cooked through (no pink on the inside).
Meanwhile, make the sauce by combining all sauce ingredients in a small pot. Bring to a boil for a minute and remove from heat. Toss the meatballs in the sauce until ready to serve. These reheat well.
If you want a thicker sauce add more Hoisin sauce. Change the flavor or the amount of heat easily – this is a very adjustable sauce – so customize its heat, sweetness or flavors to your palate.
I really, really liked these…I hope you do too!
Enjoy!!