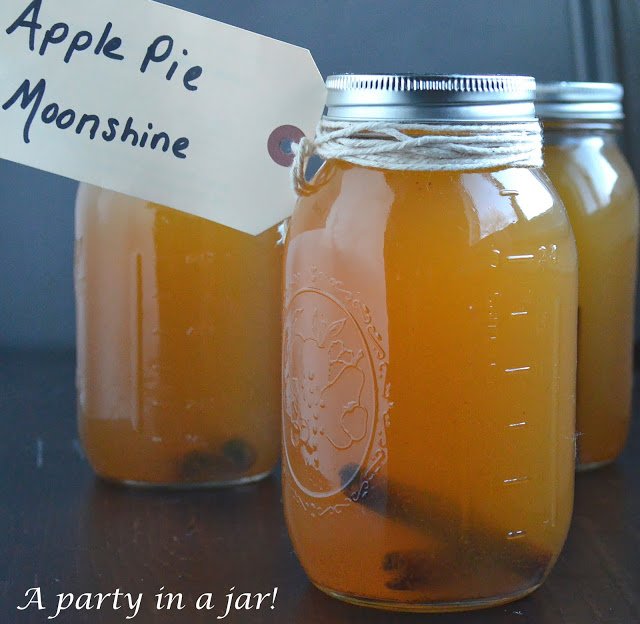 Last year I discovered Midnight Moon Moonshine.  I bought 2 jars of the Cherry, one for a friend's surprise birthday gift and one for us.  Let me just say that moonshine is a party in a jar!  It was a hit with all of our friends and for the next 8 months or so it showed up at parties, around campfires and just because.
We never mix it with anything, we just kind of pass the jar around and take a sip…shiver a little bit, swear we are never taking another sip, and pass it to the next person.  The night before Mothers Day a few of my girlfriends were sitting around my kitchen table (as the guys played cornhole outside) and let's just say that particular bottle of moonshine held more giggles and mischief than any of its predecessors!
I decided the next day that I would try my hand at making my own Apple Pie Moonshine.  I wanted it to be less strong and more flavorful and enjoyable to sip and it is!  It's delicious! Since I didn't have a still in our backyard, I used Everclear as the base for this and it works perfectly.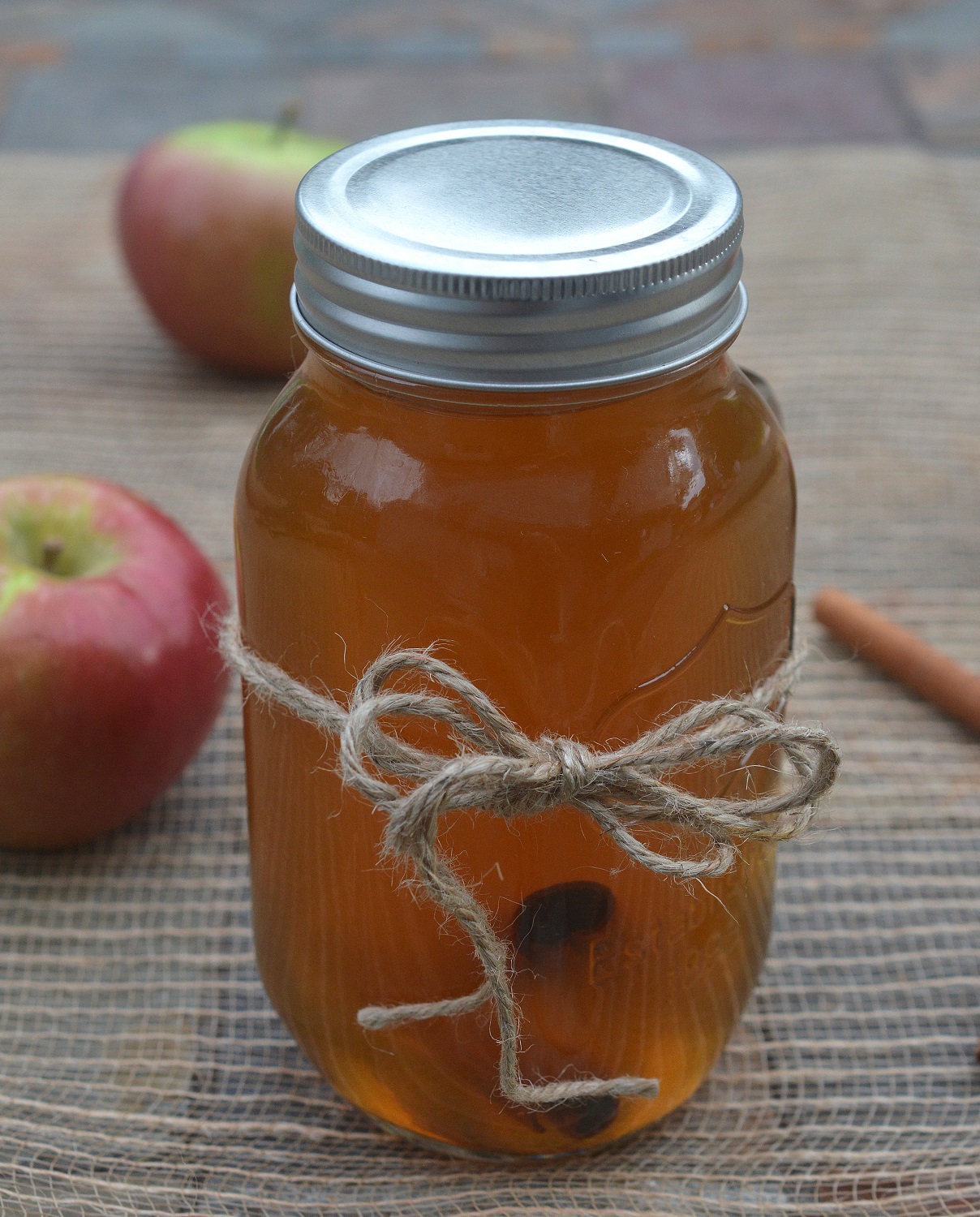 Why not whip up a batch of this easy to make and easier to drink Apple Pie Moonshine. Make some for you and some to give away.  I bet a jar of this would be a hit at the Chinese Auction or gift swap you may be headed to soon.  One quart sized jar of the stuff I was buying ran about $26.00.  This recipe yields over 4 times that for about the same total price – score!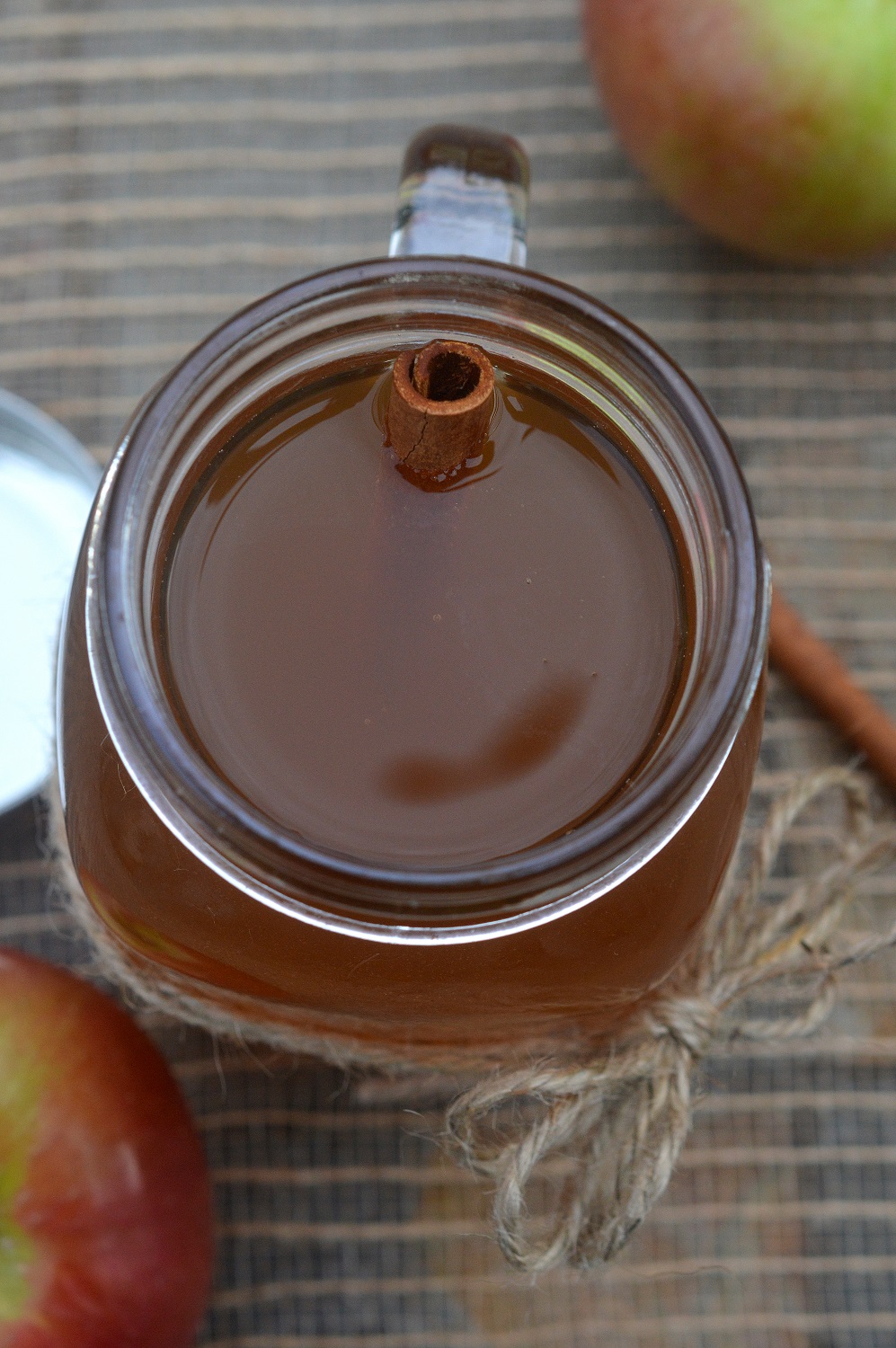 If you like whipping up spirits…try some of my cocktails below like
Cheers!!

Apple Pie Moonshine
Ingredients
64 oz / 8 cups of apple cider
64 oz / 8 cups apple juice
1¾ cups brown sugar
1 cup white sugar
A few dashes of nutmeg
A few dashes of cinnamon
8 whole cinnamon sticks, snapped in half
1 750 ml bottle Everclear (80 to 151 proof...just depends on how strong you like it) or grain alcohol
Instructions
Combine the cider, juice, and sugars and bring to a vigorous boil, sprinkle in the spices and continue to boil for 10 more minutes, reducing it a bit Remove the mixture from the heat and cool completely. Once the mixture is at room temperature, pour in the Everclear, stir. Place a fine mesh strainer or cheesecloth over quart sized mason jars, seal and refrigerate until drinking or gifting. This will yield 4-5 quart sized mason jars full. Store the moonshine in a cold garage or refrigerator. Give it a quick shake before pouring.
Notes
Colleen's Notes: YOu can easily half the recipe.

Adding in the spice is not necessary, especially if you buy a well-flavored apple cider. I like the added kick from the spices. Your call. Keeps well in the fridge 4 weeks or more (depends on how fresh your cider was). I like to place it in the freezer about an hour before drinking. It will freeze up a bit, but I love the icy bits,

You can certainly make this stronger, just add in another half-bottle (or less) of Everclear, or make it weaker by adding some extra cider. Play with it to get the bite/flavor you desire. I wanted it to taste less like pure alcohol, so this is the recipe I stick with. Plus this way - no one is fallin' on the floor!! Lol!