Ready to make a amazing holiday cocktail? This recipe for White Chocolate Peppermint Martini will get everyone talking AND drinking, lol! Plus it is a fabulous idea to make a few bottles and gift them for all sorts of occasions.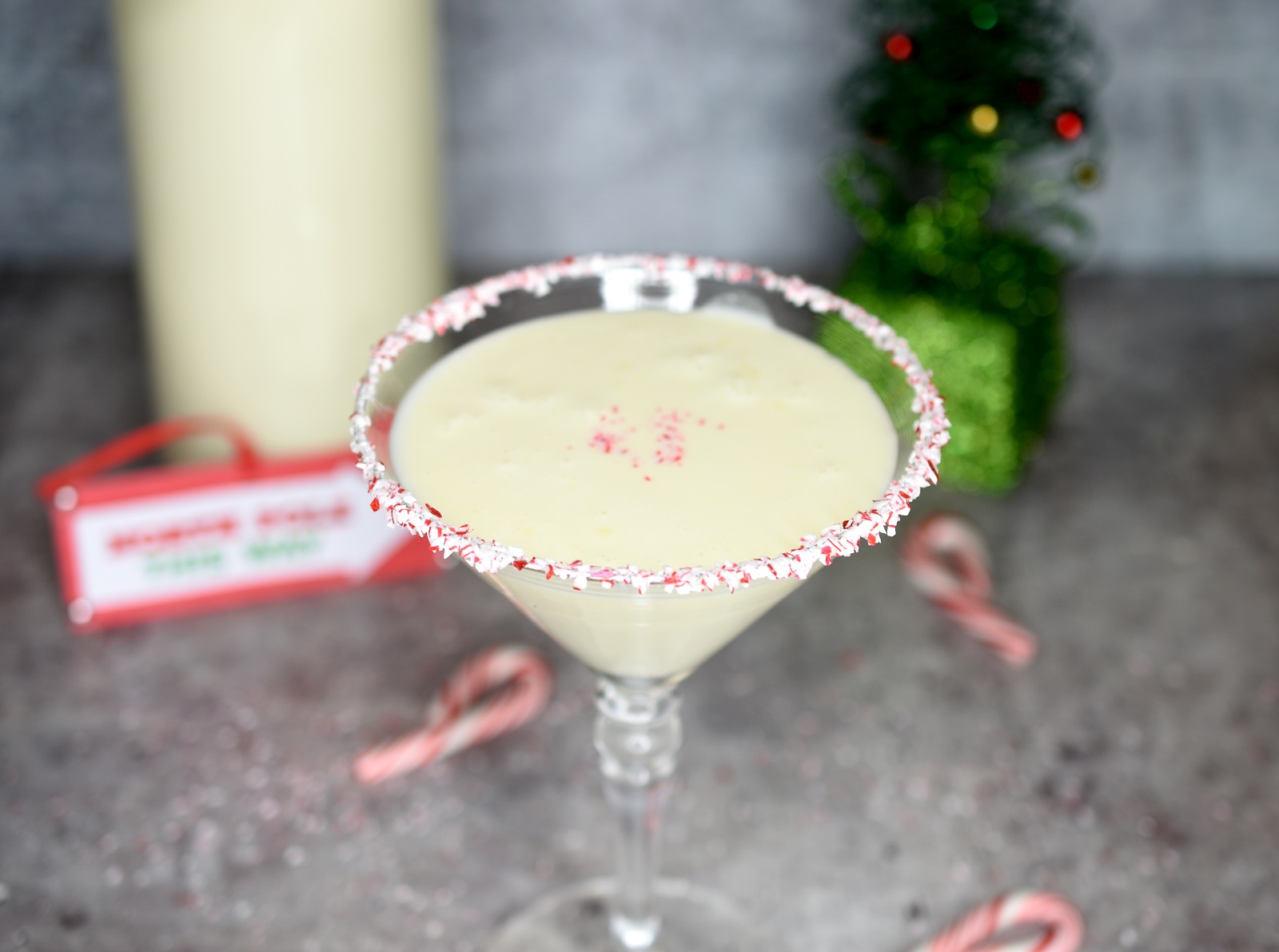 You know I am your girl when it comes to making recipes that are quick and easy (that's literally 75% of my recipes) AND recipes that get you oooh's and ah's!. Well this holiday cocktail is one of those!
Make this Chocolate Peppermint Martini in 15 minutes.
You can also make it ahead of time, place in cute glass bottles or mason jars and give as a boozy holiday food gift! Garnish with a ribbon and recipe card and boom! A memorable host/hostess/food gift!
When it comes to cocktails, the better your ingredients the better it is! It's just like when your drinking out, you start with the good stuff and if you later are feeling no pain, you can move to the house spirits, lol!
If white chocolate is not your thing, then how about a creamy, decadent Chocolate Martini?? It's legit for true chocolate lovers and you can also make these ahead of time. It's everything you dream a Chocolate Martini should be!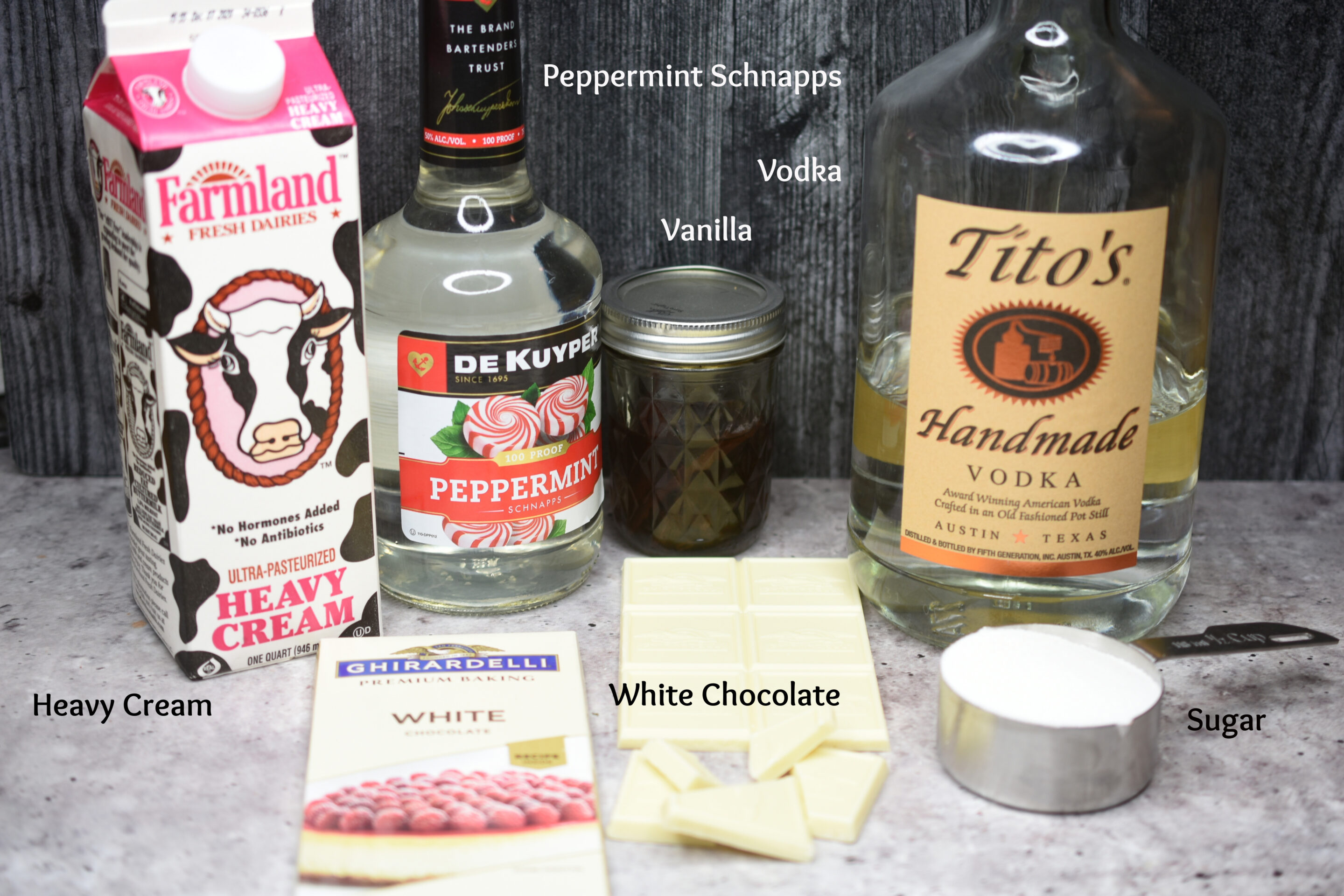 Ingredients
Good quality white chocolate (I always use Ghirardelli for this and their chocolate for my Chocolate Moonshine recipe and Chocolate Martini recipe)
Sugar
Heavy cream
Vanilla
Water
Vodka
Peppermint Schnapps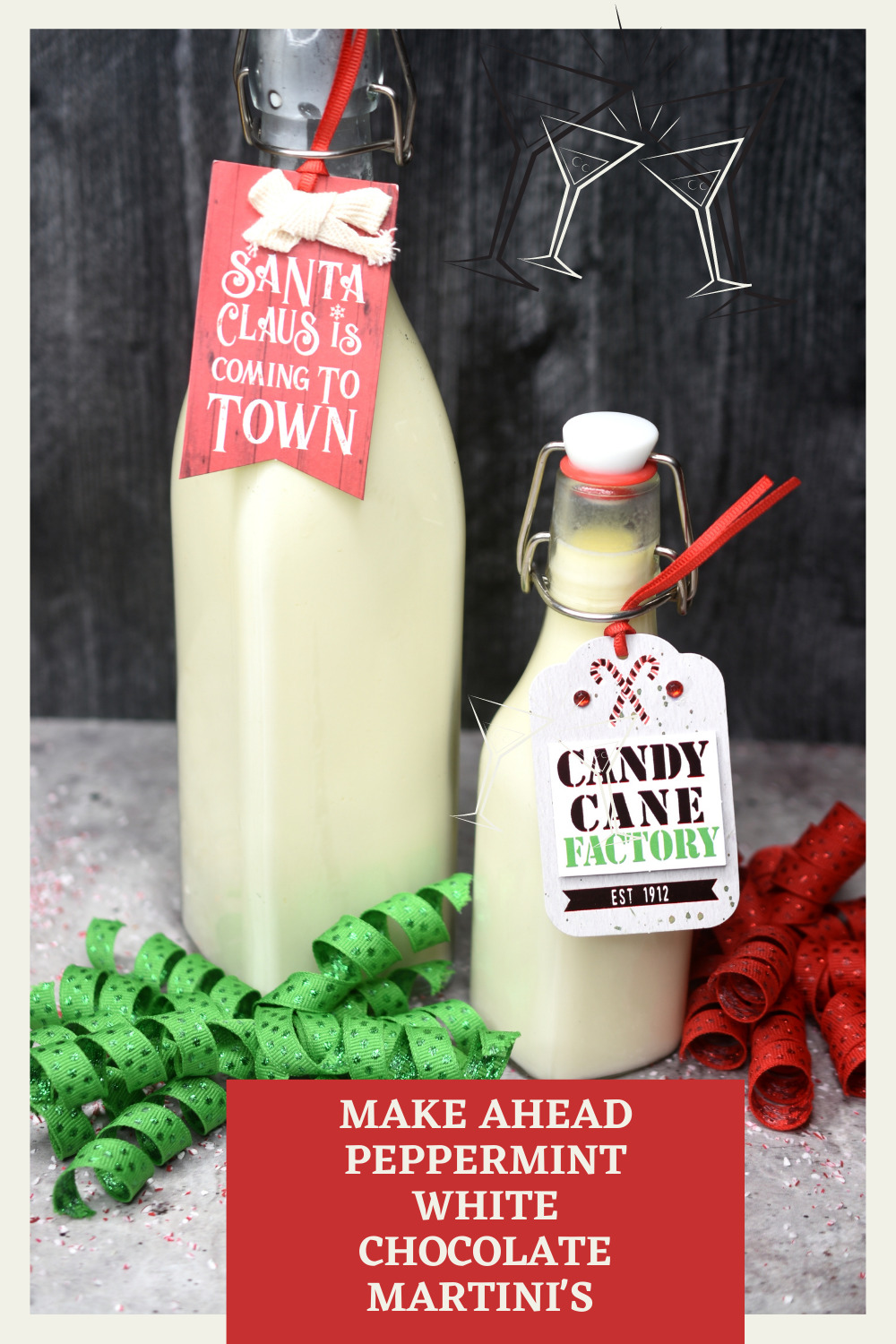 Martini Tips
The better the ingredients the better the cocktail.
Heat your sugar, heavy cream, vanilla mixture over medium heat JUST until the sugar and chocolate melt. do not allow it to even start to boil. You can remove it from the heat before all chocolate is melted, the residual heat will take care of it. Whisk constantly.
Once removed from the heat, add in the water.
Once the mixture has cooled, add in the alcohol.
Allow it to chill in the fridge for a few hours or overnight and then taste and adjust. You may want to add more vodka or more peppermint schnapps. Depends on how strong you want it.
Do not refrigerate until liquor has cooled to room temperature.
Use a funnel or ladle and pour into glass bottles or large mason jars and keep in fridge or freezer until ready to enjoy.
Shake bottle well before drinking.
I like to pour it into an ice filled cocktail shaker, shake and pour into a martini glass, however you can also enjoy as is (it will just be a little thicker).
If you want them pure white, omit the vanilla.
Rim glasses in crushed candy canes or peppermint or white, clear or red sugar crystals.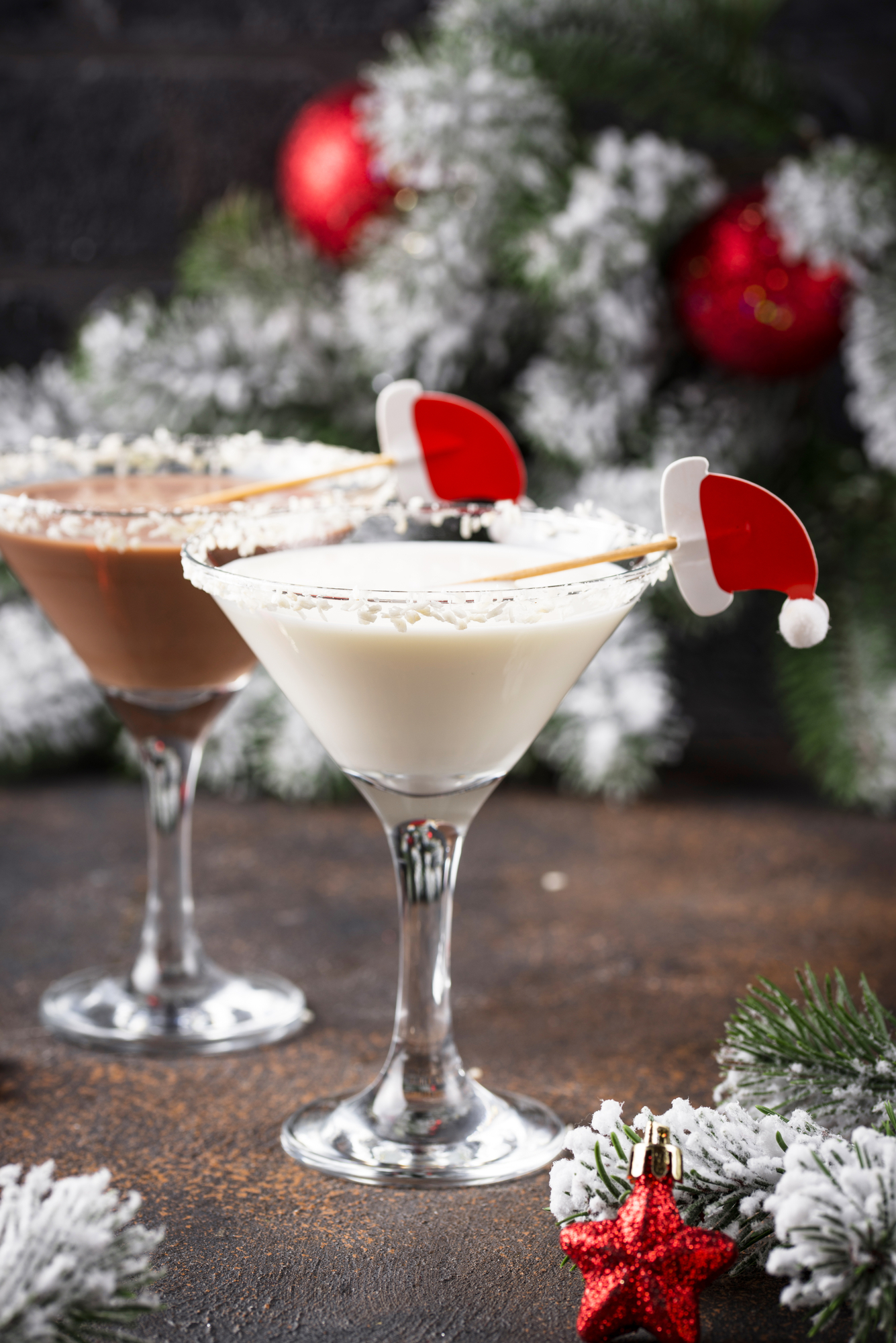 I HOPE you try this delicious, creamy, dreamy Martini out! Tag me on Instagram if you do! Check out the video on my TikTok as well.
If you enjoy boozy concoctions, well then you have met the right chickie!
Check out my Apple Pie Moonshine, Applejack Mule, festive Cranberry Mule recipe, Winter Sangria or my make-ahead and freeze Chambord Margarita's. Cheers!!
Shop this post
Happy Holidays!!
Disclosure: Affiliate links on this page from amazon. If you happen to purchase a suggested item, I may receive a few cents for referring you. Originally published November, 2020. Updated December, 2022.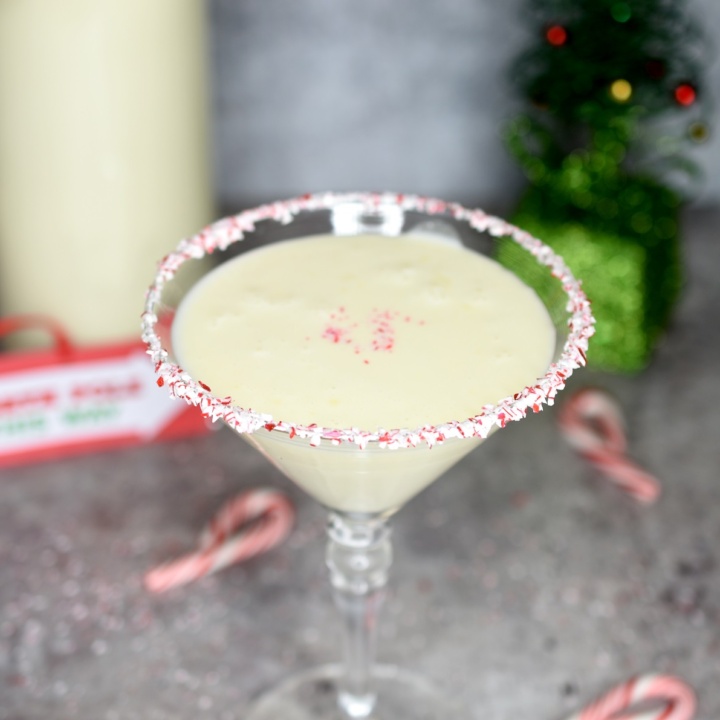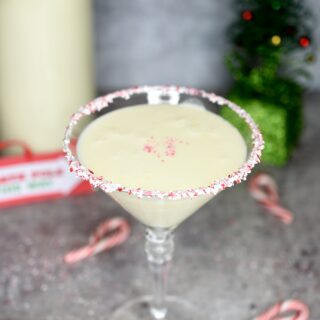 Peppermint White Chocolate Martini
Chocolate Peppermint Martinis may just become you go-to holiday cocktail! You can make these white chocolate martini's ahead of time and serve when ready. They make a fabulously festive food gift too!
Ingredients
8

ounces

good quality white chocolate (I use 2 bars of Ghirardelli found in the baking aisle)

¾

cup

sugar plus ½ TBS

1

quart

heavy cream

1

cup

water

1

TBS

vanilla

1

cup

vodka

½

cup

Peppermint Schnapps

optional garnish crushed candy canes or peppermint dust
Instructions
Break your chocolate up into pieces.

In a large saucepan or pot combine chocolate pieces, sugar and cream, over medium heat stir mixture until chocolate is just about melted. Pull from the heat and whish until smooth like hot chocolate would be. do NOT allow mixture to even come close to boiling. All you want is enough heat to melt the sugar and chocolate.

Add in water and vanilla and stir until combined. Taste and adjust to your preference for strength and sweetness.

Allow it to cool at room temperature for about 30 minutes, add in your vodka and Peppermint Schnapps, stir well and then using a funnel or a ladle pour it into whatever you choose to store it in (mason jars, decorative bottles, old alcohol bottles, etc.).

Place it in your fridge or freezer for up to a month...but I don't think it will last that long! See notes.
Notes
 Allow this to cool to room temperature before refrigerating. I typically refrigerate for at least 3 hours (or overnight) and then taste it and then often add more alcohol to it. It seems to me that you get a truer taste of how weak or strong it is after it chills. 
I like to rim martini glasses with crushed candy canes. I either dip just the rims in water or marshmallow fluff and then dip them into the peppermint dust that I have on a paper plate.
You can store this in your fridge for up to the time the cream would have expired or you can store in your freezer (remember to leave headspace as mixture will expand when it freezes) which is what I do. Pull from the freezer, allow it to thaw for 15 minutes or less...It depends on how strong you made it. Give it a good shaking and enjoy.
I shake in a cocktail shaker filled with ice and strain into the martini glasses. You can also drink it as is, it will just be slightly thicker, so delicious! Cheers!
Nutrition
Serving:
5
ounces
Calories:
508
kcal
Carbohydrates:
30
g
Protein:
3
g
Fat:
35
g
Saturated Fat:
22
g
Cholesterol:
112
mg
Sodium:
48
mg
Potassium:
113
mg
Fiber:
1
g
Sugar:
28
g
Vitamin A:
1165
IU
Vitamin C:
1
mg
Calcium:
89
mg
Iron:
1
mg
Follow me on Tik Tok for 1 minute videos