Frozen Chambord Margaritas

How has your Summer been so far?
I have to say, my family and I are having a blast!
To me, Summer is about the simple things, good friends, family, good food, good drinks and all of the fantastic BBQ's and summer parties we find ourselves either hosting or going to.
I mean, what's better than sitting out under the stars, satisfied from a great meal, cocktail in hand, talking and laughing the night away? (Especially when the kids are all out of the pool and snuggled down with a movie, nodding off one by one…lol) Adult time!
At the start of the summer, I was out for a couple of drinks at a Mexican place with some friends when I asked the bartender to pick out a drink for me…she handed me a Frozen Chambord Margarita and I was in Heaven! She said it was not on the menu, but she often made one for herself…she is one smart woman! I have had many Margarita's but CHAMBORD??? Booyah!
I knew I had to have these babies in my life…and you know what, they are the drink of the Summer for me! They are cool and refreshing, and just so delicious…betcha can't have just one!
I tinkered around with what to do, then made a HUGE batch, poured it into mason jars and loaded up my freezer…I am set for awhile anyway! The beautiful thing is…if folks drop by unexpected, or if you are just in the mood for an evening under the stars with your sweetie…they are there….just waiting for you!
For big parties…you have it all done…just grab a few out of the freezer, pass them around and plop a half a straw in them….no fuss, no mess 🙂
I am a big fan of freezing drinks to have them ready at a moments notice…think strawberry daiquiri's, Margarita's, Sangria, vodka slushies and lemonade for the kids – they are there ready for your company with no effort at all!
Cheers!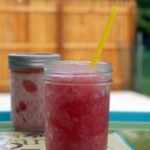 Print Recipe
Frozen Chambord Margaritas
Ingredients
4

cups

water

1 12

oz

can of limeade

or simple syrup method below

1 1/2

TBS

lime juice

12

ounces

good Tequila

6

ounces

Triple Sec

6-8

ounces

Chambord

OR make a Lime Simple Syrup in place of the Limeaid

which is what I do most of the time

1 1/4

cup

sugar

1 1/4

cup

water

2

TBS

fresh lime juice
Instructions
In a large pot or bowl, mix all ingredients, whisk together until completely combined. Give it a taste and adjust to your liking.

This will make enough to fill about 12 - 6 oz Mason jars. Fill just shy of the top, place the lid on and store in your freezer until ready to serve. Give it a stir with a spoon, add a half a straw and enjoy! You need 5 hours or more to allow these to set and become slushy...after that, they can stay in your freezer until you need them (or invite me over!)

To make Simple Syrup

Make your simple syrup by combining the sugar and the water In a large pot until the sugar is dissolved completely, remove from heat, add <g class="gr_ gr_152 gr-alert gr_gramm gr_inline_cards gr_run_anim Grammar replaceWithoutSep" id="152" data-gr-id="152">in</g> the fresh lime juice and cool.

Combine simple syrup, Tequila, Triple Sec and Chambord. Taste & adjust. Add more lime if you wish or more alcohol...everyone has their preference.

This will make enough to fill about 12 - 6 oz Mason jars. Fill just shy of the top, place the lid on and store in your freezer until ready to serve. Give it a stir with a spoon, add a half a straw and enjoy! You need 5 <g class="gr_ gr_143 gr-alert gr_spell gr_inline_cards gr_run_anim ContextualSpelling ins-del" id="143" data-gr-id="143">ours</g> or more to allow these to set and become slushy...after that, they can stay in your freezer until you need them (or invite me over!)