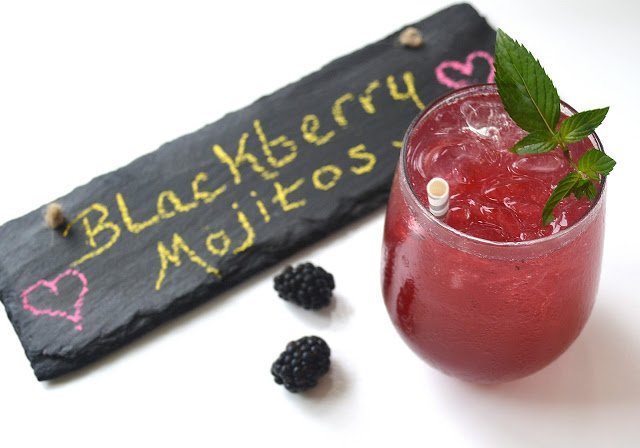 Blackberries are one of my favorite fruits. If they are perfectly ripe and full of the flavor I crave, once I start eating them I just can't control myself. I put them in my Blackberry Sangria and in pies, I cook them up with nectarines or peaches and eat them right out of the pot. I make crumbles and have even grilled them in wraps with other fruits...that is if they last long enough for me to do any of the above
So far I am the only one in my house with this "affliction". My husband doesn't even "see" them plus he detests cooked fruit other than apples (weird...I know). My son still has no interest in trying them. My daughter is beginning to be converted, she will eat a few now when I bring some home to snack on. I'm not sure if that is a good or bad thing for me...since I may soon have to learn to share my berries 😉
Here is a fun cocktail featuring blackberries. When it comes to a Mojito, I am kind of funny. I will drink them if I can make them a little sweeter and much less minty. Most of my friends, pack a ton of mint into their portions. Me I am happy with 3-4 leaves in my glass. I have always been odd when it comes to mint in my food. I just don't want it in there - except for a Peppermint Patty or the Girl Scouts Thin Mint cookies, lol! Is it just me??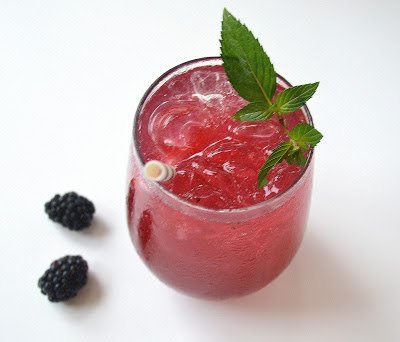 I hope you enjoy these fun and refreshing cocktails at your next party, BBQ or a quiet night out back gazing at the start with the person you love 🙂 Cheers!!
Blackberry Mojito's
for the blackberry simple syrup
1 cup sugar
1 cup water
1 cup blackberries
Combine the sugar, water and blackberries in a pot, muddle (crush up) the berries a bit with a muddler (this is the best muddler I have owned - the OXO Muddler) or the back of a large spoon. Bring mixture to a boil, stirring until sugar is dissolved. Allow to cool 30 minutes, muddle the berries a little more, cover, then place the syrup in your fridge for 1-3 hours. Strain the mixture, removing berry pieces, and store in your fridge until ready to use. You can store this up to a week in your fridge and use it for vodka drinks (yum), over a pound cake, ice cream or whatever you dream up. Aaah! Blackberry love!
for the Mojito's
Fresh mint
Blackberry simple syrup
Fresh lime juice
Rum
Club soda (some may prefer sparkling water)
Blackberries and lime slices for garnish


When it comes time to serve the Mojito's, you can choose to make it by the glass or the pitcher.
By the pitcher: In a pitcher, combine your mint leaves, lime juice and simple syrup. Muddle them well (crush them up a bit). Add in your rum, club soda (as much as desired), blackberries and lime slices and stir. Make sure everything is cold, since adding ice dilutes the drink. I usually, have a cocktail shaker on hand to use to chill it by the glass (as it comes from the pitcher). Then just add 2 cubes of ice.
By the glass: Depending on the preference of the recipient, place 5-10 mint leaves in a glass along with 3-4 tablespoons of the blackberry simple syrup and 1 tablespoon of lime juice. Muddle it well. Add in ¼ – ½ cup of rum ½ cup club soda. Stir, garnish with 3 blackberries and a lime slice and serve. Add a few pieces of ice or gently shake the rum, simple syrup and club soda in a cocktail shaker to chill it).
Colleen's Notes: Play around with the portions of what you add to the cocktail until you get the flavor your desire. We are all so different when it comes to how much alcohol we like in our drinks as well as how sweet, etc. There is no right or wrong here, just preference. For parties, I always make extra blackberry simple syrup to have on hand for those that like it sweeter. I make the blackberry syrup because I have never been a fan of the berry pieces floating around in my drinks, clogging up the straw, etc. If you enjoy that then make sure and add some additional berries into your pitcher or glass and include them in your muddling process. To lighten the drink up even more, you may choose to use sparkling water in place of the club soda.
Cheers!!