This Bacon Jam Recipe is a bacon lover's dream! I mean bacon is one of my top joys in life…I know I am not alone on that! Right??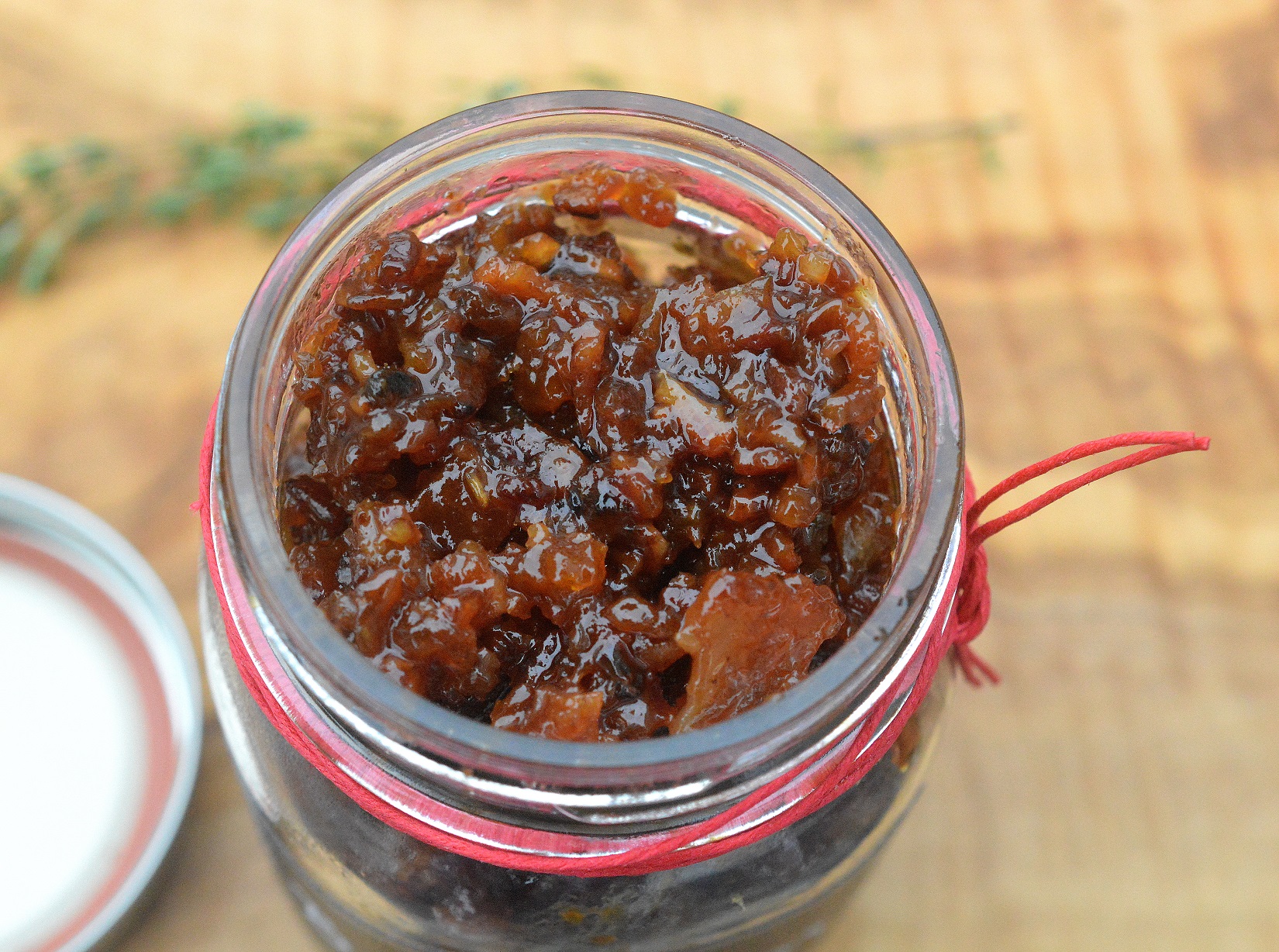 When I was a kid growing up in Philly, I would often stay overnight at my Grammy's. When I woke she would give me all the bacon I could eat. ALL-the-bacon-I-could-eat!
As the oldest of 5 kids growing up in Philly, THAT was monumental! At home, I could maybe snag 3 strips…If I was lucky!  I still smile at the thought of those lazy weekend mornings at my Grammy's…and all of that glorious bacon. Food memories are some of my favorite memories!
Bacon makes everything better or so the saying goes. BUT this Bacon Jam Recipe…really, really does! 
IF and I mean IF you can stop yourself from gobbling this up spoonful after spoonful…Spread it on hot biscuits, hunks of bread, add it to steamed or sauteed veggies, pancakes, BLTs, grilled cheese sandwiches and burgers! Squeal!! (Ha no pun intended). The list can go on and on!
Homemade Bacon Jam would also make an amazing food gift this holiday season. Make a batch for you and one for a friend, scrape it into a 4, 6 or 8 oz jar, wrap some ribbon around it, attach the recipe and you will have a happy friend or loved one.
I would totally be your BFF  if you gifted me with a jar of Bacon Jam! Or homemade booze…or Pizzelle's…haha!  
Hey, I know what I like!
I am excited to partner up with Hatfield for this recipe. Who by the way is local to me, which I love!
Hatfield is a

120-year-old

business. Before the roads had cars on them, Hatfield was delivering meats to the doors of Pennsylvanians. Today, they produce quality meats for far more than just Pennsylvania!

Hatfield Quality Meats commitment to my area, animal stewardship, sustainability, and quality products are one of the reasons I am happy to reach for their bacon, sausage, roasts, hams and more when I shop and the main reason I am proud to partner with them.  And I will also say that in my opinion, their dedication to all of the above is how they have not just lasted over a century, but thrived!

Did you know that Hatfield has 7 varieties of bacon?? 

You can try different bacon each day of the week! Classic, Applewood, Thick Cut Hardwood Smoked, Reduced Sodium, Hickory Extra Thick Triple Smoked Bacon (what!!!), Maple Brown Sugar Extra Thick Triple Smoked Bacon and Cherrywood Extra Thick Triple Smoked Bacon. It's a bacon-lover's dream!

Turn bacon…into Bacon Jam!! 

For all kinds of delicious recipes, special offers and more, check out Hatfield Quality Meats around the web via their website, Facebook, Twitter, Instagram and Pinterest.
Try my recipe for Bacon Jam Recipe, tag me on social media if you make it @SouffleBombay. I hope you enjoy it as much as I do!
How Do You Make Bacon Jam?
To make Bacon Jam, you just need a few ingredients. Bacon of course, as well as onion, garlic, sugar, seasonings, and herbs. The trick to making it is having your ingredients prepped and organized and then as the mixture cooks down into jam that you pay attention to taste and texture. You don't want it to burn.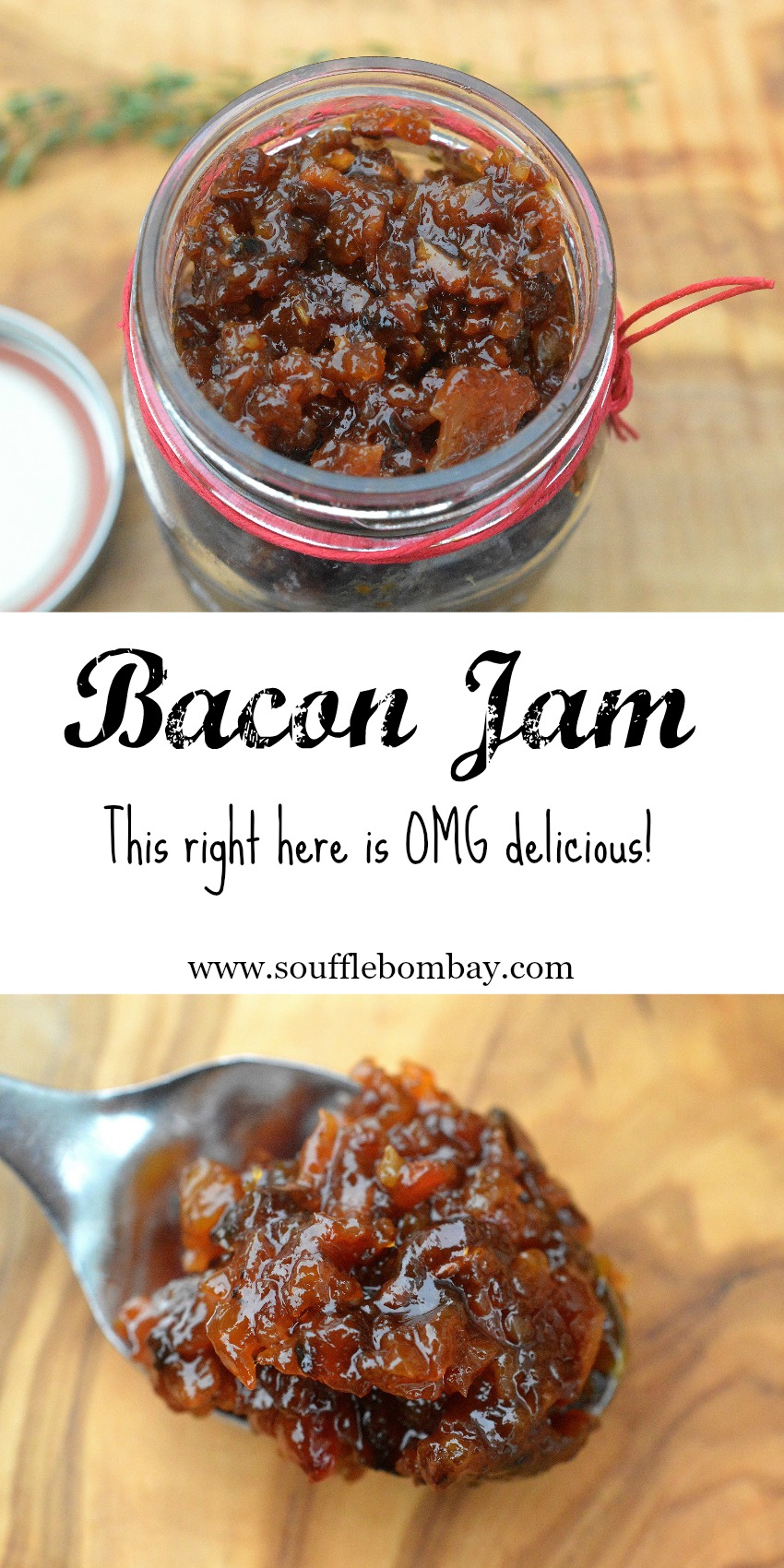 Bacon Jam is not one of those things you can walk away from as it cooks. Taste as you go and adjust to your liking. Once you make this a couple of times, its a piece of cake. Soon it'll be a signature dish or food gift of yours. 
Tip: If you want a more sticky gooey jam, add in a 1/2 cup to 1 cup of fig jam after you remove what you made from the heat, just stir until its mixed in. It complements the bacon perfectly. I have made this both ways. The addition of the fig jam makes the Bacon Jam sweeter. You can counter that (if you wish) by adding in some Cayenne pepper, which I do in the written recipe. I typically like some heat.
How Can I Use Bacon Jam?
Oh! The list is almost endless! Atop fried eggs, on toast, on avocado toast, on burgers, on a round of Brie cheese warm from the oven (or cold), in a small bowl with a tiny spoon as a part of a cheese or charcuterie board or on crackers.
I love it atop fresh steamed green beans and off of a spoon all by itself…Heaven! I am sure you can come up with many more uses. It makes the best food gift!! 
Love Bacon as much as I do? Try my Bacon Cheese Jalapeno Quick Bread!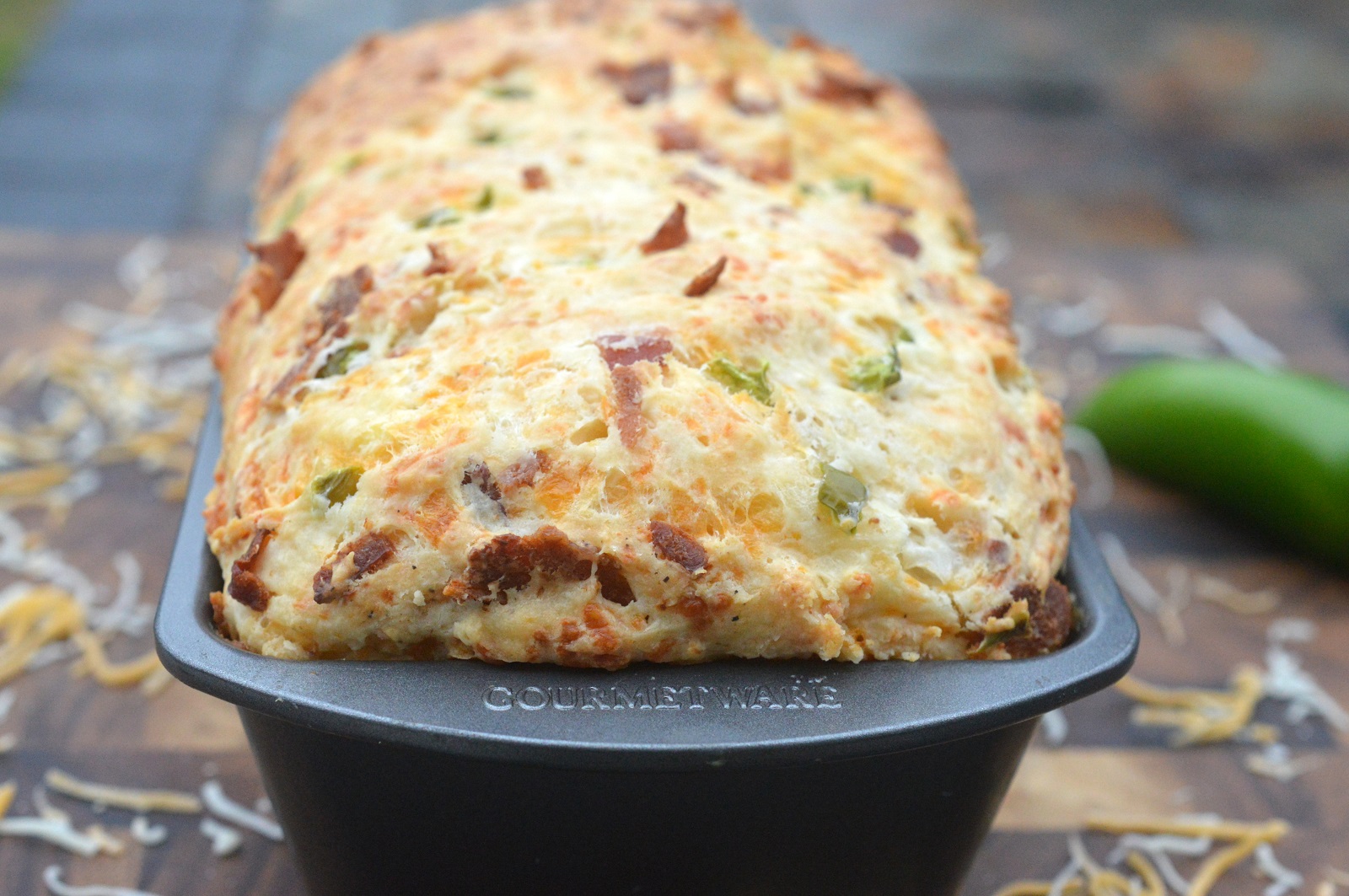 Recipe originally published on December 13, 2016. Updated December 19, 2019, to reflect changes in the recipe which I think make it better and easier.
Enjoy!!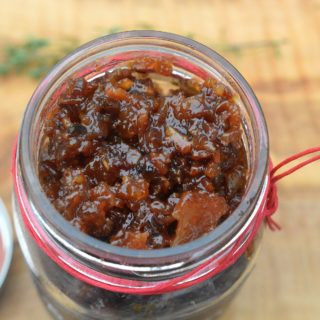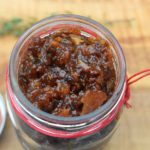 Print Recipe
Recipe for Bacon Jam
This Bacon Jam recipe makes an amazing food gift. use it as an appetizer and top a baked Brie or crostini. Spread onto toast. avocado toast or add a dollop to your fried eggs or avocado toast. I also love it atop green beans and burgers! So many uses.
Ingredients
2

pounds

of Hatfield Thick Cut Bacon

1 1/2

cups

of chopped Vidalia onion

2 1/2

TBS

garlic paste or 3 cloves of garlic

1 1/4

cups

brown sugar

1/4

cup

sherry vinegar

2

TBS

balsamic vinegar

1/4

cup

water

6

sprigs of fresh thyme

Black pepper

Optional: a couple of dashes Cayenne

red pepper IF you like heat and sometimes I add in 2 TBS of maple syrup towards the end
Instructions
Cut your bacon into 3/4 inch pieces and cook until crisp, stirring it around often.

Drain all but 1/2 TBS or so of the bacon grease out.

Add in the onions and saute for about 6 minutes.

Next, add in the garlic paste (preferred) or garlic and saute for 1-2 minutes, stirring the whole time.

Add in brown sugar, vinegar and water. Stir and bring to a simmer over medium heat.

Add in Thyme sprigs and pepper and continue simmering, stirring often, for 10 minutes, being careful not to burn.

Taste and adjust seasoning to your preference if necessary.

Remove Thyme sprigs and allow the mixture to cool.

You can then pulse the jam a few times in your food processor for a finer jam or leave it as is chunkier.

Once completely cool, store in airtight jars in your refrigerator for up to 3 weeks.

Heat it up a bit to enjoy on whatever you like. If you need to after reheating adding a TBS or so of water if the jam is to thick.
Nutrition
Serving:
12
g
|
Calories:
135
kcal
|
Carbohydrates:
14
g
|
Protein:
5
g
|
Fat:
5
g
|
Saturated Fat:
2
g
|
Cholesterol:
5
mg
|
Sodium:
295
mg
|
Sugar:
15
g