Cajun Chicken Wings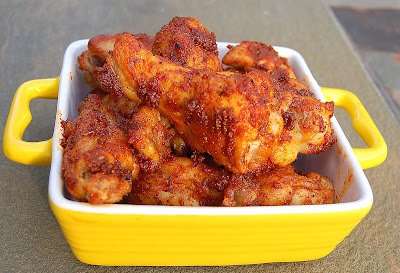 My husband, like most men I know, is crazy for chicken wings! Buffalo, sweet & spicy, BBQ, you name it…he'll take 'em!
There is a place in the next town, right next to my daughters dance school, that offers about 30 flavors of wings, among them a Cajun wing flavor…his favorite. Whenever my husband takes her to or from dance there is a pretty good chance he is coming home with an order of those wings, lol!
Sure I've made wings occasionally during my life. Usually in the oven. I was never a big fan…the bones, etc kind of freaked me out. It wasn't until my hubs began getting those Cajun wings that I became a bit interested…in the little drumsticks anyway. The smell was irresistible and I just had to have one or two. After that he always makes sure to get an extra 5 for me…aaaah true love! No not with the wings sillies (well kinda)…with my man 🙂
You may remember the May post I did on the Tfal Actifry click here to see what it can do, and how amazed I was with its performance. I talk about it often with friends, strangers, basically anyone who will listen. I think I've sold a dozen of those machines, Tfal maybe you need to put me in a commercial! Hey, when you come across a good thing…you tell folks right?? I literally just had a conversation with my cousins' 10 year old son yesterday. Him and his mom were asking me for a good recipe to make wings at home…I looked right at little Jacob, told him about the Actifry and how easy and delicious it was to use it for perfect wings…I told him to ask Santa for one…then of course I gave the full debrief to his mom. Ok Tfal…now I'm up to 13!
It really is a great help in my kitchen in a number of areas besides wings….but man that thing makes killer and I mean killer wings. My kids eat plain wings with salt and pepper now and their friends all ask for a mix of plain and Buffalo wings when they come over! (All with just few drops of oil…I love that machine!!)
I made these Cajun wings in it a few times and now my husband keeps saying that mine are better than the take out wing joint. He is not sure how he feels about that lol!
Whether you have an Actifry or not, you can make these at home…they are SO stinkin' good! You have to try them!
Cajun Chicken Wings
Cajun Rub
For a dozen wings, place 3 TBS of Cajun seasoning in a medium bowl, add 3/4 TBS olive oil to it and combine it well until it 's just a bit wet and crumbly. Set aside.
Wings
Cook your wings they way you normally do….In the Actifry I only add 1 tsp of olive oil, salt and pepper and cook them for 26 minutes. If using an oven you can brush your wings with a bit of olive oil, season them with salt & pepper, place them on a wire rack over a baking pan (like a cookie rack) and bake for 30 minutes at 400 degrees, turning them once halfway. Then broil for 3 minutes a side for crispness.
Once your wings are done, throw them in the bowl with the spice and gently toss them around using a spoon or spatula until each wing is coated, plate and serve…Yummm!
**Note, some Cajun spices are very salty…I happen to order my Cajun spices from The Spice House and I combine a bag of their Cajun Seasoning with a bag of their Salt-Free Cajun Seasoning to get the taste we enjoy for many dishes. Here is the link.
This is not a sponsored for Actifry or The Spice House…just telling you guys 2 place/things I adore 🙂
Enjoy!!