What is the most popular fruit in the world?
Betcha didn't know the answer is a mango!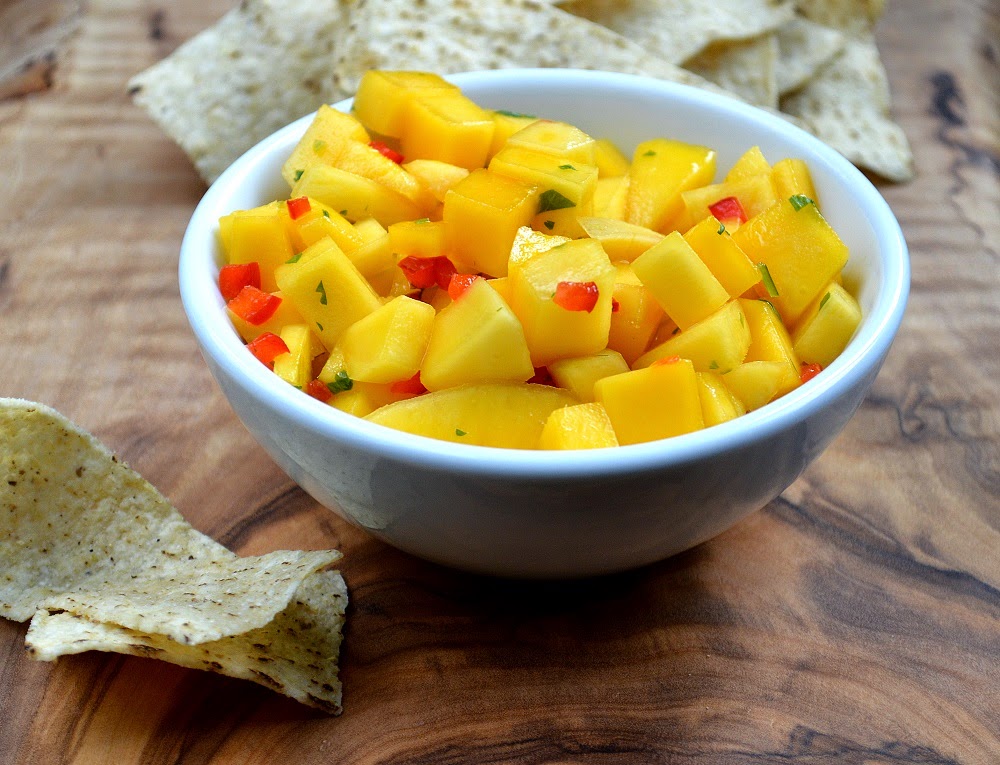 This is a sponsored post brought to you by The Motherhood and the National Mango Board, all thoughts about mangos are our own.
Last week my Little Chef & I attended a really fun cooking event hosted in a great cooking space, located in Montgomery County PA, called
Really Cooking With Robin.
Since one of Samantha's top 5 favorite foods happens to be mangos, she was super-excited to go, learn a little more about mangos and cook up some tasty bites of deliciousness!
She was not disappointed! We arrived in East Norriton, PA at the storefront of the cooking school, and got down to business! Samantha was the first to volunteer to help make Mango Smoothies with Chef Robin - which were SO good!! She has made them a few times at home already! Get the recipe here.

Next, we made our own mango, chicken and cheese quesidillas aptly called Cinqo de Mango Quesadillas (get the recipe here)! They were so delicious...I ate every bit of mine! I am a huge fan of mango salsa, but I honestly never thought to put mangos IN my quesadillas! Something I definitely will be doing now!
We finished with these crazy-fun Mango Popsicle's! Fresh frozen mango "cheeks" dipped in a fantastic Greek yogurt & honey mixture, coated in sprinkles or mini chocolate chips. They were un-believable! Way better than any popsicle you could buy! No kid will turn these babies away and they will be none the wiser as to just how good-for you these actually are! You can find the recipe for them here. These are a must make!





Here is what Samantha had to say about her night:
Hi! did you know there are lots of ways you can use mangos besides just eating them plain? I learned that most of the mangos that come from the USA come from Florida. The class that we took shared a few yummy ways to cook mangos BUT my favorite way will always be to just bite into one and eat it whole! I had fun cooking with mangos, my favorite that night were the Mango Smoothies, I have made them a bunch of times since then! If you never tried a mango, you need to try one! They are sweet, soft and juicy, mmmmm!


Did you know?
Mangos pack a nutritional punch at just 100 calories per cup, making them a perfect snack any time of day.

Mangos provide 100% of your daily vitamin C, 35% of your daily vitamin A and 12% of your daily fiber.
Mangos are fat free, cholesterol free and a good source of dietary fiber.
Mango's sweet taste of summer make mangos a regular household snack to be enjoyed throughout the year with these simple tips for selecting, cutting and storing mango.
Selecting: Don't judge a mango by its color – red does not mean ripe. To find a ripe mango, just squeeze gently. A ripe mango will be slightly soft like a peach or avocado. A firm mango will ripen at room temperature over a few days.
Prepping: To cut a mango, simply slice off the sides of the fruit, avoiding the large seed in the center. Once you have these two sides, you can get to the flesh and slice or dice as needed. Then, simply scoop it out of the skin. For more on how to cut a mango or delicious new recipes, visit Mango.org.
Storing: Keep unripe mangos at room temperature. Never refrigerate mangos before they are ripe. Once ripe, mangos can be moved to the refrigerator to slow down ripening for several days.
Year-Round Availability:

Mangos are the world's most popular fruit and are available year-round, so you can always get your hands on a perfect mango.
Six varieties of mango make up most of what is available in the U.S. Because each variety comes into season at a different time of year, you'll always find a mango in your produce aisle.
While there are more mangos in the market during the summer than any other season, this tropical fruit can bring a little sunshine to your table any time of year.
Simple Mango Salsa
3 mangos, cut into cubes
1 TBS minced jalapeno
2 TBS minced sweet red pepper
A squeeze of fresh lime juice
Optional: 1 TBS fresh chopped Cilantro
Combine all ingredients in a small bowl, toss until incorporated. Serve in a small bowl with chips or as an accompaniment to quesadillas, tacos or fish.
Tip: If the mango isn't very sweet, I make a small amount of my favorite a Honey Lime Dressing and toss to coat.
Enjoy!!

& Samantha