Just like most of you, it is time for me to focus the new years resolutions I made. Eating healthier is usually one of them, which my favorite 4 Ingredient Green Smoothie helps with. Another resolution I really want to focus on in 2021 is reducing the waste our household puts out.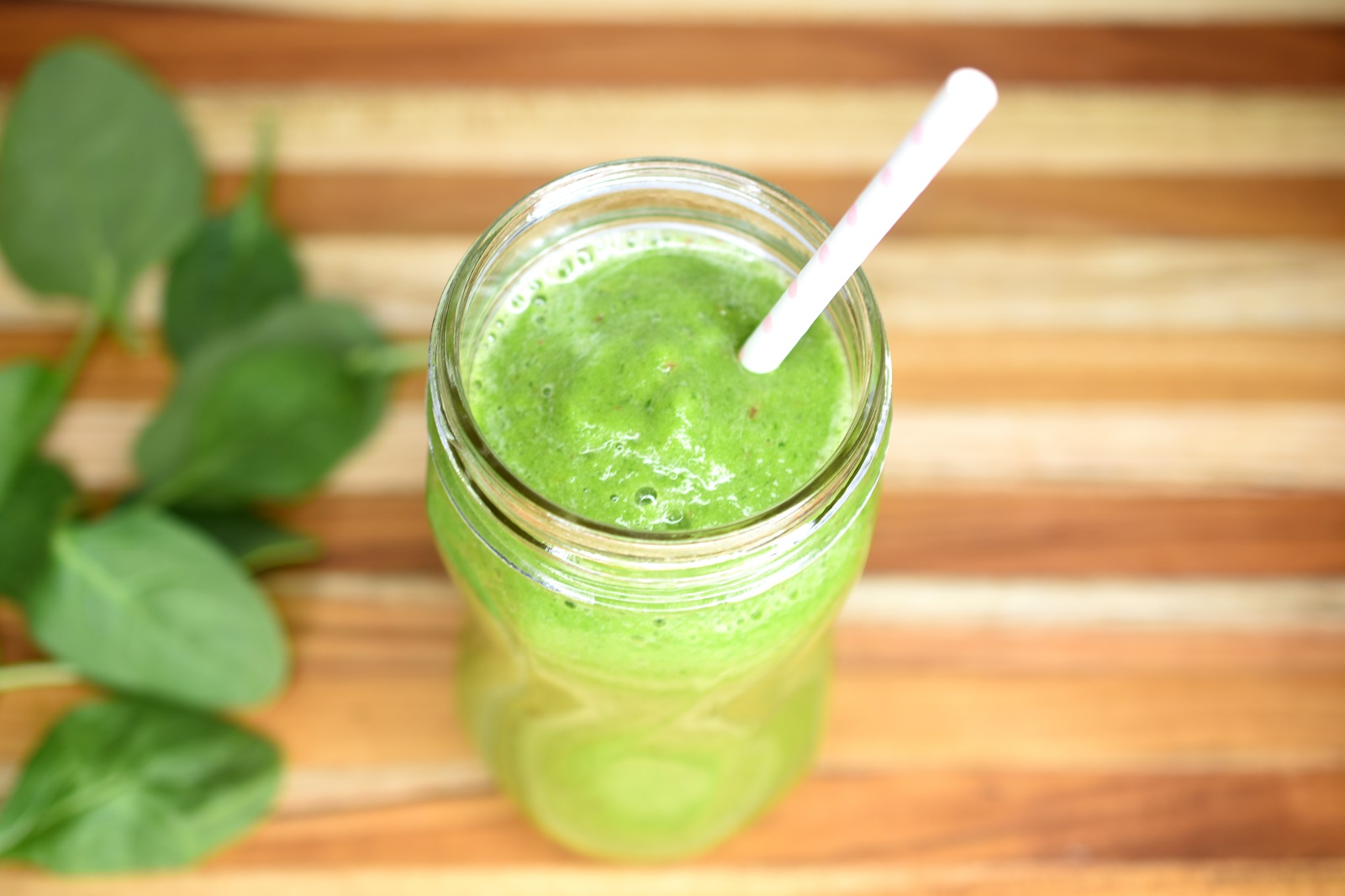 If you are not a green smoothie person, I think this simple recipe will win you over. Pinky swear!! I waited years and years before I got over my mental paralysis at just the thought of a sip of a green smoothie. Once I finally gave them a chance (thanks to my teen daughter), I became obsessed. This recipe is so fresh and vibrant. It is a boost both mentally and physically for me every time I make it.
I am also excited to share a product with you that is helping me with both my resolution of eating healthier and reducing waste. Does anyone else go through a ridiculous amount of water bottles. Gallon jugs, single serving and liter bottles?? Between how much water my family of four drinks and how many bottles can be left half full scattered throughout the house, I had to take action. Plus, I really want to eliminate some plastic from our life and reduce the trash we create.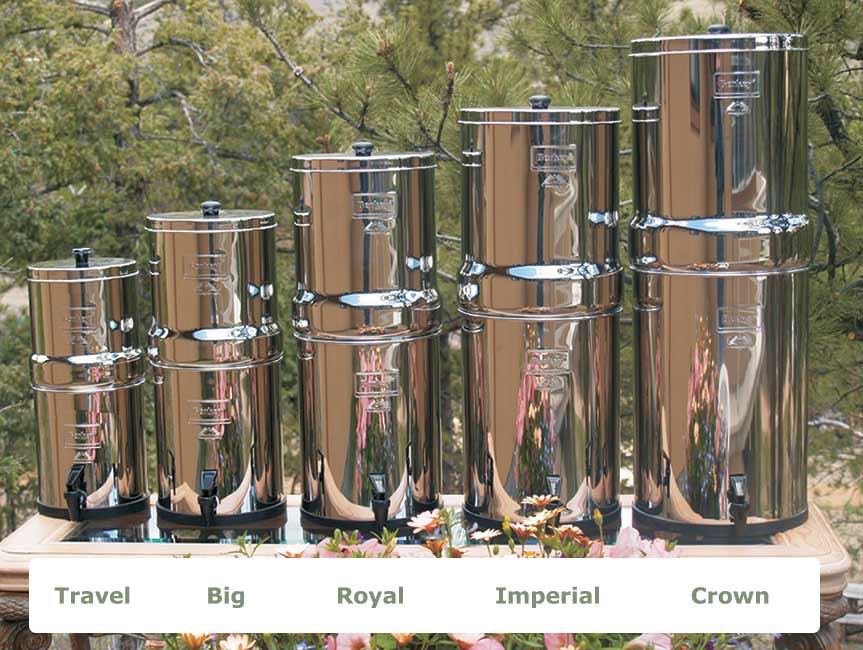 I had been looking for a solution and happy to say I found it! Take a look at Big Berkey Water Filters. Big Berkey will purify water from bacteria, viruses, chlorine, pesticides, herbicides and other harmful toxins.
They say the sell "the world's most powerful and cost effective personal water purification systems, providing reliable and user friendly water purification at home or from any fresh water source". Big Berkey filters are gravity fed. No electricity or water pressure necessary to use them. Which make them attractive for those off the grid for sure as well as convenient for home use.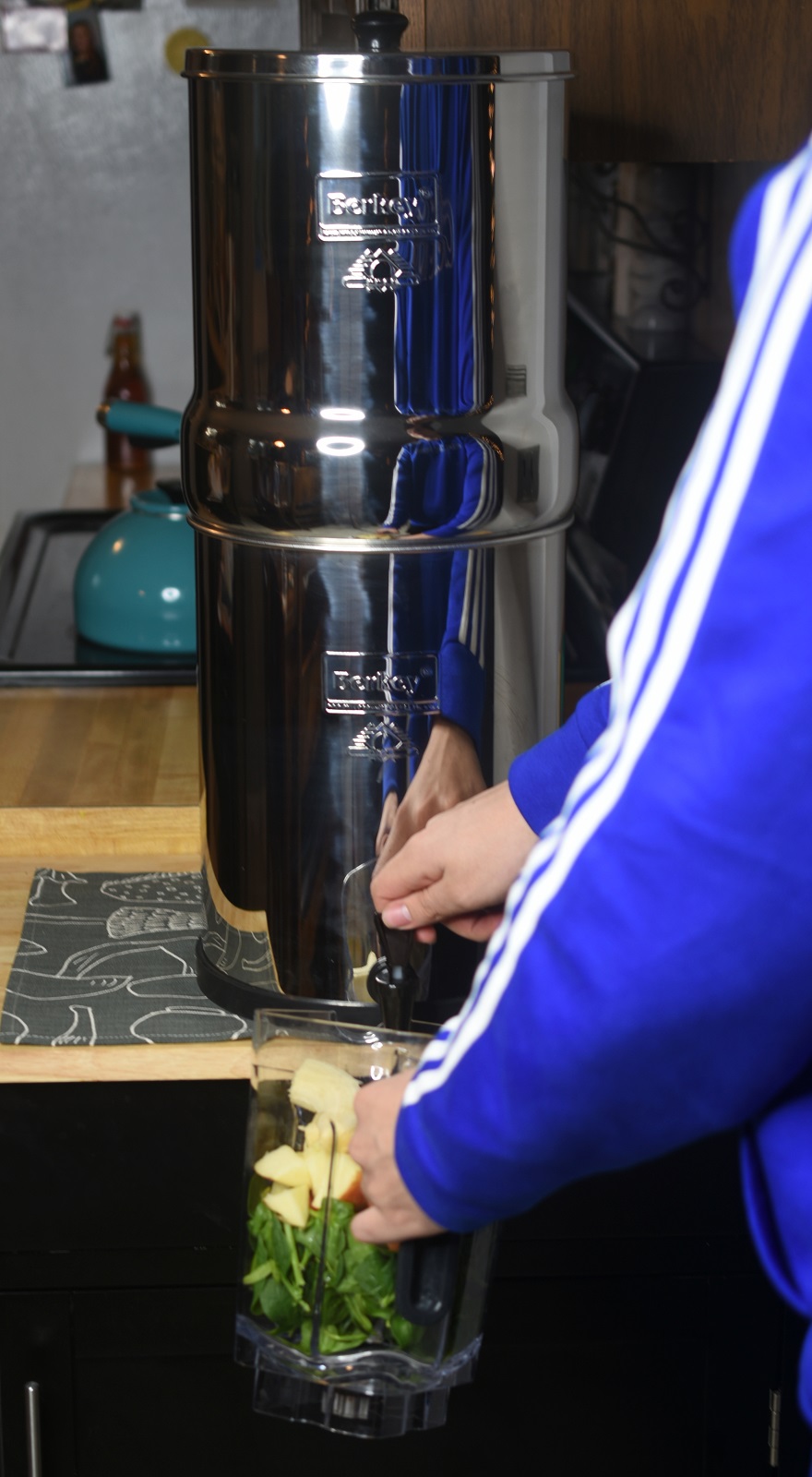 Each durable Berkey Water Filter (inserted into your system and replaced when necessary) will last up to 3000 gallons. Low maintenance is good for me! They come in a multitude of sizes for both at home and on the go use. We have the Royal Berkey.
So now, I can feel good about cleaner, safer water for my family and I, plus reduce my families waste. We literally go through 2-3 cases of water a week. That is lot of bottles!
All four of us agree (as do my kids friends) that the water from our Big Berkey tastes really good. It's kind of funny how you never realize how different water can taste, house to house or bottle to bottle. Our water now consistently tastes so good.
For my easy to make Green Smoothie recipe, I simply fill my blender pitcher from my Big Berkey Water Filters tap! Love it!
To find out more about the portable Big Berkey Water Systems as well as the unit shown here, visit the Big Berkey website. They have a Berkey size to fit every household. Follow them on Big Berkey Water Filters and Big Berkey Water Filters, I see that they often do giveaways!
Now that I have once resolution heading in the right direction, on to one of my others. A healthier January-March. I'm all about the "ying and the yang" when it comes to eating. I never proclaim to be a heathy eater however I do eat well 75% of the time. I won't deprive myself of comfort foods, candy, cocktails etc, I just enjoy them in moderation.
Ingredients Used To Make My Favorite 4 Ingredient Green Smoothie
1 Apple (leave skin on) I like Honeycrisp (use whichever apple you enjoy)
Big handful of spinach (about 3 ounces)
1 banana (the more ripe the banana sweeter it will be)
1 heaping cup frozen mango (see notes)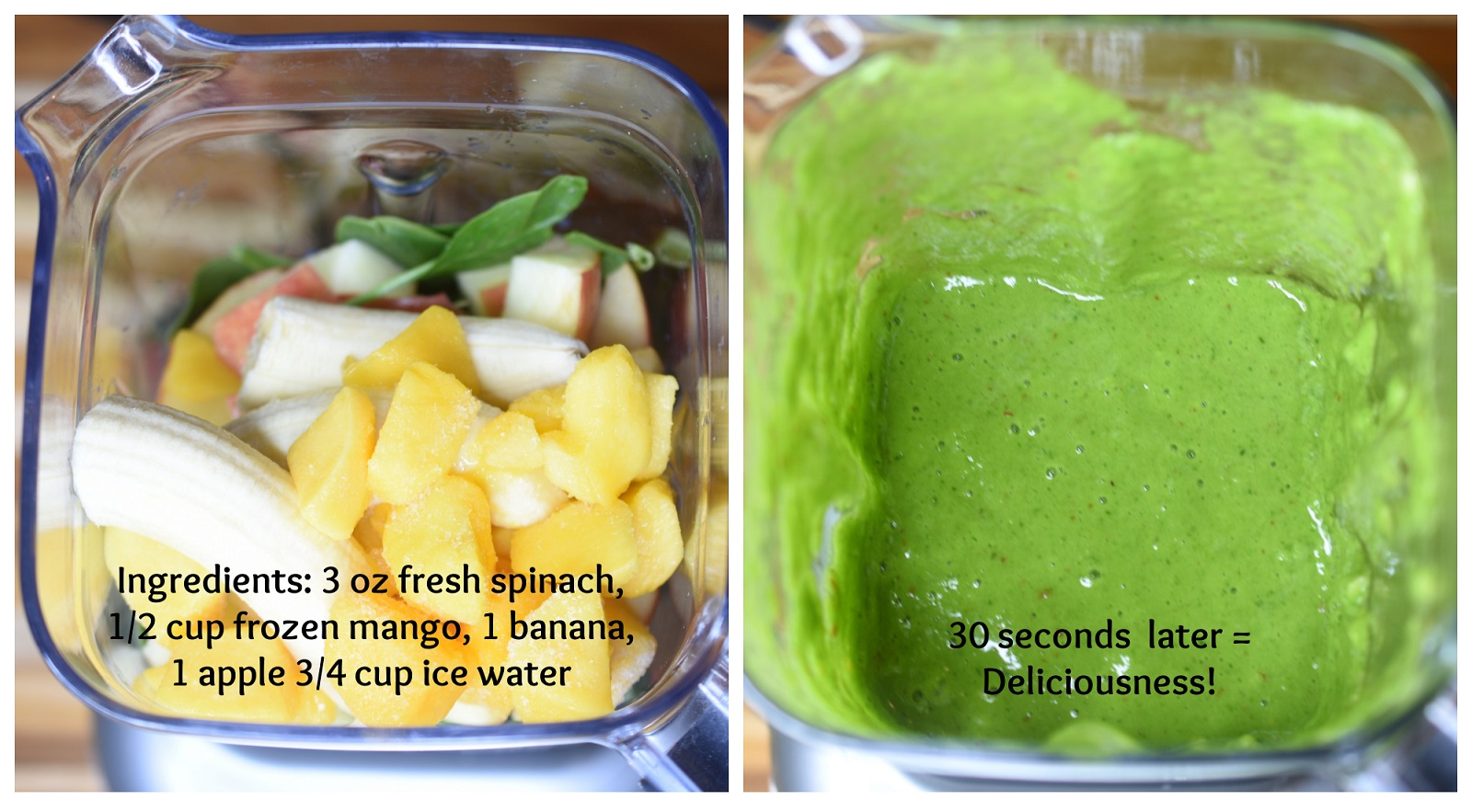 Variations To Green Smoothie Recipe
Swap arugula or watercress for the spinach (both great nutrients)
Add in fresh or frozen pineapple
For a hint of spice and additional health benefits add a little fresh ginger
Add in a squeeze of lemon or lime
If you want it sweeter, add in a drizzle of honey
Swap water for coconut water
This super easy 4 Ingredient Green Smoothie can be made in minutes! I make it at least 4 times a week, typically for my first meal of the day or for a snack. When I crave something sweet in the evening like candy…THIS satisfies my craving and bonus it gives me nutrients and antioxidants that a candy bar can't. I DO love candy but a gal's gotta be somewhat disciplined, lol!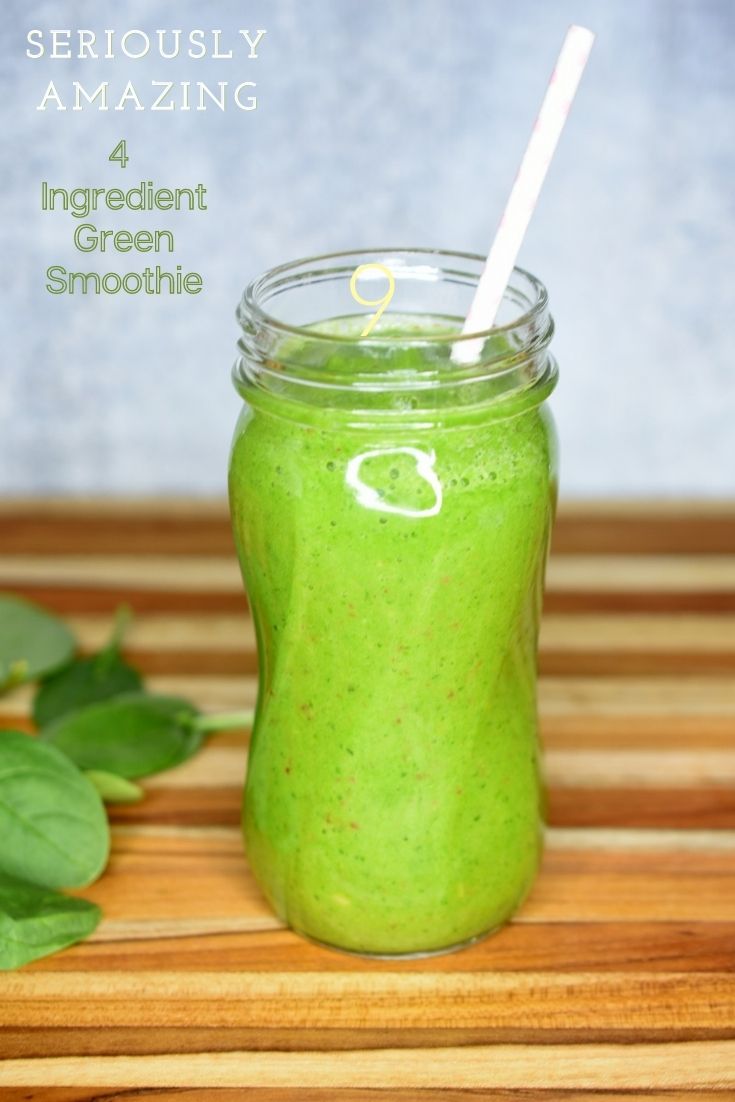 Tips for Making this Green Smoothie:
Stay close to the recipe or follow the variation suggestions above. This is SO fresh and bright tasting, if you go adding milk of some sort or dark fruits etc, it may be good however it just won't be this. I am all about experimenting g but if you want a green smoothie that is easy to make with a consistency that I think you will enjoy with the boost of nutrients and antioxidants found on these ingredients, this is it! Bet your kids will enjoy this as well.
And nope! You do not taste spinach at all when you enjoy this.
Hope you love this smoothie recipe as much as my family and I do!
If you are looking to kick off a few weeks (or more) of healthy eating or a detox, check out my Tomato Detox Soup. It's a favorite of many! I always use this soup to drop 5-7 pounds when I need to.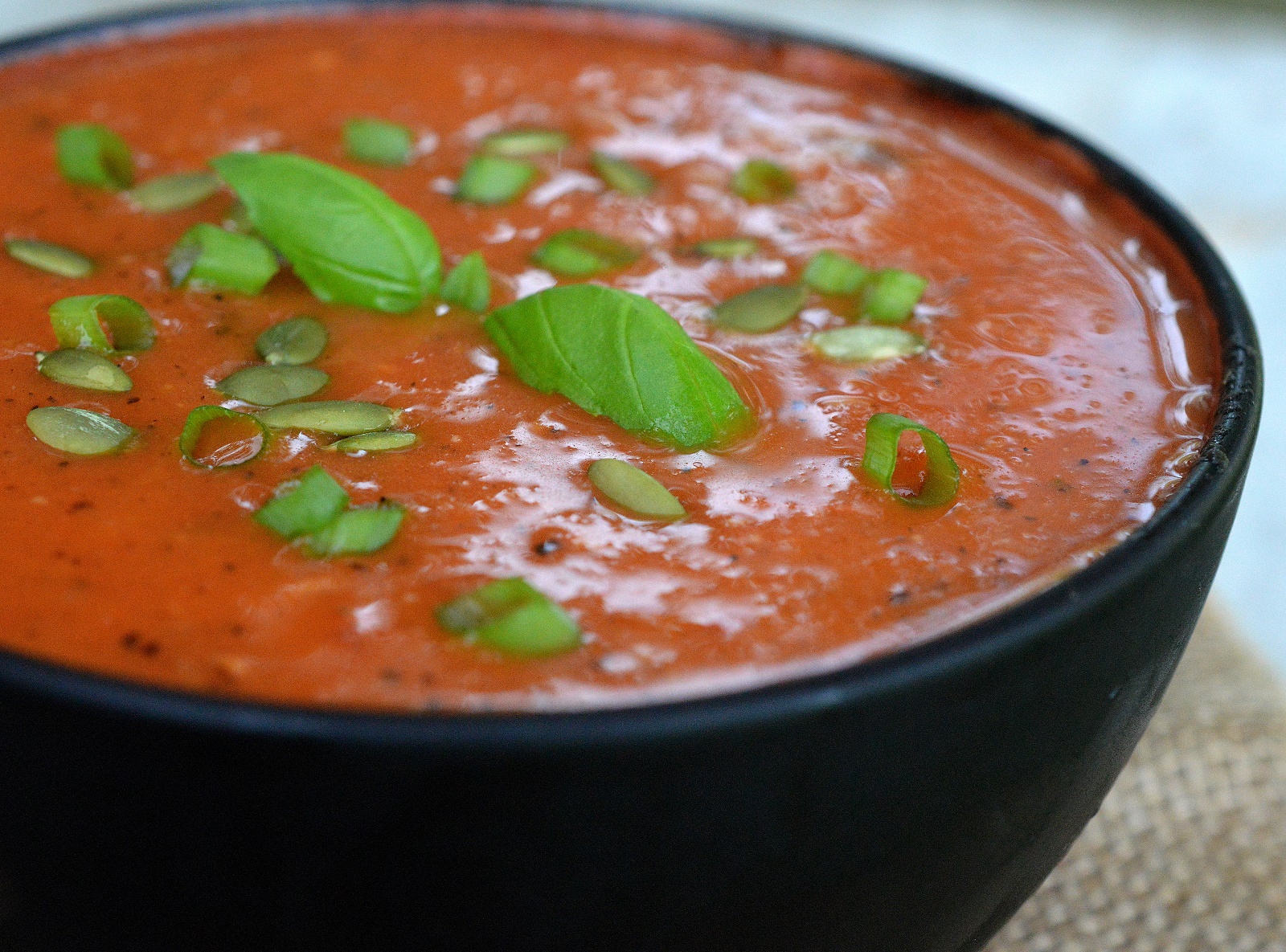 Or my Pumpkin Detox Soup, its bursting with health benefits! AND you may be very surprised at how delicious it is.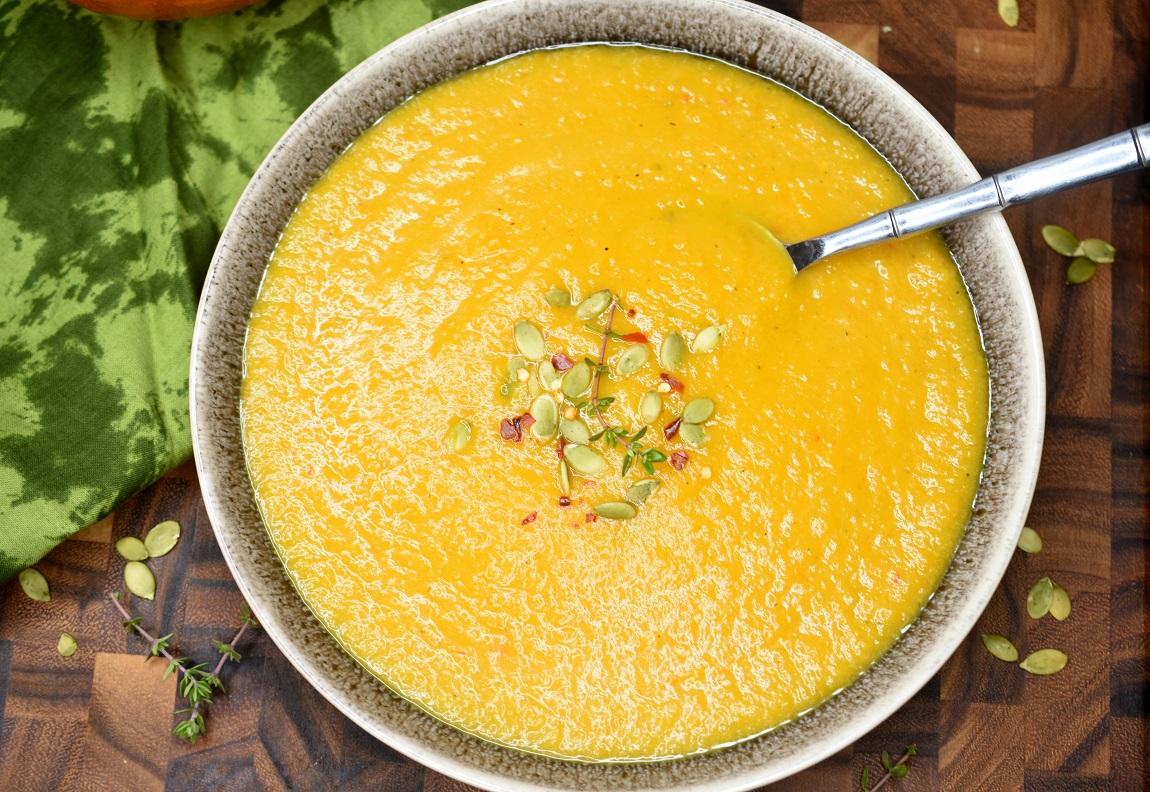 Report back on the smoothie and/or the soups when you make them. You can always tag me on Instagram with your creation @soufflebombay. I love seeing & sharing people's Stories and photos!
Cheers to a healthy and happy 2021!

Disclosure: I was not compensated for this post however I was sent a free Royal Berkey to try out.
Since I am not a Registered Dietitian or Nutritionist, I use a WordPress plug-in to to calculate the nutritional information provided in the recipe card.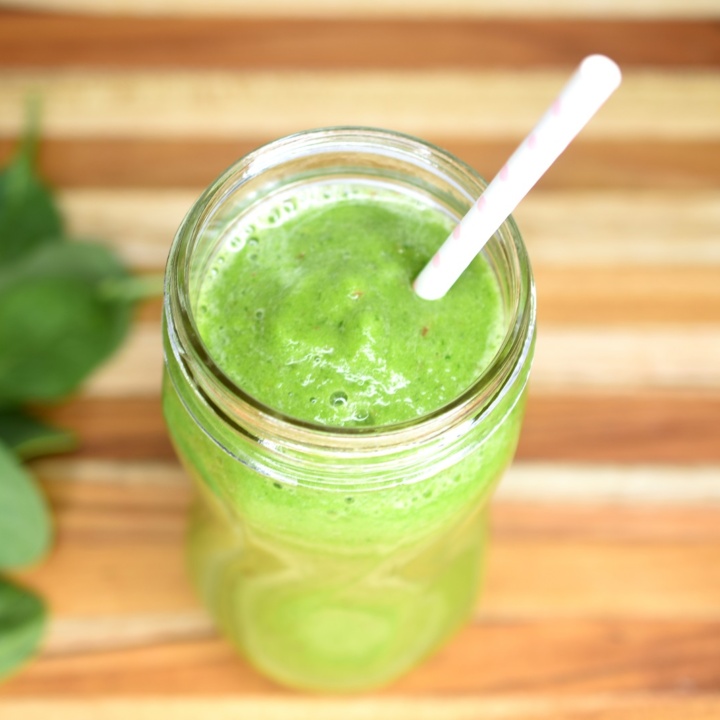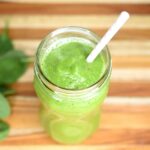 Print Recipe
The BEST 4 Ingredient Green Smoothie
Have no fear! If you think a green smoothie isn't for you this easy recipe will change your mind, light, bright and full of good things! Just 4 ingredients to make.
Ingredients
3

oz

fresh spinach (one BIG handful)

1

apple cut into chunks

1/2

cup

frozen mango

heaping cup full

1

banana

3/4

cup

ice water (or ice cold coconut water)
Notes
Use frozen mango. First, it helps make the smoothie cold and second, I feel you get more from a bag of frozen mango vs buying fresh ones. Less waste IMO.
You can swap ice cold coconut water for plain water if you enjoy that. 
I like using ice cold water vs ice in this. It gives the best consistency that you in my opinion.
Blenders vary, so if yours is being stubborn, use a spatula or muddler to mash the ingredients down a few times as you blend (while motor is off). 
Nutrition
Serving:
1
serving
|
Calories:
269
kcal
|
Carbohydrates:
68
g
|
Protein:
5
g
|
Fat:
1
g
|
Saturated Fat:
1
g
|
Sodium:
80
mg
|
Potassium:
1230
mg
|
Fiber:
11
g
|
Sugar:
45
g
|
Vitamin A:
9041
IU
|
Vitamin C:
73
mg
|
Calcium:
95
mg
|
Iron:
3
mg