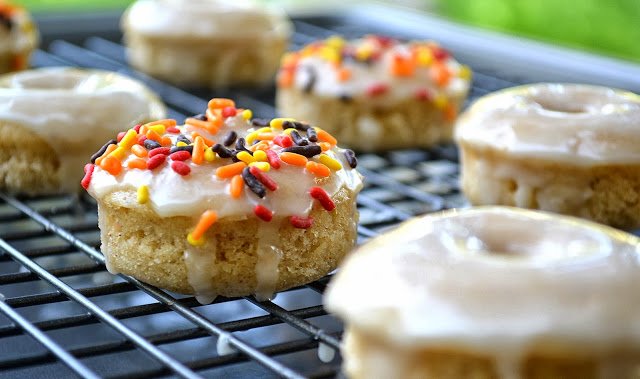 Have you ever pulled over to farmstand to grab some seasonal produce then spied a case or plate of Apple Cider Donuts? I have!  I can vividly remember the first time I was driving through New Jersey and bought my first one.  I inhaled the intoxicating scent of apple and took a big bite. It-was-heavenly and so different from any donut I had tasted.  My kids were with me that day and passes on the donut...however of course once we were in the car, back on the highway, and I was happily chomping on that glorious donut...you guessed it...they changed their mind and of course I gave my donut up to my baby birds, lol...that's what us moms do!  I was driving and thinking darn it...WHY didn't I buy a few...lol!
I personally have no fear of frying.  I actually love my fryer and use it about a dozen times a year.  But for replicating this experience I wanted to find a quick and easy way for me to make something similar and I did.
I decided to bake them.  I previously shared with you how I love my mini donut pan (I really do!) so once again I pulled that trusted kitchen friend out for this task.  I figured I would go mini...why not...they cook SO fast AND if one is not enough have two or three!
I like to make the batter (which yields 2 dozen mini's) and make a dozen one day, refrigerate the remaining batter and make the other dozen the next day.  Works for me, plus my family loves getting this treat two days in a row.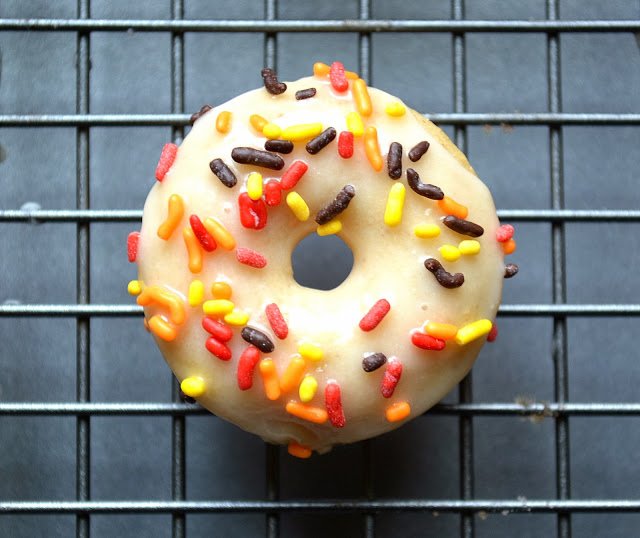 Start to finish making the batter and getting the first batch out of the oven is less than 20 minutes...what's not to love about that??   Once they cool the glazing is easy.  Then you are ready to take a bite of fall- fresh-apple-goodness baked right into a sweet treat that I am sure your recipients will enjoy!
1 ¾ cup flour
1 ½ teaspoons baking powder
½ teaspoon salt
½ teaspoon cinnamon
¼ teaspoon nutmeg
⅓ cup oil
¾ cup sugar
1 egg
½ cup apple cider
Preheat your oven to 350 degrees and grease your donut pan or cupcake pan.
Combine flour, baking powder, salt, and spices in a medium bowl.  Combine oil, sugar, egg and apple cider in a bowl bowl. Add dry ingredients to wet ingredients and stir until combined.  Scoop your batter into a plastic baggie and snip off the end, swirl batter into your pan and fill each donut spot a little to a little more than half.
Bake at 350 degrees for 8 minutes or until toothpick comes out clean if you are using a mini donut pan.  If you are using a mini cupcake pan, begin checking for doneness around 8-9 minutes (do not use a cupcake liners).
Allow the muffins to cool for about 10 minutes, then pop them out of the pan and onto a piece of parchment paper (hopefully you greased it well and they just pop out when you turn the pan over, if not give the pan a good whack!).  Place your donuts on a cooling rack and allow them to cool a bit.
Apple Cider Glaze
2 cups powdered sugar
3-4 TBS apple ciderCombine the sugar and cider and mix until smooth.  Adjust to your desired consistency of a thinner or a thicker glaze.  Drizzle the top of each donut.  Add sprinkles if you choose and enjoy!!
Colleen's Notes:  This is the pan I use - I am pretty sure I picked it up at Marshall's or TJ Max a couple of years ago for 6 bucks...worth every penny!
I double or even triple glaze my mini donuts.  If I am in a rush and I want them to set quickly, I make the glaze thicker then pop them in the fridge for 10 minutes.
If your donut hole disappears when you glaze them, just swirl a toothpick in the center and allow the glaze to drip down.
For easy cleanup - glaze on a cooling rack over a piece of parchment or wax paper.
Enjoy!