When a sweet craving hits, how often do you raid your pantry, cabinets or fridge and look to see what you can find that will satisfy the urge? These simple Oatmeal Banana Energy Bites can get that job done and, what I love about these is that they are totally customizable. You can make them in a variety of delicious ways.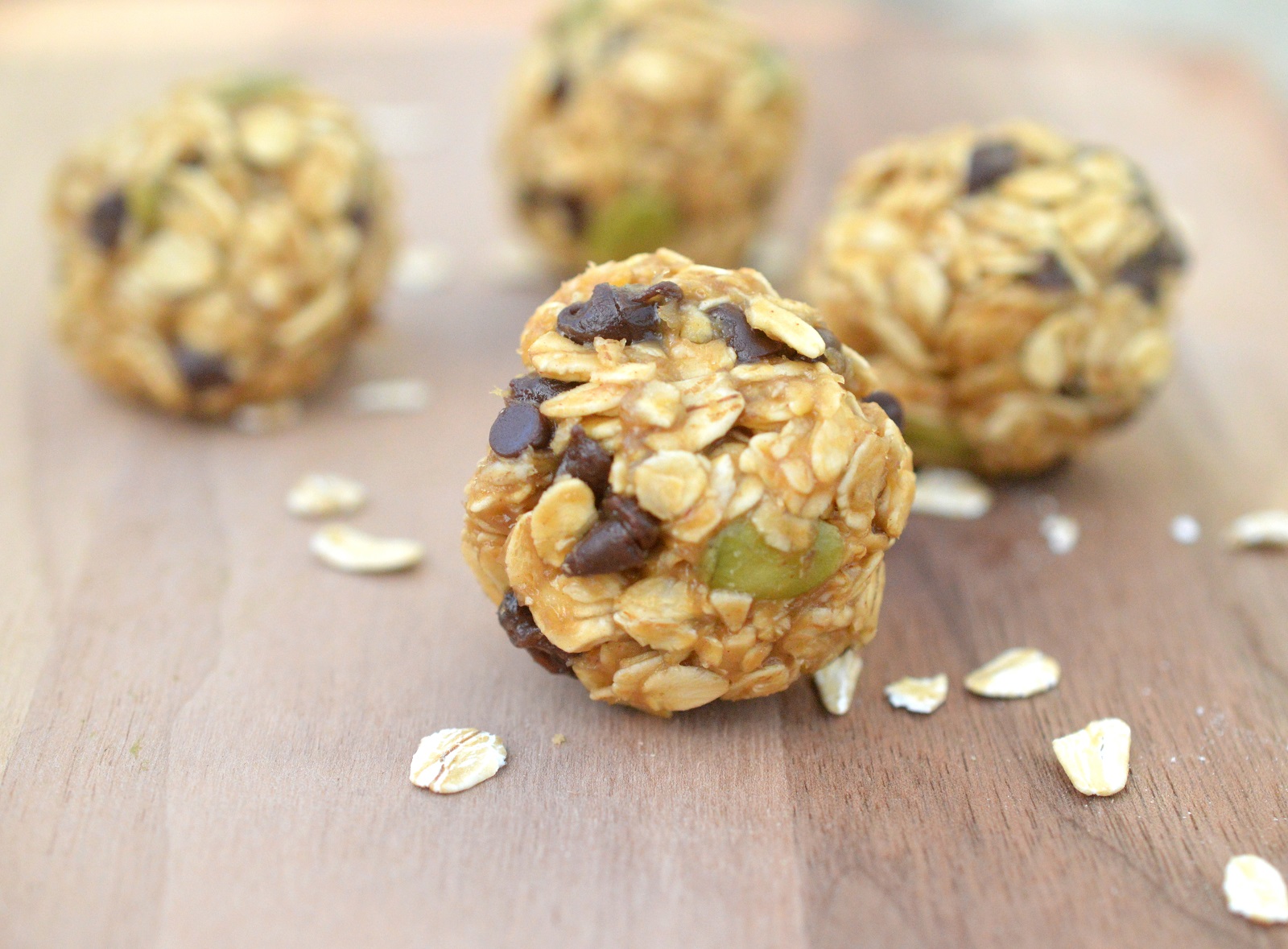 Another bonus of these Oatmeal Banana Energy Bites is that you can keep them in the freezer and simply pop a few out when the mood strikes, to include in lunch boxes or even enjoy for breakfast as you and your family run out the door.
Oatmeal, banana, peanut butter and a few other ingredients are all things I feel good about including in these bites. Allergic to nuts? Swap out the peanut butter for sesame seed butter which I love (this brand, which I buy via Amazon, is amazing! Way better tasting than Nutella to me AND its non-GMO and palm oil-free, my favorite is the vanilla almond).
Including banana in these is a great idea to not only give yourself a boost from the potassium but it's just a great way to enjoy bananas differently. Sometimes I put a whole banana in, it just depends on my mood. Since bananas vary in size and textures, play around with how much oatmeal you add, start with 1 cup and go up from there.

How Do I Make Oatmeal Banana Energy Bites?
These Bites are so easy to make. Simply combine all ingredients together in a bowl and mix well. Now, depending on if you want chunks of chocolate and or dried fruit or nuts, you can also toss the dry ingredients in your food processor and pulse a few time which will make the oats, chocolate, raisins, nuts (or whatever you choose to add to this to change it up), smaller which in turn make the eating of the energy bites creamier.
The trick is forming them into balls since they will be sticky. YOu need to use pressure like you would when making a snowball. After that, they stay together beautifully. Just allow them to dry on a baking sheet for a few hours for the best outcome when freezing and or storing.
Do I Have To Include Banana As An Ingredient In The Energy Bites?
No, not at all. I just like including it for the banana benefits and sweetness. If you omit the banana, just increase the amount of either honey (for extra sweetness and stickiness) or peanut butter or reduce the amount of oats you add to about a cup (since the banana was part of the "glue" holding the energy bites together).
What Variations Can I Make To These No-Bake Energy Bites?
The variations are almost endless! Swap out the honey and add in agave or maple syrup. Add white or dark chocolate vs the milk chocolate chips (you can chop chocolate as well vs using "chips".  Add coconut flakes. Use dried cherries, cranberries apricots or whatever your favorite dried fruit is. Replace ½ cup of the oats with banana chips for a crunch. Swap out creamy peanut butter for crunchy. Use any non-nut butter or nut butter, Nutella, sesame butter (personal fav).
Add in your favorite seeds, like chia, flax or whatever you have on-hand. Choose to leave the oats and other dry ingredients they size they are or pulse in your food processor a few times to make everything finer.
I am sure you can come up with additional, delicious ideas!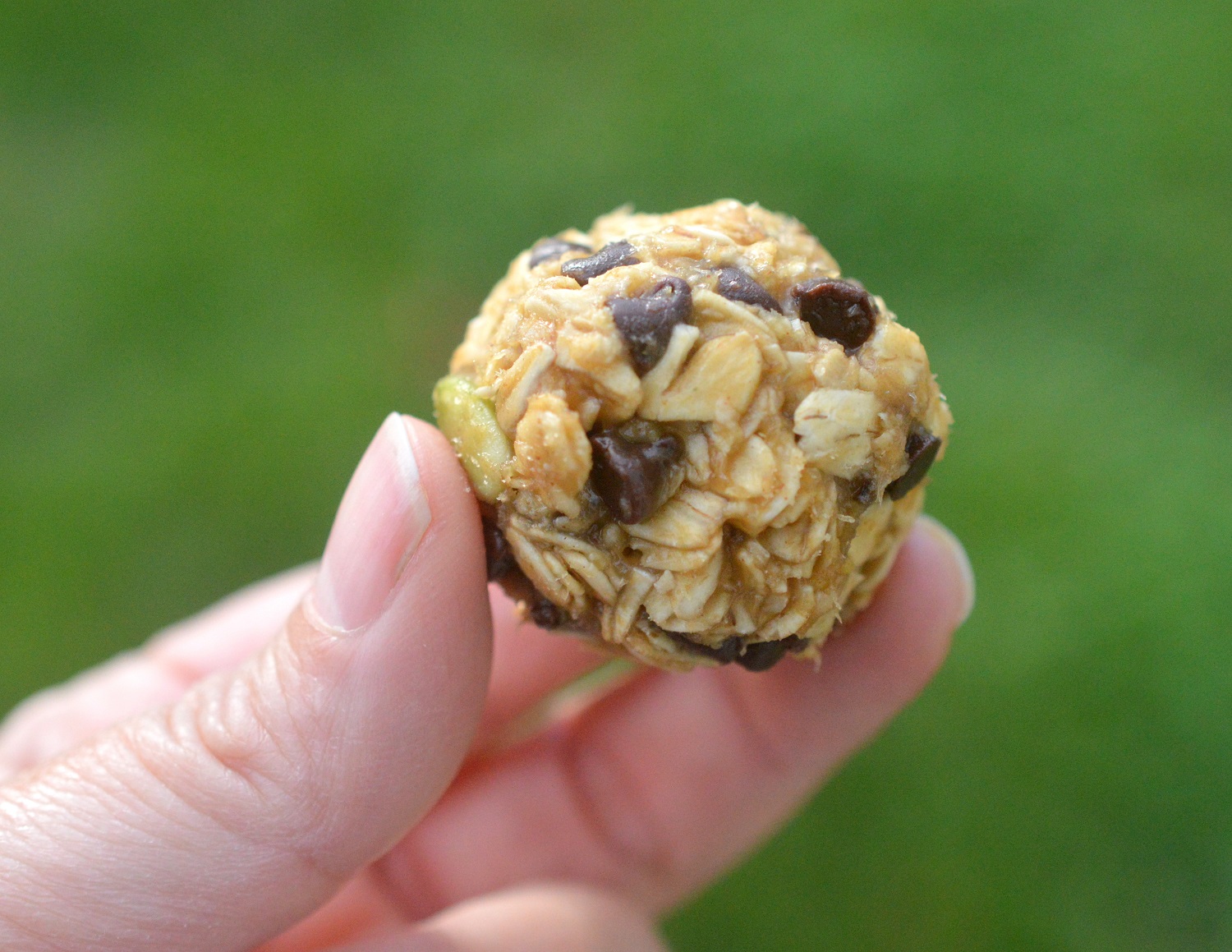 Can I Freeze Homemade Energy Bites?
Yes! These bites freeze well. Simply place them in freezer bags getting as much air out as possible or use a FoodSaver (below) if you have one and portion 4-6 at a time in small bags. When ready to enjoy, grab and go allowing them to thaw for 20 minutes or so.
I hope you try out these yummy, easy Banana Oatmeal Energy Balls. Tag me when you make them on Instagram and I will share your creation! Can't wait to see how you make them and what changes you may make!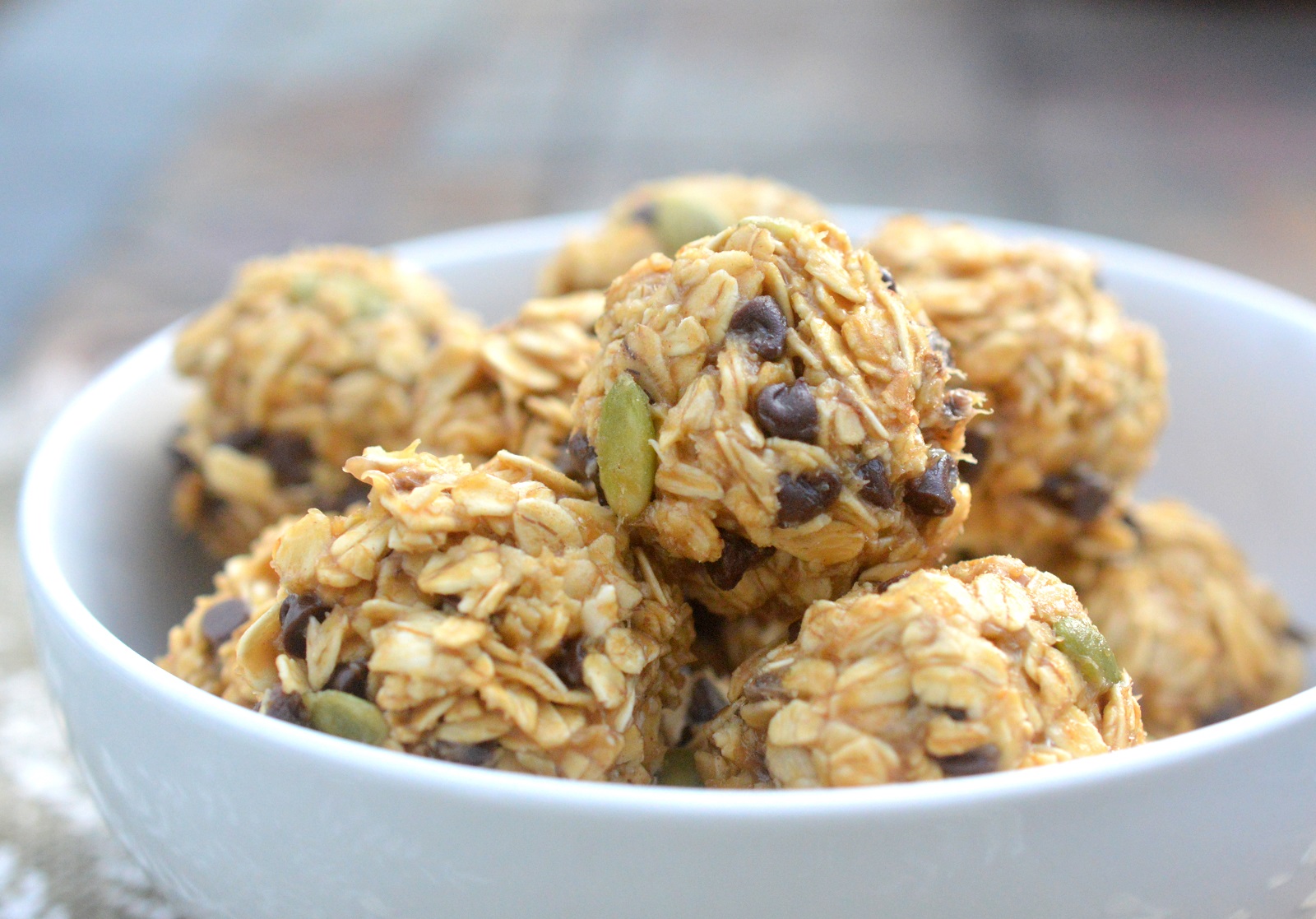 Enjoy!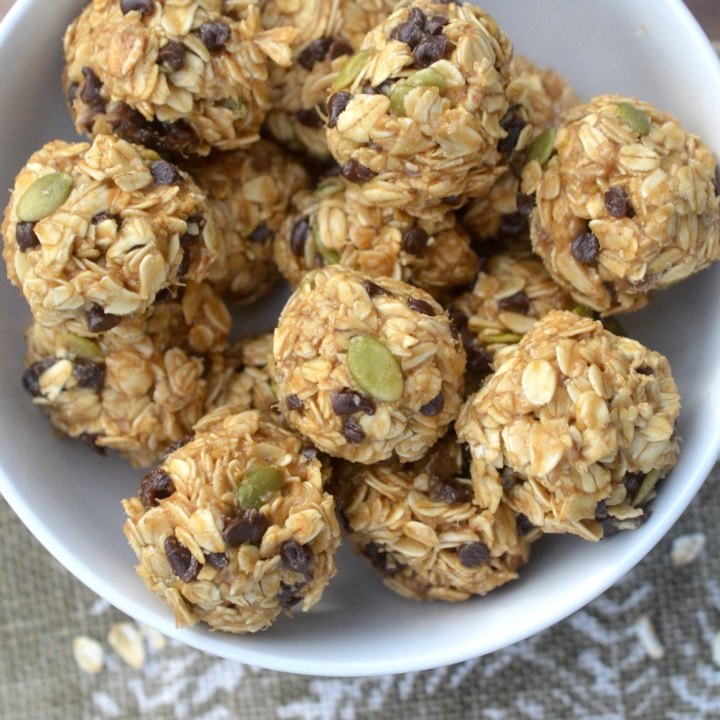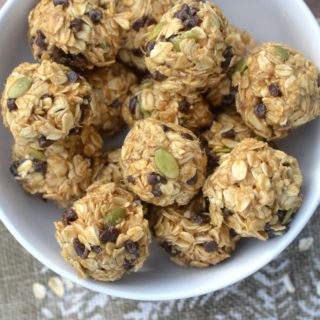 Oatmeal Banana Energy Bites
These no-bake Energy Bites are easy to make and can be customized in a variety of ways. I pop them in the freezer and pull a couple when I am looking for a snack or have a sweet craving but want to get the benefit of some protein vs potentially empty calories from candy. These do the trick!
Ingredients
½

cup

peanut butter

¼

cup

honey

1 ¼- 1 ½

cups

old fashioned oats

½

a ripe banana

not over-ripe

½

teaspoon

vanilla

2

tablespoons

raisins

3

tablespoons

mini chocolate chips
Instructions
Place your oats and banana in a mixing bowl and use a potato masher to mash up your banana into the oats. You can add in the whole banana if you like, just add a bit more oatmeal if necessary since banana sizes vary.

In a microwave-safe bowl, microwave the peanut butter 15-20 seconds, just enough to make them a bit more easy to incorporate.

Scrape that into your mixing bowl and the rest of the ingredients to the bowl and mix until incorporated.

Form into balls, pressing very firmly you do to compact and shape them (as you would a snowball). They will be a bit sticky, however, it works. If you have extra time you can allow the mixture to sit, covered, in your refrigerator for 30 minutes or more and then form mixture into balls (it will be less sticky).

After I form these into balls, I place them on a baking sheet and let them sit out for a few hours to dry up a bit. That is of course after I eat a few!

Store in an airtight container in your refrigerator for up to 4 days or store in your freezer in freezer bags. I recommend first placing balls on a baking sheet and freezing them for 30-60 minutes prior to placing them in the freezer bag. Pull out a few whenever the mood hits for a snack. They will thaw in 20 minutes or so.
Notes
Variations: Change it up. Swap out creamy peanut butter for crunchy peanut butter. Add in some Nutella for more cholate flavor. Swap raisins for cranberries. Add in chia seeds, hemp seeds, sunflower seeds or pepitas. Allergic to nuts swap peanut butter for sesame butter or another favorite nut-free spread. Swap agave or maple syrup for honey. There is no right or wrong when making these.
Nutrition
Serving:
2
g
Calories:
381
kcal
Carbohydrates:
53
g
Protein:
11
g
Fat:
15
g
Saturated Fat:
4
g
Cholesterol:
1
mg
Sodium:
104
mg
Fiber:
6
g
Sugar:
22
g
Follow me on Tik Tok for 1 minute videos