Do you prefer the crispy-chewy edges of a brownie or the cake-like center? Me?? I am obsessed with the edges. This Brownie Cookie recipe gives you the best of both worlds in a cookie!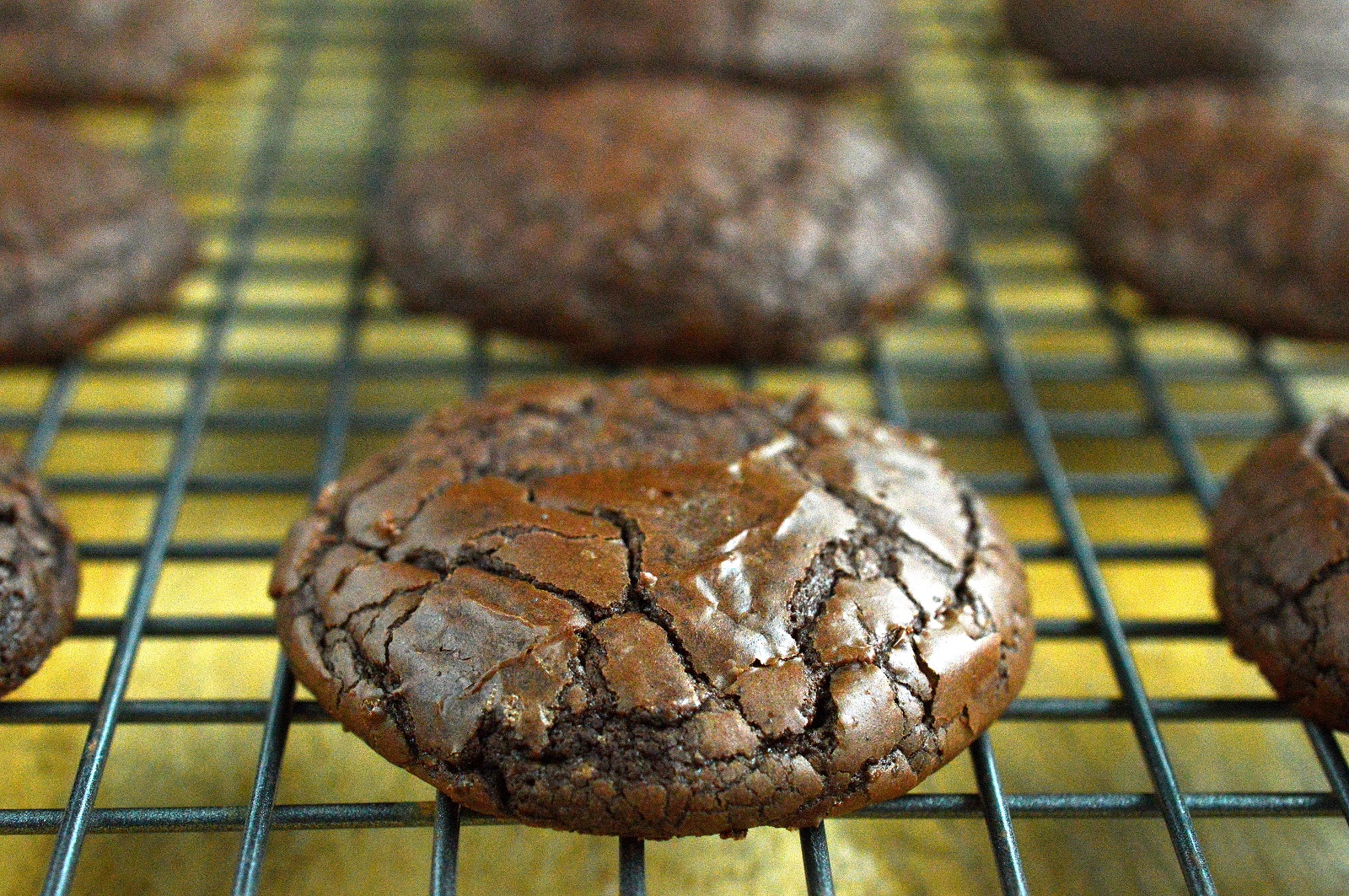 I will admit that a few times I have gone a little bit crazy and cut away more than my fair share of the edges of a pan of brownies (I mean who hasn't??). It's just too good not to! I like a good fudgy brownie with crisp edges. My husband likes the cake-like center, so we get along juuuust fine, lol! The kids take what they can get. Or maybe we take what we can get with a teen boy in the house, he's the one I have to hide the brownies from!!
Connor seriously loves brownies to the point that for his First Holy Communion, I made an 8-pound on a huge sheet pan (since he's not into cake). Boy was that something! Connor also is a cookie monster (just like his momma). So over the years, I have made Homemade Brownie Brittle and this Brownie Cookie recipe, which keep my boy very happy!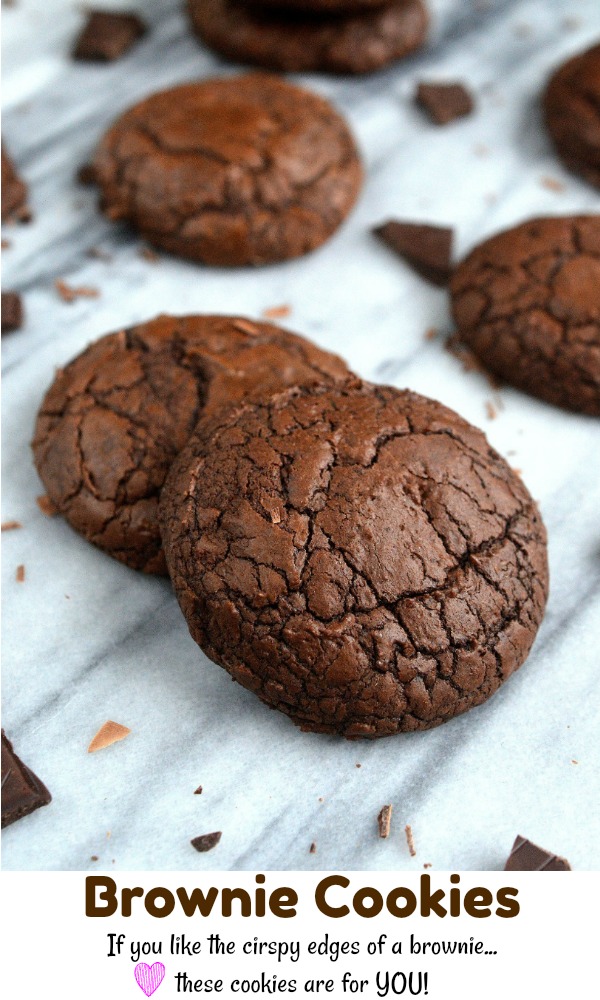 I can already "see" me making (and shipping) him both Homemade Brownie Brittle & Brownie Cookies when he goes off to college. When I have cookies in the cookie jar at home, I always say its a little love from me to you in that jar. So imagine if/when my kids go away. Boxes and boxes will be coming at them of home-baked goods.
If you like brownies, chocolate or cookies in general then you will dig this Brownie Cookie recipe. You can choose to bake this Brownie Cookie recipe less or more, depending on what you want them to be. Less bake time = a gooier (is that a word??) center, more bake time = more crunch.  You can also cut down the chocolate by 2-4 oz to make them less rich. Choose to use traditional cocoa or dark chocolate cocoa (if you are a dark chocolate fan.
I've even substituted Chambord for the vanilla (1 TBS total) for a different flavor (a hint of raspberry).
You may also enjoy one of these easy sweet treats:

Brownie Bottom No Bake Cheesecake (great for BBQ's)
Blueberry Lemon Yogurt Cake (my fav!!)
Chocolate & Peanut Butter Cannolis (easy & different!)
Chocolate Caramel Cheesecake (Turtle Cheesecake) 
My Prize Winning Key Lime Pie (I won a trip to the Florida Keys with this recipe!!)
Enjoy!!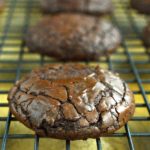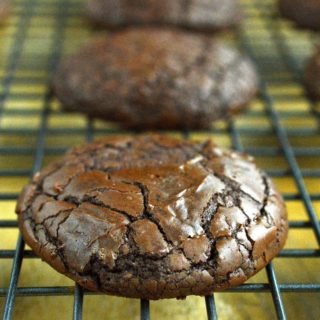 Print Recipe
Brownie Cookies Recipe
Ingredients
1/2

cup

butter

12

oz

60% cocoa chocolate

could be chips or bars broken up

2

large eggs

3/4

cup

sugar

1/2

cup

brown sugar

1

TBS

vanilla

3/4

cup

flour

3

TBS

cocoa powder

often I use Special Dark by Hershey's but you can you which you choose

3/4

teaspoon

baking powder

Pinch

of salt
Instructions
In a small pot, melt your butter over med-low heat. Add in your chocolate YOu don't need to leave it on the heat too long. it will begin to melt, use a small whisk or a spoon to stir until smooth, taking it on and off the heat as you do being careful to not burn it. (At no point do you want it bubbling) You want the butter-chocolate mixture to be smooth and combined.

Remove the pot from the heat and set aside.

In your mixing bowl, combine eggs, sugar, brown sugar and vanilla. Mix until combined and then mix another solid 4-5 minutes...allowing the batter base to thicken.

Add in the melted butter and chocolate mixture and mix until just combined.

Add in flour, cocoa powder, baking powder and salt and mix just until incorporated.

Allow batter to chill for 20 minutes.

When ready to bake preheat oven to 350 and line your baking sheet with parchment paper or a silicone baking mat.

Us a small cookie scoop (or a tablespoon) and drop equal amounts of dough 1 1/2 inches apart on your baking sheet.

Bake for 8-10 minutes or until brownie cookies <g class="gr_ gr_85 gr-alert gr_gramm gr_inline_cards gr_run_anim Grammar multiReplace" id="85" data-gr-id="85">are</g> cracked on top.

Allow them to sit on the baking sheet for 2 minutes, then using a small cookie spatula, move them to a cooling rack.

Enjoy!

These keep well for a week in an airtight container (but they won't last that long, lol!)
Notes
If you REALLY like chocolate, feel free to add chips to the batter. If you enjoy nuts in your brownies, feel free to add some chopped nuts.
Sometimes I add in red (cayenne) pepper for a spicy brownie cookie, mmmm!0