Nothing beats stealing a quiet moment to yourself with a hot cup of coffee unless you have a delicious nibble like Chocolate Chip Biscotti or a few homemade Pizzelles to go with it. Yes!!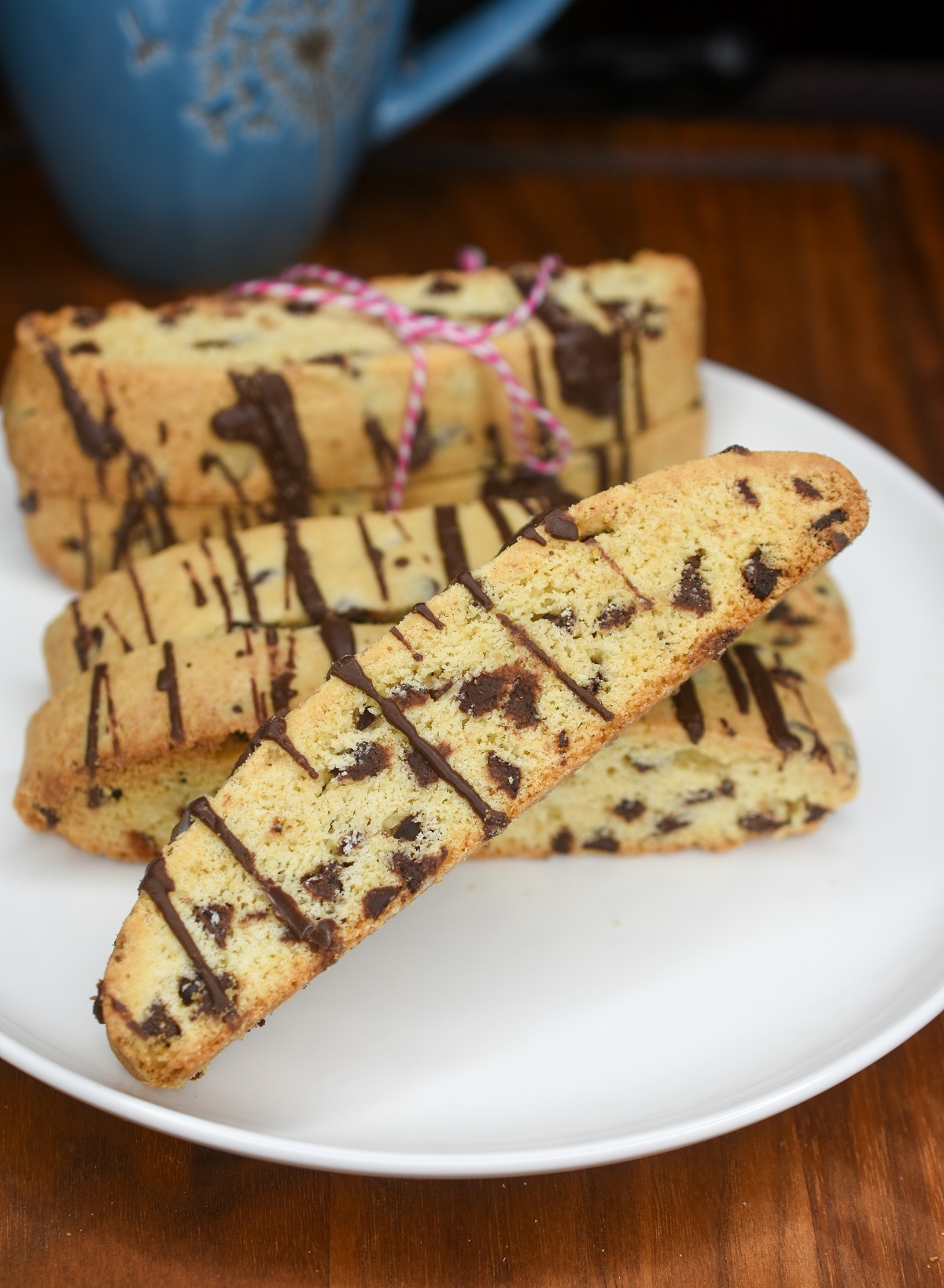 Nothing beats a good homemade cookie! Am I right?? Bakery and store-bought are ok. But a homemade cookie recipe wins my heart every time! Well, almost every time there are a few I have crossed paths with that I'd rather forget haha!
Homemade Biscotti is as easy as making homemade cookies. Really!
And Biscotti cookies make a great gift! People seem to think making biscotti at home is hard when its actually easier than making cookies or so I feel like! Instead of pan after pan, you bake it all at once.
What is Biscotti?
A type of Italian cookie that is baked twice which gives it a crisp, crunchy texture. The word "biscotti" itself means "twice-baked" in Italian.
Classic Biscotti are typically made with flour, sugar, eggs, and almonds. However there are many variations that include other ingredients such as chocolate, dried fruits, spices, even coffee. Often enjoyed with coffee or tea, Biscotti's hardness makes them ideal for dipping.
Why you'll enjoy this recipe
When you make your own biscotti recipe, you control just how hard you make them, which I love! I make mine crisp yet easy to bite through. Plus there are so many ways to customize it (and so many types of biscotti to make).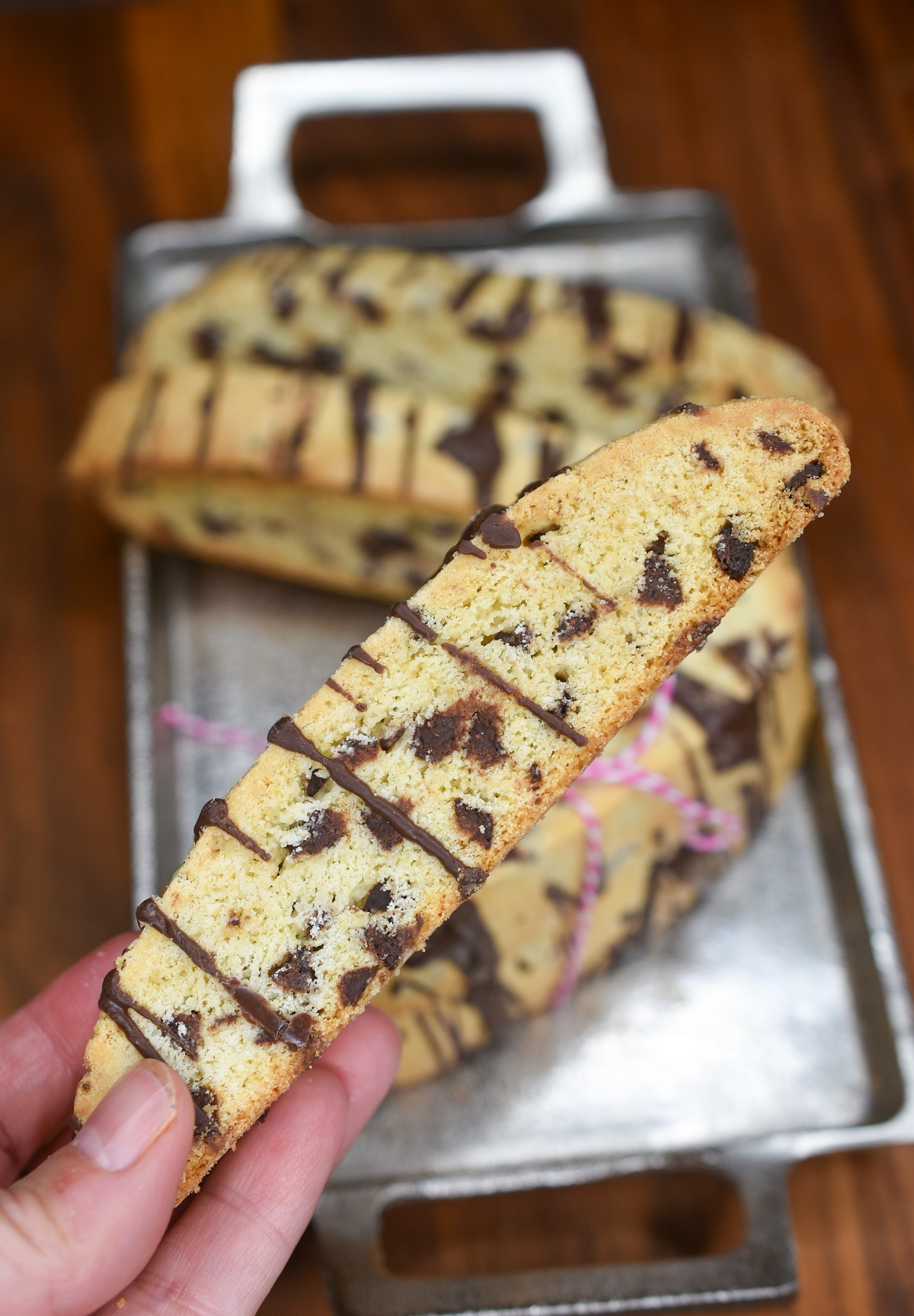 Ingredients
brown sugar
butter room
eggs
vanilla
flour
baking powder & salt
chocolate chips
How To Make Biscotti
Making biscotti is so easy, you make the dough with a handful of ingredients, shape it into logs and bake it on parchment paper lined baking sheets.
Remove from the oven and using a sharp knife carefully cut it into pieces, flipping each biscotti to one side (flat down).
Place the tray back in the oven then remove again to flip to opposite side.
Cool and drizzle with chocolate, if you choose.
Biscotti Flavors
Biscotti come in an almost endless variety of flavors. My favorites are Eggnog Biscotti, Carrot Cake Biscotti, Caramel Cappuccino Biscotti, Pumpkin Biscotti, Apple Cider Biscotti, White Chocolate Cranberry Biscotti, Peppermint White Chocolate Biscotti. Those are the recipes I have on this site to date. More biscotti recipes to come! 
Storage
Biscotti keep very well in a cookie jar or sealed bag or container. Up to a month. You can also choose to freeze, however I personally am not a fan of preciously frozen baked cookies of any kind.
Hope you enjoy these! XO Colleen
Cookies recipes to try
I am an Amazon Affiliate, so if you happen click on one of my links to purchase a product I may earn a few cents from it. Thanks for your support of my one-woman-show! Recipe originally published in 2018, updated October 2023 with new photos and text.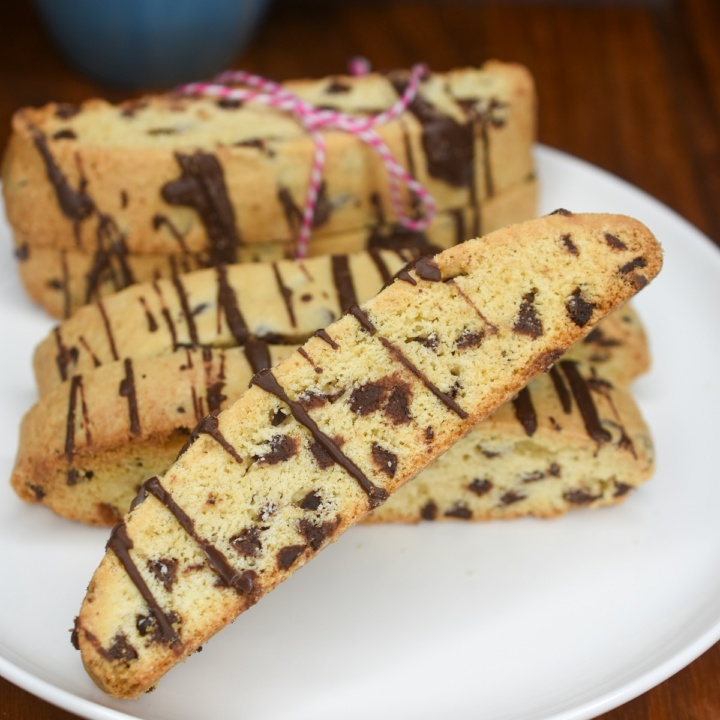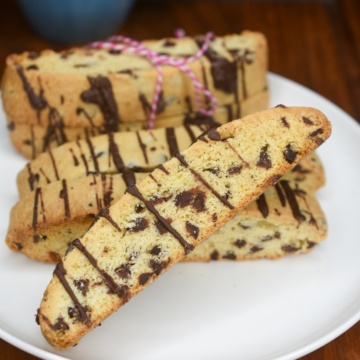 Chocolate Chip Biscotti
Chocolate Chip Biscotti recipe. Making biscotti is easier to make than many think. Perfect for gift giving or with your morning coffee/tea.
Ingredients
1

cup

brown sugar

½

cup

butter

room temperature

2

eggs

1 ½

teaspoon

vanilla

2 ½

cups

flour

2

teaspoons

baking powder

⅛

teaspoon

salt

1

cup

chocolate chips

Optional: ½ cup chocolate chips melted for chocolate drizzle
Instructions
Preheat oven to 375 degrees.

In your mixing bowl, combine brown sugar and butter and mix until creamy.

add in eggs and vanilla and mix until smooth.

Adding flour, baking powder mix until blended, stir in chocolate chips.

Portion dough into two halves. On a piece of parchment paper, countertop or marble pastry board, shape each half into a fat log about 8 inches long. Flatten the "log" to about ½ inch high evenly trying to make the width equal the full length. Place on parchment paper lined baking sheet (often I do this right on the parchment paper-lined sheet...that way no need to transfer dough).

Repeat with the second piece of dough.

Allow at least 2 inches between dough pieces (or bake on 2 separate baking sheets).

Bake for 25 minutes.

Remove from oven, allow to cool for 3 minutes.

*Lower oven temp to 325 degrees*

Carefully slice into biscotti pieces ¾ inch to an inch wide, wiping knife carefully with a paper towel between each cut to remove excess melted chocolate.

Place biscotti one-side down and return to oven for 10 minutes.

Remove from oven and flip. Bake another 10 minutes.

Transfer to cooling rack. Once completely cool, store in a cookie jar or airtight container.

If you wish to drizzle one side of the Chocolate Chip Cookie Biscotti with chocolate, melt ½ cup chocolate, transfer to a plastic baggie and snip the smaller bit of one corner off so you can get a super skinny drizzle. Allow chocolate to firm up by placing them in a cool place (garage/fridge), then place in a cookie jar or airtight container.
Notes
If you enjoy your biscotti really crisp, leave them in the oven after you turn it off for a bit longer.
Add in chopped nuts if you wish. 
Nutrition
Serving:
24
servings
Calories:
160
kcal
Carbohydrates:
24
g
Protein:
2
g
Fat:
6
g
Saturated Fat:
4
g
Polyunsaturated Fat:
0.3
g
Monounsaturated Fat:
1
g
Trans Fat:
0.2
g
Cholesterol:
25
mg
Sodium:
91
mg
Potassium:
33
mg
Fiber:
1
g
Sugar:
14
g
Vitamin A:
155
IU
Vitamin C:
0.05
mg
Calcium:
41
mg
Iron:
1
mg
Follow me on Tik Tok for 1 minute videos